"Maybe you should worry less about the tides, who've already made up their mind about killing you, and worry more about me, who's still mulling it over."
— Azula talking to her Ship Captain in The Avatar State.
"Iroh: No Prince Zuko do not spoil your victory. So this is how the great Commander Zhao acts in defeat? Disgraceful. Even in exile, my nephew is more honorable than you. Thanks again for the tea. It was delicious.
Zuko: Did you really mean that, uncle?
Iroh: Of course. I told you ginseng tea is my favorite. "
— Iroh talking to Zuko in The Southern Air Temple.
"I think you all look perfect!"
— the last line of A: TLA said by Toph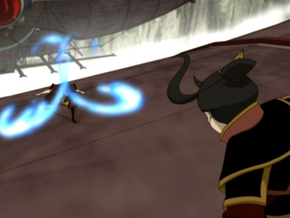 罪的公主 Tsuminohime
Biographical information
Alternative name(s)

Tsumi
Tsumino
Hime
Hime-sama
Princess of Sin
Princess of Darkness
| | |
| --- | --- |
| Language(s) | Mandarin, English, a little bit of Japanese, Latin, French |
Physical description
| | |
| --- | --- |
| Hair color | Dark brownish-black |
Personal information
| | |
| --- | --- |
| Editing style(s) | What style I feel like doing :P |
| | |
| --- | --- |
| Contributes often to | Avatar Wiki, Vampire Knight Wiki |
Chronological and political information
| | |
| --- | --- |
| Actual profession | Student |
Hi ! Thanks for coming to my user page! I am Tsuminohime :)
Avatar: The Last Airbender is an awesome show - that's why I've decided to join here :)
My hobbies include: watching anime (Anime is absolutely awesome! Am currently SUPER OBSESSED with Vampire Knight, am EVEN MORE OBSESSED with Kuroshitsuji), going on Internet, reading etc.
Characters I like
Edit
Avatar: The Last Airbender
Edit
Other than Azula and Toph both being respectively my first and second most favourite characters, the rest of them are really in no order - they can chaange anytime.
Characters I despise
Edit
Shippings
Edit
Absolute Favourites
Edit
Maiko (Mai and Zuko)
Kataang (Katara and Aang)
Yukka (Yue and Sokka)
Okay with
Edit
Sukka (Suki and Sokka) - used to really like this one, but Yukka soon became the more 'favourited' one (if that's a word...)
Tokka (Toph and Sokka)
Favourite Episodes
Edit
I loved Book 3 the best - it's just awesome :D
Other Wikia's I go on
Edit
Favourite Quotes
Edit
^^^ The three above :)
"I guess you dont know people as well as you do. You miscalculated - I love Zuko more than I fear you."
— Mai explaining to Azula why she saved Zuko in The Boiling Rock Part 2
"Please Zuko, what alterior motive do I have? What could I possibly gain by letting you get all the glory for defeating the Avatar? Unless, somehow, the Avatar was actually alive. All that glory would suddenly turn to shame and foolishness. But you said it yourself, that was impossible."
— Azula to Zuko in The Awakening
"My own mother... thought I was a monster. She was right, of course, but it still hurt."
— Azula opening up her inner feelings for the first time about her mother in The Beach
"YES! We've defeated you for all time, you will never rise from the ashes of your shame and humiliation!"
— Azula taking a Kuai Ball game a bit too seriously in The Beach
"I love fighting. I love being an Earthbender. And I'm really, really good at it. I know I've kept my life secret from you, but you were keeping me secret from the whole world. You were doing it to protect me, but I'm twelve years old and I've never had a real friend."
— Toph pleading with her parents in The Blind Bandit
"This is a journey you need to take, you need to face this man. But when you do, please do not choose revenge. Let you anger out, and then let it go. Forgive him."
— Aang giving Katara advice in The Southern Raiders
"Earthbenders! You don't know me, but I know of you. Every child in my Water Tribe village was rocked to sleep with stories of the brave Earth Kingdom and the courageous Earthbenders who guard its borders. Some of you may think that the Fire Nation has made you powerless. Yes, they have taken away your ability to bend, but they can't take away your courage and it is your courage they should truly fear! Because it runs deeper than any mine you've been forced to dig, any ocean that keeps you far from home. It is the strength of your hearts that make you who you are, hearts that will remain unbroken when all rock and stone has eroded away. The time to fight back is now! I can tell you the Avatar has returned! So remember your courage, Earthbenders, let us fight for our freedom!"
— Katara trying to persuade Tyro and the Earthbenders to fight back in Imprisoned
Allies Quarter
Edit
If you want to be on here, drop me a message :D
Membership
Edit
My Thoughts
Edit
| | |
| --- | --- |
| | This user doesn't care if Toph is blind, she is still her second favourite character and this user also admires how she doesn't care what other people think of her and how strong she is.. |
| | |
| --- | --- |
| | This user actually likes Mai 's emo-ness and would love to learn knife-throwing skills from her.. |
| | |
| --- | --- |
| | This user thinks Zuko attempt to impress Mai in The Beach was cute. Also, this user knows that he has gone through a lot and that he would be a great Fire Lord.. |
| | |
| --- | --- |
| | This user thinks Katara is a very kind person who can be defiant and stand up for her family and friends, which is one of the qualities this user likes about this amicable girl.. |
| | |
| --- | --- |
| | This user is proud of Aang and what he has done, which definitely makes him qualify as a good Avatar.. |
| | |
| --- | --- |
| | This user would love to catch a ride on Appa and snuggle against his fluffy, soft fur.. |
| | |
| --- | --- |
| | This user thinks Momo is just so adorable!!! This user also wants him as a pet.. |
| | |
| --- | --- |
| | This user hates Ozai because he's a fail father to both Zuko and Azula and should be really ashamed of himself.. |
| | |
| --- | --- |
| | This user can't wait for The Legend of Korra to come out!!!. |
| | |
| --- | --- |
| | This user can't believe Lee is so ungrateful towards Zuko and dislikes him for it. However, this user retains a slight hope he will eventually forgive Zuko.. |
| | |
| --- | --- |
| | This user knows Ursa is still out there somewhere and one day, will reunite with her son Zuko.. |
| | |
| --- | --- |
| | This user thinks Kya is a great mother to Katara and Sokka and is definitely courageous.. |
| | |
| --- | --- |
| | This user thinks Haru was cute until he got that moustache... but he's still pretty good anyway xD. |
| | |
| --- | --- |
| | This user thinks Yue is very pretty and was very sad when she sacrificed herself when the Moon Spirit died. |
| | |
| --- | --- |
| | This user supports Maiko. |