This user is currently inactive, and therefore may not be able to respond to messages you have given them.

The reason given is: I really should have done this several weeks ago.
The user will return on In the summer, perhaps.
" To fall in love with God is the greatest romance; to seek him the greatest adventure; to find him, the greatest human achievement."
— Augustine of Hippo
" Personal opinions are personal opinions; they tend not to do much or mean much except for the person holding them, unless they can be expounded upon to other people."
— Toph's Fanboy's motto where the matter of shipping is concerned
" To stand as one's own distinct person (with everything that entails) even when operating in society, and to be friendly to society as one has experienced it (with all that entails as well) even when cut off from it, this is the pinnacle of solely human perfection. Such a constitution comes only by the way of the finger of God."
— Anonymous Philosopher
" I am the greatest Toph fan in the world! Don't you dunderheads ever forget it!"
— Toph's Fanboy's self-proclamation
" Art is appealing because it grants a temporary escape from the world which allows us to re-affirm the world in which the art exists. Art is for those who are strong enough to be compassionate to the weak regardless of the way of the world."
— Anonymous Philosopher
" You know you're a Toph fanatic when your almost total disinterest in The Legend of Korra turns to avid interest simply because her daughter is mentioned."
— Toph's Fanboy commenting on his own Toph-fanaticism
""When one's hope cannot patiently rest in the beloved's ability to be built up solely by its coming together with oneself and without imposition on one's own part, love becomes rude and therefore is just boastful lust, no matter the "spiritual" emotions one may feel to the contrary. If one does not try to faithfully dance to the tune of the beloved's way of existing in the world, one's passion for the beloved becomes self-seeking and mercilessly jealous, and should not rightfully be called love.""
— An Anonymous Philosopher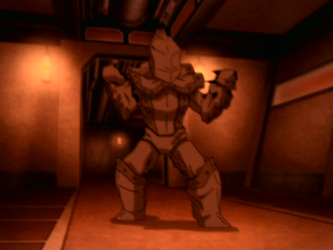 Toph's Fanboy
Biographical information
| | |
| --- | --- |
| Alternative name(s) | MetalArmor, MA, Metal, Toph_Fanboy, TF, The St. Paul of Tokka, The Philosopher |
| | |
| --- | --- |
| Nationality | United States |
Physical description
Personal information
Friends

Tara22
Nathan
AvatarLover
Vulmen
InspiredByKaizuh
Kaizuh
Bassmasta2012
Lego
Buttongoo

Favorite character(s)

First Series Favorite Character: Toph Beifong
First Series Favorite Male Character: Aang
Second Series Favorite Character: Lin Beifong
Fanon(s)

Beginning on Footsteps in the Dark (The canonical TV series from Toph's point of view)
Basic plot summary of One of Two Ways (a half-shipping "Tokka" fanon)
Several blogs based on my understanding of the series
Chronological and political information
Hello, guest, I am Toph's Fanboy (otherwise known as Metalarmor). I am a fan of the series, but not really of any fanon or other non-canonical material. (I have no prejudice against them; they're just not something I've ever gotten into.) Episode reviews are okay with me, seeing as a lot of my blog posts are that sort of thing (I'd be a hypocrite otherwise). Third-person PoV fanons are also fine with me, as they seem to be the best way to pass on one's understanding of a particular character and the way they think to the rest of the world (from my own experience writing "Footsteps").
And, for the love of Tokka...
Userboxes
Edit
| | |
| --- | --- |
| | This user is a winner of The Hawky Awards for June 2011 in the Deep Thinker category. |
| | |
| --- | --- |
| | This user thinks Aang is the best male character. |
| | |
| --- | --- |
| | This user thinks Toph is the most sublime female character he has ever seen. She also has the greatest introduction for a new main character in the whole world of fantasy stories. |
| | |
| --- | --- |
| | This user thinks Sokka 's "the best meat of all" line is the cheesiest line in the series, and also one of the oddest phrases he's ever heard.. |
| | |
| --- | --- |
| | This user thinks Zuko 's battle with Azula during the finale was amazing, and that his transition to Team Avatar was pulled off well by the series' creators. |
| | |
| --- | --- |
| | This user thinks Azula is a monster, but her descent into insanity was still tragic. |
| | |
| --- | --- |
| | This user thinks Ozai is the world's biggest creep, even worse than his daughter, because he has no real excuse besides his oversized ego. |
| | |
| --- | --- |
| | This user thinks Iroh is very wise but also a very good fighter. |
| | |
| --- | --- |
| | This user thinks Bumi is the world's second greatest earthbender in terms of talent, after Toph Beifong. |
| | |
| --- | --- |
| | This user supports Sukka  , though he is waiting to see its consolidation in "The Promise" before he actively promotes it. |
| | |
| --- | --- |
| | This user supports Maiko. |
| | |
| --- | --- |
| | This user supports Tokka as a platonic ship. |
| | |
| --- | --- |
| FitD | This user is the author of Footsteps in the Dark. |
I am also the un-official manager of the "Toph Beifong" and "Lin Beifong" page comments, specifically in regards to speculation concerning the identity of the father (rabid Toph-shippers are my worst nightmare), though I do look at and answer comments that concern either of the characters in general. I also (unofficially) deal with any comments that pop up on related pages concerning the identity of "Chief" Beifong's father, for the same reason mentioned above.
For reasons I do not fully understand myself, Toph Beifong has somehow become a personal archetype for my unconscious anima, in Jungian terminology (the best tools I have for the job at the present). Because of this, I can be very overprotective of my favorite Avatar character if she appears to have been slighted in any way in my presence, and I am quite likely to berate you for accepting inadvertent simplifications of her character floating around the fanbase when you show yourself as doing so (though I do generally manage correct what I see as your misunderstandings in a civilized manner, though this usually just ends up with me writing over your head). It is also because of this that I may appear overly obessed with Toph's future in the Avatar mythos at times; it's out of a strong desire to explore my own unconsciousness to through the character's development, in a way I have not yet figured out how to do through other means. This has also lead to my history of "Tokkaneering" on this website; acting out of what I now realize was pity for the unfairness of the character's situation as it was left standing at the end of the show, I was unable to fully let go of the possibility of this line of development long after I had already percieved the character as doing so. I imagine has stunted my perception of the opposite sex until rather recently, out of the bottled-upt resentment for the consequences of exposing my anima through its identification with the character as my personal archetype. I can only hope that now I am more pyschologically healthy for letting that article of faith go, though I cannot say it has made me any less interested in the future development of the character (insofar as the demands my schedule makes on me allows me to preserve).
The One Who Labeled Me "St. Paul of Tokka"
Episodes
Edit
The Blind Bandit - This is my favorite one-episode Avatar story. I like this episode for many reasons. The first reason is because this is the greatest introduction I have ever seen for a new character into the main group of a television show or other fiction work.
Lake Laogai - This is my second-favorite one-episode Avatar story (and one of the first episodes I watched). I like how they gave Toph a Daredevil-like ability to detect whether people are telling the truth. The best thing about this episode is the emotional impact they gave Jet's death at the hands of Long Feng; this was one of the first things that signaled to me that this show was not a normal cartoon.

The Boy in the Iceberg - This is my third-favorite one-episode Avatar story. I think it was a great first episode for the series, and not at all what one would expect from an action cartoon
The Earth King - This episode has an epic opening battle sequence, on par with the one in Lake Laogai indicating that the show was not going to trim down its creative talent as it went on (a problem I have had with many shows I once considered good).
Shipping
Edit
Kataang - The epitome of a canon Avatar ship, and the only one confirmed to have ended in marriage by Mike and Bryan. Aang's being 112 emphatically does not make him a paedophile for being with Katara, as he has neither the experience which would normally come from having lived that long (being cryogenically perserved in an iceberg for 100 of those years), nor the physical development which would normally come with this. And Katara's attraction to Aang is not unrealistic, though he may not seem as immediately attractive as Zuko to most viewers; he swayed her to him via the wise and mature way he tended to look after her (morally speaking), and the "rose-tinged glasses" which come of falling in love due to such slow-moving reasons would take care of anything else in the looks department.
Maiko - The story of two introverts who grew up together, and who had crushes on each other in their early youth. Zuko's over-passionate nature and Mai's generally unexpressive one work to complement each other, drawing each person's drive to self-interested introversion and opening up each person to levels of compassion for others that they most likely would not otherwise have. Mai's supposed "blahness" is exactly what draws Zuko towards her, as he knows her well enough to know that surface level stereotype is not all she is and hence causes him to calm himself down long enough to care about her in the midst of her problems. Likewise, Zuko's passionate (or "hot", to many Zuko fangirls, which I am obviously not one of) nature draws Mai out of her "blahness", motivating her to follow him where his passion for the honorable life leads out of a desire to protect him from the possible ill consequences of his choices (which do show up from time to time).