Shipping:Edit
A:TLA: 1.Katang, 2.Mako, 3.Sukka, 4.Tokka, 5.The Doph or The Dark Toph,
LoK: 1.Makorra, 2. Masami, 3.Borra, 4.Bosami (slim chance)
Favorite CharactersEdit
A:TLA LoKEdit
1.Toph 1.Lin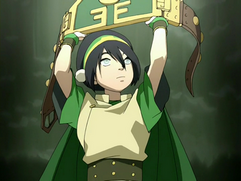 2.Aang 2.Korra
3.Sokka 3.Amon/Noatak
4.Iroh 4.Tarrlok
5.Zuko 5.Tenzin
6.Katara 6.Bolin
7.Azula 7.Asami Sato
8.Ozai 8.Jinora, Ikki, and Meelo
9.Suki, Jet, and Yue 9.Bumi
10.Bumi 10. Mako
Welcome! Feel free to let your fellow Avatar Wikians know a little more about you by editing this page!