Welcome! Feel free to let your fellow Avatar Wikians know a little about me!
"Toph, I'm forty years old. D'you think you could stop with the nicknames?"
— Aang to Toph in a flashback in Out of the Past .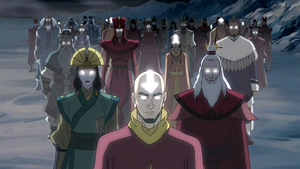 Sshalwani
Biographical information
| | |
| --- | --- |
| Nationality | American,Desi,Worldwide |
Physical description
Personal information
| | |
| --- | --- |
| Editing style(s) | Frequently; Anti-Vandalism |
Chronological and political information
| | |
| --- | --- |
| Actual profession | Student |
How I started out Avatar?
Edit
I never knew Avatar had a wiki till like months ago, well back in 2011 of sometime. Well I started out to watch the original series, the first episode back in 2005, it got amazed in my head and I showed interest, throughout then I kept awaiting for Avatar, acted as Aang the Avatar, and mostly watched Aang over and over to see how he does. Then in 2006, my family was bankrupt, we had a house but we had to cut everything and move seprate, so we made to San Diego, living in a one apartment for six months with good education but limited sources, there was limited internet access and I couldn't watch Avatar cause the Internet has poor video and internet quality to even watch or see things. By the time I moved to Los Angeles, still in one-room apartment, it got better, internet and TV got better except only one TV. I watched Avatar from the Internet in Nickeldeon and went to play games there mostly and watched Avatar things on TV. It got better and my father watched Avatar too, but when Avatar was season finale came, I was sad but happy but I thought, all this I went through and now their is no new Avatar, I thought their would be a fourth but there wasn't so I watched Avatar but I watched Iron Man and Speed Racer: The Next Generation on Nicktoons. I watched the The Last Airbender in 2010 on August with my father for he was amazed of Avatar too, making connections to my religion. Once I came to Plano, after my move from Houston in 2011 of August, I decided to search of Avatar, I then found Avatar Wiki, I was amazed and I started to create one by contributing but mostly reading, then started a fanon in 2012, called the Avatar: The Continuity of Aang, currently on production and has kinda started. When I heard Korra was coming, I couldn't wait, I was awaiting for the leaks and whatever of Korra, finally Korra has arrived and me and my father been watching but Season 1 is about to come to an end and we're kinda sad.
In Avatar Wiki
Edit
Has I stated, I started to kinda contribute but it was undo by the adminstators and rollbacks, because it was redudant and grammer, so I thought this would help for the better. I then decided to just research of Avatar Wiki and see how it's going? It's was amazing. Then one day, I was blocked cause I kinda played around in the wiki by sockpuppetry and I was unblocked by DC last month, but now I've learned and has now started a fanon called the Avatar: The Continuity of Aang, currently on production and will release according to the editing and pictures. Avatar Wiki has been the fanastic work I've seen, reading all articles and seeing all this, I kinda help but it get changed back still and I know I will be great but just need time to do it right. Mostly, I'm making theories of the occurance in Korra and mostly of Amon, see my blogs for theories and more. Also I'm also on forums and IRC and more. If IRC, username will be Sshalwani For now, Avatar Wiki is at war.
Avatar Knowledge
Edit
The Avatar Knowledge is great, except it gets changed more and declined by the admins and rollback but it's fine, people make mistakes sometime as well, one time I got so much that I wanted to bring the Avatar things outside into the wiki like making a council but now Avatar Wiki is on war. Avatar Knowledge has always been advanced, alot since joining the wiki, I've made theories and learn from the episodes alot and learned from people's minds in the articles.
New in the Wiki
Edit
Well I've invited alot of people and they will come soon as freshcomers, for now I'm just a existing users and awaiting to become rollback but don't know when, my favorite user was The Bos but was kicked off last week so it's DC for Dcaswang1. I'm just working on the wiki and trying to help stop the vandalism and all sorts of bad things.
What I hope to become?
Edit
Well I hope to become a techongoly expert and start my own company called ZASS Corpation, currently parents are working on creating the company and are now just first selling the clothes then I'll kick in and take over making a industrialist business with machines and techongoly. Well I'm 13, currently in Plano, TX under parent rule monarch but free to do whatever. Currently, I attend a secondary school and living it up.
People who want to subscribe...
Edit
People who wants to subscribe, just use the signature way or just use source mode and type User.
Avatar Wiki is at war!!
Edit
Well there's a war, a anti-revolution war between admins for rights and more, which is clueless and unsourceful and is being brought for no good by the Wikequalists, and soon the wiki will be fine as normal like in the 2005-2011 times accordingly.
Now I ask and support for the comments to return but unfortunally, they don't, but I know they will return soon and comments will go no longer. Who's with me??
Userboxes
Edit
| | |
| --- | --- |
| | This user is a member of the Swirling Nomads Tour de ATLA Team. |