"Aang, this is my friend, Foo Foo Cuddlypoops. Foo Foo Cuddlypoops, Aang."
— Sokka to Aang in Bitter Work.
"Now I hope that each of you can see that each element has its own strengths and weaknesses... But FIRE is the BEST!"
— Chibi Iroh to the Gaang in Bending Battle.
"Fire is the element of power. [Draws the firebending insignia in the dirt.] The people of the Fire Nation have desire and will, and the energy to drive and achieve what they want. Earth is the element of substance. [Draws the earthbending insignia.] The people of the Earth Kingdom are diverse and strong. They are persistent and enduring. Air is the element of freedom. [Draws the airbending insignia.] The Air Nomads detached themselves from worldly concerns and found peace and freedom. Also, they apparently had pretty good senses of humor! Water is the element of change. [Draws the waterbending insignia.] The people of the Water Tribe are capable of adapting to many things. They have a deep sense of community and love that holds them together through anything."
— Iroh to Zuko in Bitter Work.
"If your father really wanted you home, he would have let you return by now, Avatar or no Avatar. But in his eyes you are a failure and a disgrace to the Fire Nation... You have the scar to prove it."
— Zhao to Zuko in The Southern Air Temple.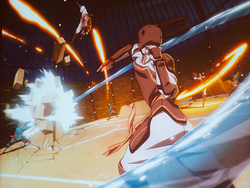 Snip101
Biographical information
| | |
| --- | --- |
| Alternative name(s) | Snip, Snippie, Sniperrs |
| | |
| --- | --- |
| Language(s) | American English (native), Antiguan Creole (somewhat), French (starting my second year). |
Physical description
Personal information
| | |
| --- | --- |
| Editing style(s) | Fanon and Blogs |
| | |
| --- | --- |
| Contributes often to | Avatar Wiki |
Chronological and political information
Actual profession

Professional procrastinator
Fanon Fact Finder
Avatar Wiki addict
| | |
| --- | --- |
| User rights | |
| | |
| --- | --- |
| First edit | August 19, 2011 |
Welcome to my user page. Feel free to ask me if you have any questions on my message walls, I don't bite. Well sometimes I do... It was one time.
Why am I here?
Edit
I had some questions a couple moths ago and on the search results I saw a link to Avatar Wikia. Fast than a pygmy puma (my favorite avatar animal), I clicked on it and made an account the same day when I learned about fan-fiction.
Create a Fanon  Done
Get Fanon-Bending Status
Become part of a Usergroup  Done
Win a Fanon Award
Get a Cabbagie
Submit a colmn to the BSST
Submit a Column to the WLS  Done
Start an Awards Show  Done
My Team Avatar
Edit
Message me if you feel you would like to be a part of Team Avatar!