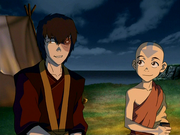 Why hello, Avatards.
To let you know, I am a fourteen year old highschool student, who, incase you're too stupid to guess, loves Avatar. My favorite music bands are: Red, Newsboys, Kutless, Nickelback, Skillet, Evanescence, Within Temptation, and Three Days Grace.
My favorite characters are-
Azula
Iroh
Zuko
Sokka
Toph
Smellerbee
Longshot
Jet
Mai
Tylee
June
Aang
Katara
Joo Dee
Ozai
Long Feng.