" Blood is easier to shed than tears."
— Plasmabender117's Favorite saying
" Sometimes blood must be shed so tears wont."
— Plasmabender117's 2nd favorite saying
" If life is so sacred, why is it so easy to take away?"
— Plasmabender117's question to Aang
" You can be the smartest person in the world, but if you don't have any commonsense you'll never make it"
— Plasmabender117's views on intellect
"Quando il gioco è finito, il re e pedone andare nella stessa scatola. "
— Cortana's first words
" Confusion is just knoledge locked, and it is our job as authors to give readers the key."
— Plasmabender117 in a discussion about Fanons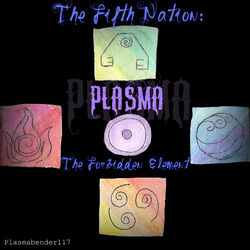 Plasmabender117 等离子德尔117
Biographical information
| | |
| --- | --- |
| Alternative name(s) | Plasma , plasma117 |
| | |
| --- | --- |
| Nationality | The United States |
Physical description
Personal information
| | |
| --- | --- |
| Friends | any and everybody except trolls |
| | |
| --- | --- |
| Favorite character(s) | Iroh and Toph |
| | |
| --- | --- |
| Favorite episode(s) | all of them |
Chronological and political information
| | |
| --- | --- |
| Actual profession | Procrastination |
| | |
| --- | --- |
| | This user thinks that Iroh is the funniest male character in avatar and could of lead the fire nation into a great peace if he was the Fire lord . |
| | |
| --- | --- |
| | This user thinks that Toph is the worlds best earth bender and is the only one who could beat Bumi in earth bending. And is second only to Nel as far as all around characters go. |
| | |
| --- | --- |
| | This user thinks that Katara is a strong person and is one of the best waterbenders ever. |
| | |
| --- | --- |
| | This user thinks that Aang is one of the most friendly anime characters ever besides Goku. Also likes Aang with hair rather than without . |
| | |
| --- | --- |
| | This user thinks that Sokka sarcasm is one of the major elements in the series easy going parts and is the best non-bender their is. |
| | |
| --- | --- |
| | This user thinks that Azula is a skillful and ruthless tactician and could have very well taken a great role as a Fire Lord . |
| | |
| --- | --- |
| | This user thinks that Zuko had a very messed up childhood but thinks he is to honor bound for his own good. |
| | |
| --- | --- |
| | This user thinks that Momo is in fact the key element in team Avatar like Bumi said. |
| | |
| --- | --- |
| | This user thinks that Appa is the most bad ass airbender their is (sorry Aang ) . |
| | |
| --- | --- |
| | This user supports Maiko. |
| | |
| --- | --- |
| | This user supports Tokka . |
my picture
Edit
My picture as a user has changed many times but my current picture is that of Nelliel Tu Odelschwanck she is from an anime called Bleach. Bleach has now been placed in my number one spot in Animes it is currently tied with ATLA. My picture is sorta a Fanboy tribute to her because she just awesome.
Bending opinions
Edit
If I were a bender what element would I bend? ...hm what would I Plasmabender117 possibly want to bend? well there are two answers. If it was strictly Earth, Water, Fire, Air I would have too say Earth. But if the sky is the limit I would pick (surprising plot twist) Plasma.

(By plasma I mean the state of matter not blood or that strange new pokemon villain group)

Warning this does lead to another Wikipedia page:' If interested on plasma check out this link to Plasma
I think I'm funny and wise at the same time like Iroh also on the IRC i will bring up random topics . I don't mind people disagreeing with me, and prefer people who have a problem with me to just straight up tell me. I'm an open listener to other peoples problems and help with the best of my knowledge. you can see my on either the toph page or the Iroh page (also i frequently visit the IRC) also i am almost always drinking Saké this is why i bring up random subjects. I will get angry if you associate my name with blood
My first experience with avatar was "Sozens Comet pt 2" I know that's pretty late. But I realized it was the finale of the series and decided that I was going to go through the whole series to figure out what was happening, and you know what I never found a episode that didn't surprise me in the end ( a rare instance). So I will defend this series with a burning passion even if it means personal attacks or worse will befall me.
my fanon is here "The Fifth Nation, Plasma The Forbidden Element"
I am currently trying to find perfect Amv's for all the main charaters but having some trouble find them here are the ones i got so far
Nick names
Edit
I have been giveing users random nick names message me if you want one (? - mean not nick named yet) they may make sense
ARG - HWHV (thats short for "He Who Haunts Vandals")
Tara - Maki
NBP - oil spill
Dcasawang1 - jack'n coke
Metalarmor - Metal-glasses
Faith - ninja lesbian
888th avatar - 887 cant compair (887cc for short)
moph - maki maki
BlueDagger - Tucker (inside joke)
TAD/Trillian - Pokechick or Scifi
Vulmen -Vulmen
SteveWillRule - Professor awesome
moony - clove
sophiie - Soso
KataraFanboy - TWTA (short for The Water Tribe Admin)
Shelia Jade - TSM (The Shoe Master)
lego lord - BTDL short for (Better Than Duplo Lord)
these are my allies the people who wont die when i finally snap due to the rage brought by trolls and vandals, also they are wonderful people who help and support this site the way it should be.