"Oh, I may be on the side of the angels...but don't think for one second that I am one of them."
— Sherlock Holmes, from BBC's Sherlock
"Wind blows my hair back and I shiver, not from the cold, but because I'm wondering what ashes are blowing with it."
— An exercpt from Run, a chapter in the As We Fall series
"I raise my left arm and twist my neck down to rip off the pill on my sleeve. Instead my teeth sink into flesh. I yank my head back in confusion to find myself looking into Peeta's eyes, only now they hold my gaze. Blood runs from the teeth marks on the hand he clamped over my nightlock.
"Let me go!" I snarl at him, trying to wrest my arm from his grasp.
"I can't." he says."
— An excerpt from Mockingjay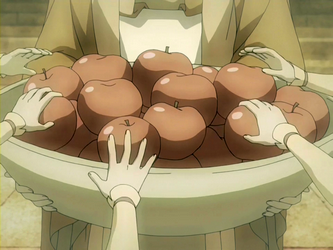 Necterine411
Biographical information
Physical description
Personal information
| | |
| --- | --- |
| Contributes often to | fanon |
| | |
| --- | --- |
| Favorite episode(s) | All of them (Except for "The Great Divide") |
| | |
| --- | --- |
| Favorite show(s) | The Middle, Modern Family, Sherlock, Avatar: The Last Airbender, Doctor Who |
Chronological and political information
| | |
| --- | --- |
| Actual profession | Student (Awful pay, I'm considering starting a Union) |
Hi there Everyone, welcome to my page. It's a bit of a work in progress, but here are two main things you should know about me:
1. I know I spelled nectarine wrong.
2. I have absolutely no idea what I'm doing. Seriously, if you have a question, I probably won't know the answer. That's not to say that you can't ask me though!
If for some reason you feel the need to learn more about me, please scroll down to the About Me section.
Userboxes
| | |
| --- | --- |
| | This user thinks Bumi has opened his mind to the possibilities. |
| | |
| --- | --- |
| | This user thinks Gyatso was an excellent baker. |
| | |
| --- | --- |
| | This user thinks Ozai is the phoenix king of getting his butt whooped. |
So yep, this is my list of allies. Its extremely short, so if you want to be allies with me, just ask. I don't have anything against any user here, so I'd be glad to add you.
Moon Beam, even if her username says Haybernathy now (Denial!)
My Opinion on LOK Characters
Edit
Korra: I am beginning to strongly dislike her. Who goes on a date with a guy you know likes you a lot and then laater kisses his brother?
Mako: I already hate Mako at this point. He has a girlfriend and still he kisses the girl his brother likes! Who does that?
Bolin: He's by far my favorite character right now. He's funny, but well meaning, and really sweet. He better end up with someone at the end of the series.
Jinora: She reminds me of myself at that age. So she must be completely amazing. :)
My Favorite Characters
Edit
Gyatso: Awesome monk that baked and threw fruit pies at people; and was full of wisdom. Why'd he have to die? Why couldn't Suki die instead?
Iroh: The stand-in for Gyatso, who was unfortunately dead. I like to think of him as Gyatso's reincarnate.
Toph: Someone who never used her blindness as an excuse not to try or do something? Amazing. She invented metalbending, and if she hadn't have been Aang's teacher he wouldn't have known seismic sense, wouldn't have known Ozai was going to attack him when his back was turned, and might have died. So she's responsible for Aang's win against Ozai in a really convoluted way.
Azula: I love her blue fire and determination. Sure, she went a little crazy, but what do you expect? I can't imagine the pressure she was under.
Aang: He's the main character, and I really loved his carefree personality he had in the beginning. I was glad to see him mature over the course of the series.
Random bits of info
Edit
Well, I don't feel like making some long drawn out story of my life, so here's some random bits of info:
My favorite color's orange
I have curly hair (Which I hate)
My favorite book series is The Hunger Games
I'll see pretty much any movie--unless its a scary movie.
I'm in my school's Student Council, and am a leader of the publicity committee (Which basically involves making crappy commercials to advertise school events in my school's announcements)
My Wiki story
Edit
I first found out about wiki's the summer of 2011, when I was looking up the show "Avatar: The Last Airbender". After seeing all the awesome users here, I decided to make an account. I tried to edit where I could, and even started thinking about a fanon idea. After a while though, I got bored. I couldn't find a lot of places to edit, and wasn't really outgoing that much, so I didn't really meet anyone. But just as I was getting bored, I accidently clicked on a user's account; and saw that there was a Hunger Games wiki! I went on it, and almost instantly was part of the community. Before long I was making Games, submitting tributes, and occasionally reverting vandalism. After a while, I was given rollback rights, and then even Admin rights. When one user made a blog advertising a Hunger Games Fanon wiki, I went there and begun my current fanon, Crippled. But I still couldn't get my Avatar fanon idea out of my head. So I finally started my fanon there (Titled: As We Fall). Gripping, I know. Hey, I'm bored!
My Life Story
Edit
What, you thought I was just gonna tell you everything about me? Heck no! I believe in internet safety, no offense but I don't know if you're really who you say you are. So because this wiki has such a large amount of users, I won't exactly be giving out the GPS cordinates to my house. Yeah, I know I'm a little paranoid.
My Fanons
Edit
As We Fall- A story about a character from each nation's lives and how the Air Nomad Genocide and growing war effects them. Please read it! (Wow I sound desparate. But I am, so I guess that's accurate.)
A Curse to Bear- What if Amon won? A story about a girl's life in a world led by Equalists.
Vandal Karma-- This was a one-shot made forTAD's Fanon Writing Challenge. In it, a vandal's attempt to vandalize a page takes an unnexpected turn...
Vandal Karma: The Sequel-- The sequel to the fanon above^^^
Write blog about the future of the Air Nomad population
Begin work on the next chapter in the As We Fall series
Try to be more active here
Try to find something to edit (HA!)
Favorite Fanons
Edit
A Bird Could Love a Fish A Bird Could Love a Fish