"Wow, the admins and some of the rollbacks are usually undoing the contributions of auto-confirmed users. Is this prejudice or what?"
— Mystiah
"Starships were meant to fly, hands up, and touch the sky, can't stop, 'cause we're so high, let's do this one more time"
— Nicki Minaj, Starships
"I'm coming home, I'm coming home, tell the world I'm coming home, let the rain wash away all the pain of yesterday, I know my kingdom awaits and they've forgiven my mistakes, I'm coming home, I'm coming home, tell the world that I'm coming...."
— Dirty Money, Coming Home
"Sao Feng, I assure you, our intentions are strictly honourable. "
— Barbossa to Sao Feng in Pirates of the Caribbean: At World's End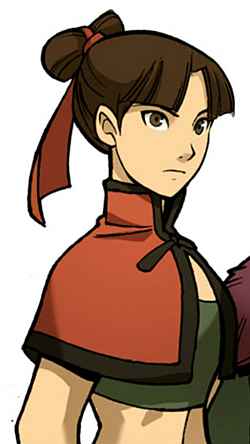 Synx
Biographical information
| | |
| --- | --- |
| Alternative name(s) | Mystiah |
| | |
| --- | --- |
| Language(s) | English, basic Mandarin Chinese |
Physical description
Personal information
Chronological and political information
| | |
| --- | --- |
| Actual profession | Student |
| | |
| --- | --- |
| User rights | auto-confirmed user since January 2012 |
| | |
| --- | --- |
| First edit | January 2012: this page |
| | |
| --- | --- |
| Other wiki(s) | Pirates of the Caribbean, Stoked |
Hey ! Kudos for checking out my page! =]
UPDATE: I am no longer inactive and I will be contributing to the Korra articles more now! NOTE: I'm NOT to be confused with Mysteria Femina, another user with a similar (nick)name.
Hey! I'm Mystiah! I'm a proud Aussie, and a High School student! And yes, I was lying to you, i'm not even 13, i'm 11. I'm happy to help editing, because people say that my editing and proofreading skills are excellent! I get great grades most of the time. I refer myself as a tough cookie, but no, i'm not a total tomboy.
So..... I'm from Australia. I'm in High School. I get relatively good grades (usually A's). My best subject is English, so i'm free to help if you wan't me to help edit a page to some standard. I get ridiculed at school, but I don't really care, because in the end, it doesn't really matter. I'm a tough cookie. I'm not afraid to speak my opinions, or to disagree with the person when I personally think it's wrong. I'm a bit of a tomboy, 'cause I like soccer and I'm a little tough and brave.
My Mission as an Editor
Edit
Avatar WikiEdit
To fix any grammar, spelling and vocabulary errors in (mainly) B-class pages.
Stoked WikiEdit
To clean up and reformat lots of pages of the wiki and to provide the wiki with relevant information that will shape it to be like other developed wiki's (such as Avatar Wiki, PotC Wiki, Glee Wiki).
Avatar: The Legend of Aang and the Promise Trilogy Profile
Edit
CharactersEdit
| | |
| --- | --- |
| | This user thinks Toph is the greatest Earthbender in the world. |
| | |
| --- | --- |
| | This user identifies Katara as her favorite character. |
| | |
| --- | --- |
| | This user thinks Azula is the best villain (and also the most INSANE) in the world. |
Episodes Edit
The Awakening, Sozin's Comet, The Fortuneteller
RelationshipsEdit
Kataang (Katara and Aang)
| | |
| --- | --- |
| | This user supports Maiko. |
Maiko (Mai and Zuko)
The Legend of Korra Profile
Edit
CharactersEdit
RelationshipsEdit
Makorra
Want to be on the list? Message me!
Fan Art and Fanon by Me!
Edit
Katara: The Promise style
 Done (5/2/12)
Feel free to request anything by messaging me or editing this page with your request!
United: The Legend of the United Republic Nations