"Fangirls are sticking on him like stink on Iroh's sweaty sandal..."
— MaikoLover96 discusses Mako and the power of his good looks.
"Taangers are just Zutarians in disguise."
— That Wolf
"When you're taught to love everyone, to love your enemies, then what value does that place on love?"
— Marilyn Manson
"Not all those who wander are lost."
— J.R.R. Tolkien
"Little by little, one travels far."
— J.R.R. Tolkien
"When your life is reduced to a pile of ash, what do you do? Do you bury the ashes or do you build something new out of them?"
— MaikoLover96 made a quote in which she is proud of.
"I guess you just don't know people as well as you think you do. You miscalculated - I love Zuko more than I fear you."
— Mai owns Azula in "The Boiling Rock, Part 2"
MaikoLover96
Biographical information
| | |
| --- | --- |
| Nationality | American but my ethnicity is Italian, Scottish, Irish, Mexican, German, French, and British...no I'm not kidding... |
| | |
| --- | --- |
| Ethnicity | American but my ethnicity is Italian, Scottish, Irish, Mexican, German, French, and British...no I'm not kidding... |
Physical description
| | |
| --- | --- |
| Skin color | I'm pretty freakin' pale |
Personal information
| | |
| --- | --- |
| Allies | BlackPrimrose, The Royal We, Kaizuh, White Widow Babe, Tsuminohime, and um other peeps who think I'm cool. If you think you should be here, tell me. |
| | |
| --- | --- |
| Enemies | Trollin' anonymous users and rabid Zutarians. |
| | |
| --- | --- |
| Weapon of choice | Taco salads |
Chronological and political information
| | |
| --- | --- |
| Profession | Future Fantasy author |
| | |
| --- | --- |
| Position | Well I'm laying down with my head propped on a pillow right now, if you must know. |
So I'm back and I'm pretty sure for good this time!
My avatar is the amazingly talented Randy Rhoads. He's one of my favorite guitarists. R.I.P. December 6th, 1956 - March 19th, 1982... a true musical master.

1st season of Korra blew my mind!

I'm MaikoLover96 and here's a little bit about me. I'm a Metalhead/Rocker/Goth/Punk chick who loves Avatar: The Last Airbender, Heavy Metal and Rock N' Roll music (mostly from the amazing 80's),Punk Rock music (you guys probably don't know any of my bands because this generation doesn't listen to anything made before 2009) Supernatural, Harry Potter, Lord Of The Rings, Sonic The Hedgehog, awesome movies, and other awesome stuff. X) I'm a huge Fantasy Junkie. My personality is fun and quirky. I'm unique, I'm not afraid to be different and I think with my wits. I think diversity is something very important. I'm weird and I know that, but I'm very very proud of it. I'm just me and I won't change that. :)
I didn't know how old of a user I am. I've been a member since September 3rd of last year. That's even older than some high ranked people. O_o
I intend to be a successful Fantasy author at some point in my life.

Avatar: The Last Airbender:
My two very favorite Avatar: The Last Airbender characters are Mai and Zuko. I don't favor one over the other.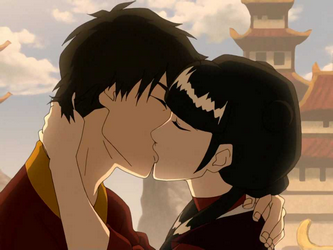 My second favorite is Azula, and my thirds are Sokka, Toph, and Ty Lee.
My Least favorites are Zhao (I find him to be a buttface.) and Suki. Shippings...
I ship: Maiko (Obviously, it's my favorite Avatar: The Last Airbender couple.)
Yuokka (Just no Suki.)
Kataang (I think Kataang is cute.) I refuse to ship:
Zutara (It didn't happen and there was a reason for that. I hate Zutara.)
Sukka (No need to tell you why.)
Taang (No evidence, no sense...it was just a way for the Zutarians to ship Aang with someone other than Katara.)

The Legend of Korra:
So far my favorites are the classic trio. Korra, Mako, and Bolin. (Sometimes female characters really annoy me but Mike and Bryan continue to amaze me with their dynamic chicks ;D)
Oh! and Meelo and Ikki, those two crazy kids keep me laughing all the time.
Amon is a creepy bastard and Lin Beifong...she's a whole different story.
Shippings...
I am a Makorra shipper and I don't see it as replacement Zutara. Different charcters, different personalities, different relationship.
Not a Masami fan...I'm just not.
Want to know more? (Of course you do...) Hit me up on my talk page.
Welcome! This is your user page. Feel free to let your fellow Avatar Wikians know a little more about you by editing this page!