"Sometimes, life is like this dark tunnel. You can't always see the light at the end of the tunnel, but if you just keep moving...you will come to a better place."
— Iroh to Aang in "The Crossroads of Destiny".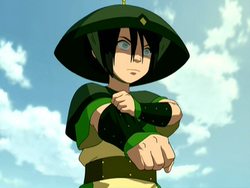 Magicboy10xx
Biographical information
| | |
| --- | --- |
| Alternative name(s) | Magic, MB10 |
| | |
| --- | --- |
| Nationality | United States |
Physical description
Personal information
| | |
| --- | --- |
| Editing style(s) | Looking out for links and references, wording, formatting |
| | |
| --- | --- |
| Contributes often to | Avatar Wiki, Avatar Answers Wiki |
Chronological and political information
| | |
| --- | --- |
| Actual profession | High School Student |
User rights

Rollback (September 15 - present)
Administrator (on AAW) (October 1 - present)
| | |
| --- | --- |
| First edit | Joined July 29, 2012 |
Hello and welcome to my user page! Let me introduce myself: I'm a fun-loving Avatar fan, probably just like you :) I watched the series as a little kid, and remember bits and pieces of it, but I didn't follow it very closely and never watched things in order. However, skip ahead several years, and I heard from my older sister about the sequel to the original show I had watched as a kid: The Legend of Korra. I watched the first two episodes on Korranation, and I was like "Hey, this is pretty good", and after the first four or five episodes aired, I decided to give the ATLA series a rewatch. I'm very glad I did, because I became very attached to it and it easily became my favorite show. I started to look up information regarding the series, and that's when I stumbled upon this wiki. After two months, I finally decided that I wanted to contribute and created an account :)
In the real world, I'm a high school student, who, like many others, hates high school. I swim competitively year round. I enjoy being an Avatard, eating fruits (raspberries are my favorite), video games, and err...physics for some reason.
Favorite Characters
Edit
Toph: Awesome, strong, tough earthbending master who knows who she is.
Zuko: His entire character and story was just so well-written.
Iroh: Most wise, knowledgeable, and insightful person in the series.
Aang: Who doesn't love the kid who grows from a goofy guy in an iceberg to a fully-realized Avatar that saved the world from the Fire Nation?
Katara: Waterbending master, caring for others, and proves herself to be a strong contributor to Team Avatar and ending the War.
Sokka: Love him not just for his comedy and laughs (although they are part of what made the show so great), but also for finding his place in Team Avatar as the swordsman and mastermind.
Korra: She's the new Avatar and you gotta deal with it!
Lin Beifong: Strong-willed and an earthbending prodigy, just like her mother.
Userboxes and Stuff
Edit
| | |
| --- | --- |
| | This user is a member of the Swirling Nomads Tour de ATLA Team. |
| | |
| --- | --- |
| | This user is a member of The Tormenting Vortexes Wiki Rumble 6 Team. |
---
| | |
| --- | --- |
| | This user supports Kataang because their love is true and passionate. |
| | |
| --- | --- |
| | This user supports Tokka because Toph and Sokka are both awesome and Jessie Flower also ships it. |
| | |
| --- | --- |
| | This user is neutral toward Maiko because...I'm just neutral toward them as a pair. |
| | |
| --- | --- |
| | This user opposes Makorra because Mako was a jerk for leaving Asami... |
| | |
| --- | --- |
| | This user doesn't really have much of an opinion about everyone in The Legend of Korra yet because there are still three books left. |