"Hope is a walking dream."
— Aristotle
"No! I will never, ever, turn my back on people who need me!"
— Katara asserting her defensive nature to Sokka in "The Painted Lady", aka my motto.
"Like Oma and Shu. Torn apart by war. Brought together by love. But if the sky can love the sea...Then a bird can love a fish, he sings..."
— The quote I fell in love with from ABCLAF.
"I know sometimes it hurts more to hope and it hurts more to care, but you have to promise me that you won't stop caring."
— Katara to Aang in "The Serpent's Pass."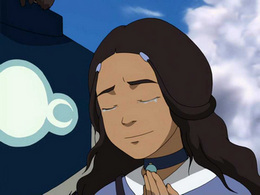 LoveHopeDream123
Biographical information
Alternative name(s)

Katara
Pretty Much Katara In Real Life
LHD
KataraInRealLife
Physical description
Personal information
| | |
| --- | --- |
| Friends | Anyone on here, in particular see Allies list. (= |
| | |
| --- | --- |
| Contributes often to | Avatar Wiki |
| | |
| --- | --- |
| Favorite episode(s) | All, but have my favorites. (See Episodes.) |
Chronological and political information
| | |
| --- | --- |
| First edit | August 21, 2011. |
Hi there! Welcome to my userpage. I'm LoveHopeDream123! All I can say is that I love Avatar: The Last Airbender and The Legend of Korra. They are amazing shows, with so many powerful and beautiful meanings in them. And I'm sure most people here think so as well. On this page you'll find my favorite characters, shippings, episodes, and books. You'll also find my life on wiki. And if you need any help, just ask me, I'll be happy to help. (=
Characters
Edit
Ah, all of the characters in the Avatar World are just wonderful. But, if I had to pick a favorite character from A:TLA, it would have to be Katara. I can relate to her so much, and she is an amazing character in general! My second favorite character though would be Aang, who's pretty much tied with Katara.
For TLOK, I'd have to say Korra is my favorite character. I admire her strength, and she is all around just a great character with a great personality. I also love Mako, too. It's so hard to choose just one character!
Shippings
Edit
In A:TLA, my favorite shipping is Kataang! I just think it's so cute, and meant to be. And their relationship is just amazing. Plus it's canon, so there's no changing it now!

For TLOK, I ship Makorra. I've loved it from the very beginning, so once you start shipping something...you can't really stop...
I love all the episodes in A:TLA! I really, really can't choose at all! But here's my favorite episodes by book:
Book 1: Water
Edit
Book 2: Earth
Edit
Book 3: Fire
Edit

And then for TLOK:
My Life On Wiki
Edit
I'm not writing any fanons (yet). (=
I am reading "Eyes Of Katara" by Vulmen. I love it. I strongly recommend to a Katara fan because it goes through the episodes with Katara's point of view. I'm also reading "A Bird Could Love a Fish" by TAD, and "Emerging and Eliminating" by Aang, and I'm enjoying those as well.
Have Read
Edit
So far, I've finished reading Aang's "Around the World (Again)."
Will Read
Edit
I will definitely be reading "Legend of Mei Lien" by Sky (or hopefully what there is of it), "The Weatherbenders" by KFB and what there is of "But Where Would They Live?" by TAD hopefully sometime soon!
I'm currently the editor of the following fanons:
Userboxes
Edit
I'm Part Of...
Edit
Hope to have more here someday! (=
In no particaular order, don't worry!
I don't like to single people out, but here's my allies.
My Sister (for real, she made an account!)

You're more than welcome to be on this list, just let me know on my talk page!
Why I'm Here
Edit
Well, one night, I was sitting on my computer, and I looked up "Avatar: The Last Airbender" on Google. I just happened to come across this website, and I've loved it from the very first day!