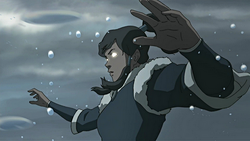 Alexia
Biographical information
Physical description
Personal information
| | |
| --- | --- |
| Allies | Family, Friends, LoK and ATLA fandom, Avatar Wikia, Macedonia, Korra, Asami Sato, Aang, Tenzin, Lin Beifong, Toph Beifong, Katara |
| | |
| --- | --- |
| Enemies | Elena Z, Peter, Alex, Stojce, Dobrica, Amon, Korra haters, |
Chronological and political information
| | |
| --- | --- |
| First appearance | Orlando, Florida |
| | |
| --- | --- |
| Last appearance | Horseshoe Casino |

Welcome to my domain,  :)
Favorite Quotes
"No! I will never, ever, turn my back on people who need me!"
— Katara...
"I know I'm not that great when it comes to emotions, but that's what Tenzin's gonna teach me, right? He's gonna teach me to be gentle, and control my emotions, be spiritual, and the rest of that bullshit. "
— Korra in "Avatard - The Pretty Legendary Story of Korra".
"That's why my firebending was so weak before. Because for so many years, hunting you was my drive... it was my purpose. So when I joined you, I lost sight of my inner fire. But now, I have a new drive. I have to help you defeat my father and restore balance to the world."
— Zuko to Aang...
"Come on, show a little more back bone. It's time that the benders of this city displayed some strength and unity against these Equalists."
— Lin Beifong...
"That's called Sokka Style, Learn it!"
— Sokka...
"It's easy to do nothing, but it's hard to forgive."
— Aang...
You could call me...
Edit
1. Korratastic
2. Korra
3. KorraLover
How I fell in love with ATLA and LOK
Edit
I was about 7 or 8 when Atla premiered. Right after those two episodes were over, I knew that I was going to be obsessed with it. I did! I followed almost every episode of the show. I was about 10 or 11 when the series ended. That was a very dramatic and sad day for me. Then, in 2010 Bryke announced that they are creating a new show called "The Legend of Korra!" When that series premiered, I automatically fell in love with the show. And to this day I still love ATLA, but it's Lok's time to shine! I'm still waiting for Book 2: Spirits I just can't wait for it... That is how I became enthralled with Avatar/ Lok. :D
About me.
Edit
Well. I'm 15 years old, and I'm have a strange obsession with ATLA, LoK, The Nanny, Full house, The Walking dead, George Lopez, and with Everybody Hates Chris.! ( All shows.) I live in New Jersey, a.k.a Joisey. :D I love hanging out with my friends, I guess I'm pretty smart, except my weakest subject is Chemistry.-____-. Oh yeah, of course my name is Alexia. :D My favorite sports are: Baseball, Track & Field, and Basketball. I can't stand Football. Anyways, I guess that's all for now. cause' I'm to lazy to type more. :D
Favorite bending arts.
Edit
1. Water
2. Earth
3. Air
4. Fire
Water;Yes, my favorite bending art is water. It's just so unique! Waterbending will always be my first pick!! :D I just don't like Bloodbending, which is a sub skill for Waterbending...
Earth; Yeah it's my second favorite it's so powerful, and epic besides water, I would be an Earthbender.
Air; Air's pretty cool. I love their way of life! So unique. I'd love to create a tornado. ;D
Fire; Yeah, fire's cool but I don't like destruction. So yeah, that's my least favorite. I guess it'd be cool to bend it, but not using it to hurt people.
| | |
| --- | --- |
| | This user assumes Korra is her favorite Avatar. |
| | |
| --- | --- |
| | This user assumes Kyoshi is her second favorite Avatar. |
| | |
| --- | --- |
| | This user assumes Aang is her third favorite Avatar. |
Things I need to do
Edit
Attempt to slightly like Mako....'

 Not done
Become a known user on this wiki
 Done
To find out the freaking release date for LoK Book 2: Spirits..

 Not done
To deal with Korra & Avatar haters
 Done
Win a championship in Track & Field
 Done
Attempt to like football

 Not done (I hate football) -___-
To actually like the people I don't like. -____-

 Not done
Favorite Episodes
Edit
AVATAR: THE LAST AIRBENDER
Book 1: Water                                                                                                Book 2: Earth                                                                                
1.The Waterbending Master                                                                             1.The Blind Bandit            
2.The Warriors of Kyoshi                                                                                  2.The Library
3.The Siege of the North, Part 2                                                                        3.The Guru
4.The Siege of the North, Part 1                                                                        4.Crossroads of Destiny
5.The Fortuneteller                                                                                           5.City of Walls and Secrets    
                                                                Book 3: Fire                                                                          
                                           1.Sozin's Comet, Part 4: Avatar Aang
THE LEGEND OF KORRA
Book 1: Air                                                               Book 2: Spirits
1.And the Winner Is...                                                1.
3.The Revelation                                                        3.
4.The Aftermath                                                         4.
5.Out of the Past                                                       5.
Favorite Seasons/Books
Edit
ATLA
1. Book 2, (Earth.)
2. Book 3, (Fire.)
3. Book 1, (Water.)
LoK
1. Book 1, (Air.) (This will change, probably when Book 2 is going to premiere.)
2. Book 2, (Spirits.) has yet to premiere
3. Book 3, (?.) has yet to premiere
4. Book 4, (?.) Has yet to premiere.
I think when the entire series of Lok will be over, Book 2 will probably be my favorite. Cause' yanno the Spirit world, and Spirit action. Plus, Korra becoming a spiritual master. Mastering the Avatar State yanno. Book 2 is gonna be awesome. Obviously Books 3, and 4 are gonna be amazingly amazing too!
I'm not an obsessive shipper like some people.... but here are some shipping's I like or completely adore
1. Kataang.... :)
2. Makorra
3. Sukka
4. Pemzin
| | |
| --- | --- |
| | This user supports Sukka . |
My favorite Legend of Korra Characters
Edit
1.Korra
2.Tenzin
5.Pema
My least favorite Legend of Korra characters
Edit
2.Saikhan
3.Tahno
My favorite Avatar the Last Airbender characters
Edit
2.Katara
3.Aang
4.Iroh
5.Sokka
My least favorite Avatar: The last Airbender characters
Edit
1.Jet
2.Ozai
3.Zhao
5.Mai
More Favorite Quotes!
Edit
" Look, I can't wait any longer to finish my training. Being cooped up and hidden away from the world isn't helping me become a better Avatar. I saw a lot of the city today, and it's totally out of whack. I understand now why you need to stay. Republic City does need you. But it needs me, too."
— Korra...
"Airbending is all about spiral movements. When you meet resistance, you must be able to switch direction at a moment's notice."
— Tenzin to Korra in A Leaf in the Wind...
" I won't! I won't use bloodbending and I won't allow you to keep terrorizing this town! "
— Katara...
"After I reconquer Ba Sing Se, I'm going to reconquer my tea shop, and I'm going to play Pai Sho every day! "
— Iroh...
"Ergh! I'm beginning to wonder who's really the blind one around here! "
— Toph Beifong...
"I don't know! I mean, seriously! What is with you people? I'm blind!"
— Toph Beifong...
"Well, look at you, buster. Now that your firebending's gone I guess we should call you the Loser Lord. "
— Sokka...
"Oh, sorry. Didn't mean to offend you, Phoenix King of Getting His Butt Whooped. "
— Toph Beifong...
"And why did you paint me firebending? "
— Suki...
"Together, you and I will be the strongest couple in the entire world! We will dominate the Earth! "
— Azula...
"I'm the Avatar, you gotta deal with it! "
— Korra...
"Time to figure out what spirits sound like! "
— The Track Team talking about LoK Book 2: Spirits. ...
}
I've read many of the Fanons on this Wiki. It's safe to say that most of them are very good! But my absolute favorites are; Legend of Korra Season 2: Journey to Realization, and The Gaang Watches the Legend of Korra! If you want to read a fanon that has great drama, an interesting, + fantastic plot then I highly recommend that you watch Journey to Realization.
Also, if you want to read a Fanon that has amazing humor, and comedy then I highly recommend that you read The Gaang Watches The Legend of Korra! I'm telling you, you're gonna enjoy these Fanons! :)
Last but not least, if you want to read a fanon, that explains what happened to our beloved gaang after the hundred year war. Then I suggest you read, The Years after the Hundred Year War! Don't forget, this user is also making a fan called, The Years Before the Equalist Revolution.! Enjoy.. :)
ATLA or TLOK?
Edit
Hmm, I just don't like the idea of comparing 12 episodes to 61..If I had to choose now, It would be Aang, and the Gaang! I love Korra, and TLok, so they're slightly behind ATLA. Let's just say this. They are both amazing shows, and that Bryke well; they're geniuses! :)
Avatar Korra waterbending.png
| | |
| --- | --- |
| | This user has Korra as her favorite character of the entire Avatar series: an amazing, kick ass, talented Bender, with a great attitude. And of course she is a great Avatar!. |
| | |
| --- | --- |
| | This user likes Asami because she is a bad ass, amazing character, who lost both of her parents. She is tough, and knows how to take care of herself. Also because she is an amazing fighter. |
| | |
| --- | --- |
| | This user thinks Amon is a great villain who has an amazing back story, He is a great fighter, and a Bloodbender, and because he has had the most character development in Book 1 of LoK .. |
| | |
| --- | --- |
| | This user absolutely adores Toph because, she is the best Earthbender in the world!, Also because she is a great character with a great personality. And of course she is funny.:D. |
| | |
| --- | --- |
| | This user loves Katara because she is the best Waterbender in the world. Also because she is very caring and protective for everyone, she is motherly, and she is pretty awesome for training two avatars!. |
| | |
| --- | --- |
| | This user loves Iroh because he is the wisest, funniest Old man out there. He used to be a general, but after his son died, he chose the good side. Iroh is also the best for his love for tea, tea is amazing(:. |