"That's why my firebending was so weak before because for so many years, hunting you was my drive. It was my purpose. So when I joined you, I lost sight of my inner fire. But now I have a new drive, I have to help you defeat my father and restore balance to the world"
— Zuko in The Firebending Masters
250px
IHeartAvatars
Biographical information
| | |
| --- | --- |
| Language(s) | English, Very slight Spanish |
Physical description
| | |
| --- | --- |
| Hair color | Dark Brown with Red Highlights |
Personal information
| | |
| --- | --- |
| Contributes often to | Commenting |
| | |
| --- | --- |
| Favorite character(s) | Korra, Sokka, Toph, Zuko, Aang, Katara, Tenzin |
| | |
| --- | --- |
| Favorite episode(s) | The Firebending Masters,The Siege of the North: Part 2, The Siege of the North: Part 1, The Crossroads of Destiny, Bitter Work, Sozin's Comet: Part 4 - Avatar Aang, The Tales of Ba Sing Se, Zuko Alone, The Storm |
Chronological and political information
| | |
| --- | --- |
| Actual profession | Student |
| | |
| --- | --- |
| First edit | January 10, 2011 at 1:10 |
Hello !! Welcome =]
Today Thought - And.... I'm back. Kind of. Ahha. And my last thought was I was excited for Korra. And I will tell you... I loved it. So my expections were met which is an absolute plus. I'll update this at some point to represent me better. I believe the last time I updated was... like in 2011. That's crazy right. Anyway, thanks for reading. :D
~ Obsessions ~
Edit
I am a avatar freak, yu-gi-oh nerd, na'vi nerd, and a twihard. Take it or leave it.
SN: I'm pretty sure you can figure out what all those are. Some movie, books, and shows.
~Shows I watch~
Edit
(Every episode)
The Nine Lives of Chloe King
The Secret Life of an American Teenager
(Some episodes) ~Basically meaning that I watch the show but if I miss an episode I don't really worry. But most likely will look the episode on the pc to see If I want to see it.
Redakai ( I perfer not to miss an episode. But it comes on so darn early =[)
(Shows that I'm kinda into. Just started watching)
Awkward (It's an MTV show)
~Other Wikias I'm On~
Edit
Secret Life of the American Teenager
My Profile (Not really created yet.
~ Personality (Music That I'm Loving At The Moment ~
Edit
Longest Love: Never Shout Never (NSN) <3
Before This: Owl City
Now: I am in love with 3stm. Better known as 30 seconds to mars.
~ Personality ~
Edit
I am nice and i like to be myself. No worries. No regrets. Just have fun. I am a slightly new Avatar Fan! I decided to watch ATLA after seeing TLA because I enjoyed it so much. I soon became addicted. I finished watching the whole series after 3 days because i woke up in the morning and watched avatar till bed time. (This was done on the weekend) I have rewatched the show mutiple times. I found this website in 2010 and was reading the pages and decided I wanted to make comments. So i signed up. I didn't know nonies could post at the time. But oh w ll. If i was still a nony i would not be able to talk and to be more... into it, i guess. I'll feel like i won't have an identity because of all the oth r are nonies posting and i can't tell which one is me. I feel like when your a nony you just aren't spoken to the same. As a user, i feel like im more recognized. Sometimes, I do say things that might be wrong, but that's because im new to the whole Avatar world. So just nicely correct me please. Also, i wish people would not mention the way i type sometimes. I don't read after i write most of the time. I type from my mind, like im doing now. Cause when i started i didn't know what i was going to talk about and look how long this is becoming. Ha. But anyway, I'm very! very, excited about Korra. Im really intrested in this show. I don't think i can wait till the (now) series comes on! I'm on the edge of my chair about it. This is going to be awesome for sure.
SN: I used to watch ATLA as a kid, but i forgot how much I loved the show and grew out of it. I was reconnected after TLA. So, yes, i am fond of TLA.
~ How I Feel About the Movie (My thoughts exactly but told by a guy~
Edit
~ How I Feel About the Movie~
Edit
I liked the movie. It inspired me to see the show it was based on. When i got to watching it i realized i seen this show before but when i was young. I used to watch it every once in a while. The movie had it's weak parts but I don't judge movies much on the show or book their based on. It's hard to make a movie that's like a show or book that was extremly long. If they stuck to the show or book the movie would be too long to put in movie theaters. I think Night choose the characters on how much they looked like the acter instead of how they acted. So, I think the characters (Aang, Katara, and Yue) looked the part. I think Yue did fine. Aang did fine, but the difference is he wasn't into Katara at all. ( Though i'm a Zutarian, i still feel like there should be chemistry because that's the show) He also wasn't mr. play-alot. He also continued to be in denial about his role of being the Avatar. He just didn't want to be it. But Aang in the book quickly understood the people needed him. Katara - Well i don't remember her part in the movie. So that could be bad. Sukka - was so serious. That's how JR is though. He plays roles with a seriousness to it. I'm neutral to Iroh. Zuko (My avatar world lover) I didn't feel anything toward him. I feel like maybe some else should have played him.
Intrests in the next movie
1. Kyoshi Warriors
2. Toph
3. Jet ( My other lover ) (Am i the only one who thought Jet should be played by his voice actor? )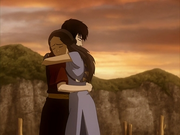 ~ Favorite Ship ~
Edit
I only really like Zutara. But don't get me wrong. I'm neutral about all other shippers out there. I just favor Zutara.
1. Zutara
2. Zong (I like this one, but not above Zutara)
~ Favorite Fighting/Bending Styles ~
Edit
1. Firebending ( It's just pure awesome. Lightning creating so.. bad... butt?. Hha -censored- )
2. Chi Blocking ( For someone who don't have bending powers or do but want the upperhand, i see as being very useful to me. If i was a bender I would use it to get away from benders that are crazy and powerful)
3. Earthbending ( Useful, to just pull the ground from under a person.)
~ Ha-larious ~
Edit
1. That point where Azula ruined the romance moment by stating "Together, we will dominate the earth!" ROFL! Who says that? Then the birds flying behind. Then he was looking scared/confused. I LOVED it.
~ Buddies ( Allies ) ~
Edit
Strong Allies ( People Im friendlier with. Pure Awesome People )
TyLeefan421 ( Oh Em Gee, this is like my new found best friend! We're very similar and i love that she so sweet. I can see a connection with Tylee in her. )
Allies
The Ultimate Waterbender
Skybender101
The royal we
Moph93
Tara22
AvatarFreak21
MsBulma
PSUAvatar14
Nathan Miranda
King Marth 64
AvatarLover
Cutekittenkatara
Other
Everyone else. There are people on here that i heart, they just don't know I do.
~ Fanon ~
Edit
(Click Me) My Fanon I am making a fanon. I have decided to call it Adventures of Li Hua. Li Hua is a 16 year old girl who is brave, outgoing, and stubborn and loves traveling and going on adventures. But what about unplanned adventures? Along the way, she learns more about love and true friendship. But will these friendships last when it's time to return home? Or will they falter? By reading my fanons, the reader would be able to find the answer to such questions and anymore that pops into the imagination of the reader. Take a look inside of the chapters of Adventures of Li Hua for more information.
IHeartAvatars
Avatar Wiki
| | |
| --- | --- |
| | This user thinks Zuko is hot. |
| | |
| --- | --- |
| | This user likes Aang because he is the main character. |
| | |
| --- | --- |
| | This user thinks Zuko is the best Firebender. |
| | |
| --- | --- |
| | This user dislikes Ozai because he scarred his own son, banished his wife, and twisted his daughter and is power hungry. |
| | |
| --- | --- |
| | This user thinks Toph is the best earthbender above all. |
| | |
| --- | --- |
| | This user highly believes Korra is going to be sooo epic & awesome!. |
| | |
| --- | --- |
| HP | This user is a fan of Harry Potter. |
| | |
| --- | --- |
| Navi | This user is a fan of Avatar *James Cameron* (The blue people). |