"I'll be a story in your head, but that's okay. We're all stories in the end. Just make it a good one, eh? 'Cause it was, you know, it was the best. A daft old man who stole a magic box and ran away."
— Eleven in Doctor Who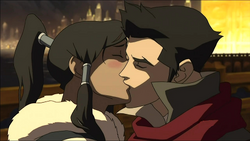 Haybernathy
Biographical information
| | |
| --- | --- |
| Alternative name(s) | Clove, Kaitniss, Kida, Moon Beam, Toph Lover |
Physical description
Personal information
| | |
| --- | --- |
| Contributes often to | Canon, Fanon |
| | |
| --- | --- |
| Favorite character(s) | Katara |
| | |
| --- | --- |
| Favorite show(s) | Avatar: The Last Airbender, Legend of Korra, Doctor Who |
Chronological and political information
| | |
| --- | --- |
| Actual profession | Student |
| | |
| --- | --- |
| First edit | December 21, 2012 |
Haybernathy
Edit
Hello! I'm Haybernathy. You can call me... well, whatever you want. I live in Narnia, I guess until Broadway calls me up. I have many interests, including A:TLA AND LoK. I take drama (as you may have been able to tell), and I read a lot. Basically, I'm a normal teenager except for the fact that I am extremely weirda nd I faangirl... a lot.
Interests
Edit
I am for one, extremely interested in The Hunger Games trilogy. In fact, I'm obsessed. I also love Doctor Who, Once Upon a Time' and Divergent. Take it from me (though I am extremely bias), watch/read them. They're all amazing and I just can't fathom my love for them (oh God, another rant...)
As you can tell, I ship Kataang. I also ship (just not as much) Sukka, Yukka, Makorra, Maiko, and Yurra. (crackship)
For other fandoms I ship Romione, Everlark, Galeniss, Sastrid, Harmony, Amy/Doctor (and you can't stop me), Rory/Amy, River/Doctor (it kills me), and Diana/Caine. I'm pretty sure I forgot at least one, so I'll update this over time. And I guess you don't really know who these people are, so... ask me, I guess.