"Sometimes life is like this dark tunnel. You can't always see the light at the end of the tunnel, but if you just keep moving, you will come to a better place."
— Iroh in "The Crossroads of Destiny"
""Notorious" has a negative connotation. No need for camels to be unnecessarily stigmatised!"
— Hilarious anonymous user being hilarious
"Me : Is this some new Republic City knitting circle I haven't heard of.
Lostris : Yes, yes it is. And you better watch out, they have some mean pointy needle attack."
— Lady Lostris on the newest threat to Republic City, the Triple Thread Triads.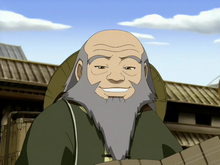 | | |
| --- | --- |
| | This user was a winner of a Cabbagie Award in 2012. |
| | |
| --- | --- |
| | This user opposes the Equalists  because they need to get a life. |
Hi, my name's HammerOfThor. I'm a university student in the UK, currently in the final year of my four year Mathematics degree.
I used to be a big fan of Avatar: The Last Airbender when it first came out, and I just recently got back into it (just in time for Legend of Korra). I've got an idea for a fanon which I think will be fun, and I plan on starting it when I get some time off from studying.
I don't have much experience editing wikis, so to anyone that has to correct my mistakes, I apologise profusely in advance. If you spot anything wrong, don't hesitate to send me a message; I'll be happy to hear from a fellow user, and more than happy to know how to improve.
So yeah, that's me. Over the next few weeks I hope to edit this page a bit more, and hopefully give you guys some more information about myself. I'd love to hear any suggestions you guys have.
Thanks for reading,
- Thor -