Welcome, lost traveler.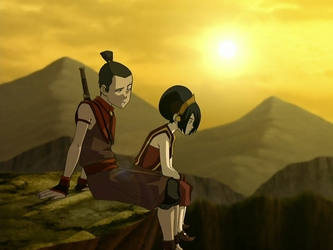 Goldencupcakes200
Biographical information
| | |
| --- | --- |
| Alternative name(s) | Mariah |
| | |
| --- | --- |
| Language(s) | English, Some Spanish, Small Japanese. |
Physical description
Personal information
| | |
| --- | --- |
| Favorite character(s) | Toph, Sokka, Zuko, Aang, Iroh, Azula, Lin, Tenzin, Bolin, Korra, Asami. |
| | |
| --- | --- |
| Favorite show(s) | Avatar: The Last Airbender, The Legend of Korra, Everybody Hates Chris, Teen Titans, Code Lyoko, Dance Moms, Once Upon a Time, My Wife and Kids, George Lopez, Naruto, Angel Beats, Smallville, Regular Show, The King of Queens. |
Chronological and political information
| | |
| --- | --- |
| Actual profession | Student |
| | |
| --- | --- |
| First edit | August 12, 2012 |
"Dreams don't ever really die, Lieutenant. We take them to the grave."
— Amon to Lieutenant in "Dreams.avi"
"Live as if you were to die tomorrow. Learn as if you were to live forever."
— Mahatma Gandhi
"Yesterday is history, tomorrow is a mystery, and today is a gift of God, which is why we call it the present."
— Bil Keane (whoever he is)
"I embrace my weaknesses and call them uniquenesses."
— Rhett
| | |
| --- | --- |
| | This user 's favorite form of bending is airbending. |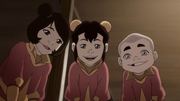 Hello, . Welcome to my wiki. :)
I'm just a socially awkward teen who is obsessed with Avatar: The Last Airbender and Legend of Korra. I've been following the wiki for about 3 years as a shy little nony, and recently in June of 2012 I decided to come out of my shell! I currently reside in the best and worst country ever and I spend most of my time in school, on the wiki, or just being lazy. Usually I'm involved in some kind of discussions on the wiki so talk to me! Please?! I don't bite. :) My first fanfiction is in the works.
Remember, "Be the leaf!"
Experience With Avatar
Edit
Since Avatar: The Last Airbender first debuted when I was only 7-years-old and my family didn't have Nickelodeon at the time, I never knew much about the show but I would try to watch an episode every now and then at my grandmothers' house because it always intrigued me, even though I didn't know much of what was going on. In 2008, I remember watching the series finale of A:TLA with my cousin while I was out of town, and this forced me to have a desire to actually watch the whole series the next year. In a very short amount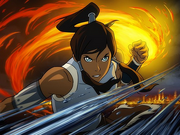 of time thanks to Nicktoons, I had seen all 61 episodes and became absolutely hooked on the show and the characters and I eventually stumbled upon the wiki near the end of the year and read most of the articles which enlightened me even more. In the following summer, (2010) I did a random Google search about any possible sequel to come and to my surpise, I found an article on the wiki about a new show called "Avatar: The Legend of Korra" which only
had this image
and was set to be released in November 2011. I fangirled like a maniac that day, and since then, Korra became apart of my life too. Now, I am one of the biggest fans of Avatar ever! :D
Shipping
Edit
Now yes, despite how many diccussions I get into about the characters and plot, I am a shipper. In fact, I absolutely love to ship....it's just... so kawaii! :D So here's the list of ships I support:
A:TLA Ships:
Kataang (Zutara go home.)
Tokka
Maiko
Sukka
Yukka
Jinko
Irohtea
Smellershot
LOK Ships:
Makorra
Korrasami (friendship)
Linzin (when it was canon)
Pemzin
Meesami (lol jk)
A:TLA vs. LOK?
Edit
I may be a little biased, but A:TLA. Forever and always.
Favorite & Least Favorite Characters
Edit
Just a list of my top 5 favorite and least favorite characters in both series so far.
A:TLA
Favorites:
Toph Beifong
Sokka
Zuko
Aang
Iroh
Least Favorites:
Long Feng
Ozai
Lee
Jet
Katara
LOK
Favorites:
Lin Beifong ( Dem Beifongs! :D)
Tenzin
Bolin
Korra
Asami Sato
Least Favorites:
Hiroshi Sato
Yakone
Tarrlok
Tahno
Mako
Just ask if you want to be on this list. :) -
Future on The Wiki
Edit
I do plan to engage in more discussions as time passes by, as well as edit more. :)
My Favorite Quotes
Edit
(In no particular order.)
"The universe just loves proving me wrong doesn't it?"
— Sokka in The Awakening
"Now I hope that you can see that each element has it's own strengths, and weaknesses. But FIRE is the best!"
— Iroh in Bending Battle
"I see everything that you see, except I don't "see" like you do. I release a sonic wave from my mouth. AAAAAAAAAAAAAAAAAAAAHHHHHHHHHHHHHHHH!! There, I got a pretty good look at you."
— Actor Toph in The Ember Island Players
"That's a sharp outfit Chan, careful, you could puncture the hull of an empire class Fire Nation battleship, leaving thousands to drown at sea. Because, it's so sharp."
— Azula in The Beach
"Squish squash sling that slang! I'm always right back at ya, like my...BOOMERANG."
— Sokka in The Tales of Ba Sing Se
"Jackpot!"
— Iroh in Avatar: The Abridged Series Episode 9.
"It's time for you to look inward, and begin asking yourself the big questions. Who are you? And what do you want?!"
— Iroh pleading with Zuko in Lake Laogai
"I don't need luck though, I don't want it. I've always had to struggle and fight, and that's made me strong. It's made me who I am."
— Zuko in The Siege of the North, Part 2
"It's not the only delicate instrument around here!"
— Toph to Aang in Bitter Work
"Wait, someone's missing from your group, someone very important...where's Momo?"
— Bumi in Sozin's Comet, Part 2: The Old Masters.
"Really? Then perhaps you could explain why there's a Fire Nation insignia on your "construction project"? "
— Katara to Long Feng in The Earth King
"Look here, "Sugar Queen"!"
— Toph to Katara in The Chase
"I'm just a guy with a boomerang. I didn't ask for all this flying, and "magic". "
— Sokka in The Avatar Returns
More Userboxes! :D Edit
| | |
| --- | --- |
| | This user believes that Meelo is a strange but cute little creature. |
| | |
| --- | --- |
| | This user greatly supports Kataang. |
| | |
| --- | --- |
| | This user supports Makorra  but feels that it was rushed. |
| | |
| --- | --- |
| | This user doesn't hate Mako but doesn't like him that much either. |
| | |
| --- | --- |
| | This user absolutely hates Zutara. |
| | |
| --- | --- |
| | This user supports Tokka . |
| | |
| --- | --- |
| | This user knows that Tenzin is always right. |
| | |
| --- | --- |
| | This user supported the Equalists until she found out that Amon was a bender. |
| | |
| --- | --- |
| | This user loves Korra but doesn't believe that everything should be handed to her on a silver platter. |
| | |
| --- | --- |
| | This user wants to see Tenzin interact with his siblings. |
| | |
| --- | --- |
| | This user is eager to see Bolin develop in bending and character. |
| | |
| --- | --- |
| | This user knows that Lee is a buck-toothed ungrateful little brat who can't make up his mind. |
| | |
| --- | --- |
| | This user knows that Asami is a strong independent black woman who don't need no Mako. |
| | |
| --- | --- |
| | This user knows that Iroh is the greatest voice of wisdom in all of cartoon history. |