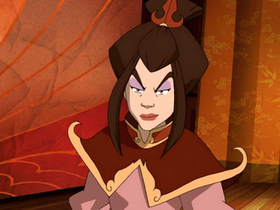 Azula's BFF
Biographical information
| | |
| --- | --- |
| Nationality | African-American |
Physical description
Personal information
| | |
| --- | --- |
| Editing style(s) | Not much so far... |
| | |
| --- | --- |
| Favorite character(s) | No one is as badass as this chick. Toph, Iroh, Mai, Lin, Tenzin, Korra, and Amon (NOT Noatok. They're two different people in my mind) are close seconds. |
Chronological and political information
| | |
| --- | --- |
| Actual profession | College student |
Why I Love Avatar (and Korra) So Much...Edit
---
When Avatar: The Last Airbender first came out, I didn't get it. I didn't know if it was anime or not and Zuko's scar and bald headed pony tail bothered me a bit. So I didn't watch Avatar until it ended in 2008. I was horribly sick that summer was stuck in bed for a month. Nothing was on TV so I unexpectably turned to NickToons, watched an episode and was HOOKED. I watched all of Book 2 and 3 in one weekend.
I was super excited when the movie came out but that was a fail...so when The Legend of Korra came out I freaked!!! My dorm on campus threw a party for the premiere and instantly I fell in love with the show and renewed my Avatar fangirl instincts. I came across this website when I was trying to refresh my memory on ATLA and found it really helpful. Now I usually just leave comments here and there, but I hope to be more helpful with edits and stuff in the future. Now you know :)
In Real Life...Edit
---
I'm a college sophomore at a large university and studying American history and secondary education. I want to become a high school history teacher one day. Besides school and Avatar, I love running, baking cupcakes, and painting my nails (seriously...It's an obsession).
Favorite Episodes (in order of premiere date)...Edit
---
Avatar: The Last Airbender
The Siege of the North, Part II
Zuko Alone
The Chase
Tales of Ba Sing Se
The Crossroads of Destiny
The Beach
The Avatar and the Firelord
The Day of Black Sun, Part II
The Western Air Temple
The Boiling Rock, Part II
Sozin's Comet, Part III

The Legend of Korra
The Revelation
When Extremes Meet
Turning the Tides
Skeletons in the Closet
Userboxes...Edit
---
| | |
| --- | --- |
| | This user likes cactus juice because of the pretty mushroom clouds. |
| | |
| --- | --- |
| | This user thinks Mai should have feared Azula more. |
| | |
| --- | --- |
| | This user thinks Jet had creepy eyebrows. |
| | |
| --- | --- |
| | This user thinks Korra needs to learn how to generate lightning. |
| | |
| --- | --- |
| | This user thinks Linzin  (platonic) is more interesting than Makorra. |
| | |
| --- | --- |
| | This user thinks Yangchen is the greatest Avatar ever. |