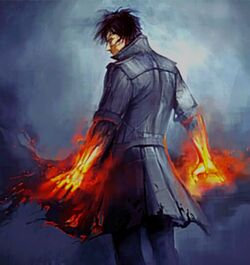 Avatarbender
Biographical information
| | |
| --- | --- |
| Language(s) | Estonian, English, a bit of Russian |
Physical description
Personal information
| | |
| --- | --- |
| Contributes often to | Every page what needs help. My fanon |
My universe, my world, my nation!
Edit
Hello, . You are now on my user page. Please don't change anything without my permission.
Avatarbender
Who am I?
Edit
I am an Avatar fan from Estonia and I'm 13 years old. I like editing wikis, because they would be very informative. I am some kind of WikiFairy and WikiGnome (maybe a WikiWizard too). I like making pages and articles more beautiful. It's like my purpose. I like completing stub pages, because I like informative pages.
Friends in this wiki
Edit
If you want to be my friend, hen just contact me. The list is in alpabetical order.
Get rollback rights.
Fully publish a fanon.
Get many golden badges.
My Userspace Pages
Edit
Sandbox 1, Character testing
Sandbox 2, Organization testing
Signature
Yeah, "Sig" is needed too...
Userboxes
Edit
Wiki Things
User-things
| | |
| --- | --- |
| | This user likes Aang because he is an avatar. |
| | |
| --- | --- |
| | This user loves Appa so much, that he would sell all his books to fly with him. |
| | |
| --- | --- |
| | This user likes Momo because it is so funny. |
| | |
| --- | --- |
| | This user likes Yangchen because she is an avatar. |
| | |
| --- | --- |
| | This user likes Gyatso because he treated Aang like a friend. |
| | |
| --- | --- |
| | This user loves Jinora because she is the daughter of Tenzin. |
| | |
| --- | --- |
| | This user loves Ikki because she is the daughter of Tenzin. |
| | |
| --- | --- |
| | This user likes Katara because she is supreme waterbender (and pretty too). |
| | |
| --- | --- |
| | This user thinks Sokka would be awesome waterbender. |
| | |
| --- | --- |
| | This user hates Korra because she has not a personality, what makes avatar an avatar. |
| | |
| --- | --- |
| | This user likes Kuruk beacuse he is an avatar. |
| | |
| --- | --- |
| | This user both likes and hates Toph because she is a little selfish and rude and so on, but he can earthbend like no one else can. |
| | |
| --- | --- |
| | This user likes Kyoshi because she is an avatar. |
| | |
| --- | --- |
| | This user thinks Bolin is the most humorous member of Team Avatar. |
| | |
| --- | --- |
| | This user hates Bumi because he has a weird sense of humor. |
| | |
| --- | --- |
| | This user hates Jet because he hates Fire Nation too much. |
| | |
| --- | --- |
| | This user thinks Kuei did a right thing arresting Long Feng. |
| | |
| --- | --- |
| | This user hates Long Feng because he is too evil. |
| | |
| --- | --- |
| | This user would buy Bosco from Kuei. |
| | |
| --- | --- |
| | This user loves the Fire Nation  because this nation is just plain evil. |
| | |
| --- | --- |
| | This user likes Roku because he is an avatar. |
| | |
| --- | --- |
| | This user loves Iroh because he is wise and makes some quality tea (hopes he has a summer bouquet tea). |
| | |
| --- | --- |
| | This user likes Azula because she has blue fire and is so great liar. |
| | |
| --- | --- |
| | This user thinks Azulon was the most boring fire lord. |
| | |
| --- | --- |
| | This user likes Bumi because he's a wild man. |
| | |
| --- | --- |
| | This user hates Koh terribly, because he steals faces. |
| | |
| --- | --- |
| | This user loves Chong because he is stupid, but skilled what-instrument-it-is-? player. |
| | |
| --- | --- |
| | This user hates Amon because he is so stupid to think no one will ever find out, who he really is. |
| | |
| --- | --- |
| | This user likes Asami because even if she was not a bender, she didn't change sides. |
| | |
| --- | --- |
| | This user hates Hiroshi because he thinks if one bender kills her wife, he can eliminate every bender. |
Shipping
| | |
| --- | --- |
| | This user loves Zutara because they are meant to be together. |