高手


avatar ace
Biographical information
Physical description
Personal information
Editing style(s)

Article improvements
Image improvements
Vandalism prevention
Chronological and political information
| | |
| --- | --- |
| Actual profession | College student |
Introduction Edit
Welcome, friends, to my userpage. The name's Ace. I'm a fellow Avatar fan and I make sure I know and get informed of every Avatar-related info I can get my hands on whether it's history, culture, society, technique or everything related in the Avatar universe.
As a member of this wikia, I will try my very best to improve articles, images and prevent vandalism throughout the pages.
As a Firebender Edit
In the Avatar world, I envision myself as a firebender. In real life, I'm currently practicing the art of Kyokushin Karate in which I am already a green belt. Since firebending is based on Northern Shaolin style of Kung Fu, I'm more inclined to it since it's the closest to Karate in terms of stances, coordination and balance of forms. In short, I can relate the forms of firebending to my style in Karate.
As the wise Iroh said... "Fire is the best!"
Animal Guide Edit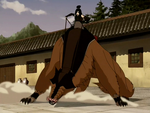 I would love to have a Shirshu as my companion. It would be fast, agile and deadly. It would be useful in different occasions whether running away from the enemy or facing it head-on. I'm sure a sting or two with the Shirshu's lightning-speed tongue would leave my foes eating dirt on the ground!
I would name it "Siryoku" or simply "Siryo" which means sense of sight.
In Real Life Edit
I am currently a college student pursuing AB Communication Arts. Even though I am a Filipino and English isn't my first language, I am very fluent and well educated on it. That is the reason why I took up Communication Arts.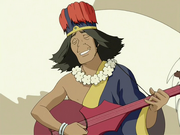 I am a music lover. I both listen to music and make my own music. I am currently the lead/rhythm guitarist for Distortion Theory - a local garage band. We do our own songs and play our own music. We are highly influenced by the bands Nirvana and The Beatles but mostly Nirvana. I don't listen to music nowadays. Not that I hate or dislike them, it's just not my cup of tea.
I am currently a Green Belt in Kyokushin Karate as mentioned on the articles above. That is why I love firebending since I can relate to the forms, stances and strikes.
The Animated Series Edit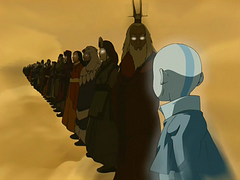 I am a huge fan of both Avatar: The Last Airbender and Avatar: The Legend of Korra. Although both of them are great, in my opinion, Avatar: The Last Airbender still surpasses The Legend of Korra in terms of comedy, scale of action and music.
Even though The Legend of Korra lacks in those aspects, it surpasses The Last Airbender in terms of maturity, animation, landscape and of course what you crazy fans keep expecting, romance and shipping. The Legend of Korra also has that 'edge of the seat' suspense that The Last Airbender brought on its last four episodes. Both are great shows but I still prefer the original.
Favorites Edit

My favorite protagonist would be Sokka. He keeps the group going with his cheerful personality and his 'natural curiosity.' He always knows what to say and manages to crack jokes in the midst of despair. His humor, at times, was so corny it was funny! Even though he wasn't a bender, he got through the whole war with his own resourceful and creative ways of fighting. He was tasked to take care of his home at an early age, that had to be tough but he tried his best. As a plus, he may have discovered the first natural hallucinogenic drug in the world of Avatar.

My favorite antagonist would be Azula. Even though she's hated by several people, her deadly personality is what makes her the best antagonist in my book. At a young age, she's a 'firebending prodigy' - says her father, Ozai. She handled things quite well. She did what she could to make sure every step towards victory was paved and polished. Her ability to manipulate people is an incredible skill. It was that skill that got her to conquer Ba Sing Se without an army. "
She's terrifying and inspirational at the same time.
"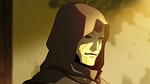 Even though Azula's my overall favorite antagonist, Amon has to be my near second. His anonymity is what made him more evil. It's like Firelord Ozai's mysteriousness when his face wasn't shown until Book 3. Amon's mask and costum is really good, the series' artists and designers really outdid themselves this time. What makes him even more frightening is his ability to take people's bending away. It's every bender's nightmare realized. Not only that, he is also quick on his feet. His agile movements make him a formidable foe.

The Dai Li, the most mysterious organization in the series. These earthbenders are well trained to take you down with their advanced earthbending. The rocks they used as gloves and shoes makes their fighting style unique and badass. With these rocks, they are able to cling on the ceiling, walls, slide on the ground, you name it! What makes them even more badass is their uniform. The robes, the long hair, the hats casting a shadow on their eyes, I would do anything to get my hands on a set in real life!
Tales of the Past Edit
Tales of the Past is a fanon series that tells the stories and experiences of several people throughout the lands during the Hundred Year War. Each book contains a different person telling a different tale whether it is about his life or the conflicts he or she had to face.
Click here to read Tales of the Past
Additional Links Edit