"I always knew I would have to face the Fire Lord. But now I know I have to do it alone."
— Aang, The Awakening
"Some walks you have to take alone."
— The Hunger Games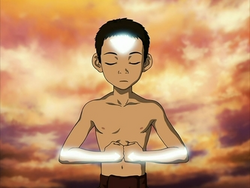 Avatar Aang
Biographical information
| | |
| --- | --- |
| Nationality | Indian-American |
| | |
| --- | --- |
| Ethnicity | Indian-American |
| | |
| --- | --- |
| Age | Old enough to be on this website. |
Physical description
Personal information
| | |
| --- | --- |
| Allies | Everyone. Including |
| | |
| --- | --- |
| Weapon of choice | Sword & Airbending |
| | |
| --- | --- |
| Fighting style(s) | Fight, Flight, or Freeze (or airbending...) |
Chronological and political information
| | |
| --- | --- |
| Profession | As of now, college student |

Hello there, what's your name? Wait for it, wait for it, I'm getting the brain waves! One minute... And I've got it! you gave me some very low frequency brainwaves there. Or maybe... just maybe you don't have any! (Just kidding! I got them immediately.)

In three words, I can summarize what I could otherwise write 100 paragraphs about. Can you guess the phrase?

I LOVE AVATAR.
Oh yeah, and use your imagiantion to input a smiling, waving me.
Hello, my name is Avatar Aang, your name is , and we are going to be friends. Hopefully. I'm a pretty friendly person. And funny. And kind of interesting. In a good way.
I'm into astronomy, biking, mountain climbing, reading and writing. How 'bout you? What are you into? Leave a message on the wall. 
I'm from San Francisco, California and if you didn't already guess, pretty darn awesome! I don't stand for any meaness or trolls on the internet (you have been warned, xGreatchen) and I'm pretty easy-going. Kind of. I'm sixteen, and watched ALL the episodes of Avatar when they first came out (i.e., on good ol' fashioned cable) and since then know most of the plotlines by heart.
I'm also a Harry Potter nerd - got the Pottermore Beta account on July 31, 2011 with my sister Natalia - and totally into stuffed animals. 
Yeah, so I'm Lucas (Luke for short) Zachary and my sister Natalia Emily and I are totally best friends. Because we're also twins. And I'm technically younger. By like 2 minutes, but she NEVER lets me forget it. And I'm into Avatar. Like, REALLY into Avatar. I love it. J'adore. أحبه. Me encanta. Etc. So you'll probably see me around, helping out. Two things *not* to ask me: HTML codes and obvious questions. I am not a patient guy. Even though patience is a virtue. And I'm virtuous. Wait - can you be virtuous if lacking in a virtue? Hmmm... okay, a pretty virtuous guy. There. Fixed it.
Hoping to see you around, !!!!
My Favorite Characters
Edit
I like almost everyone on the show, from insane Azula to the adorable Appa. In order, these are my favorites.
Cabbage Merchant (gotta love his "MY CABBAGES!")
Bosco (there were a lot of ties, so I did my best.) I don't know about you (or do I? *laughs evilly*) , of course, but I think almost everyone on this website has been impacted by Avatar. How many times can you find such an emotional cartoon that makes you cry and laugh, all at the same time?
Least Favorites Follow:
Edit
Animal Trainer who burnt Appa
Avatar Day&nbsp (I liked mostly everything.)
The Episode(s)
Edit
A couple of episodes really made me think about how much cartoons can influence and teach. One, "Lake Laogai" was just mind-blowing. This is the first time we really hear Iroh yell at Zuko, something I thought was coming for a long time. Zuko needed, at that point, to decide who he was and what he wanted. Iroh had tried to nudge him in the right direction multiple times, but he never got the message.
Later on, in the episode "The Crossroads of Destiny", when Zuko betrayed Iroh, I felt shocked. Everything leading up to this point seemed to indicate Zuko was going to do the right thing. Did he? No. This was the most deep, complicated episode in the series. It showed what Zuko had gone through, how he saw what Azula was capable of (the lightning, murderous tactics, and not to mention shooting a defenseless Iroh), yet he still chose her over his own "father". (I put "father" because Iroh was ten times–no, one thousand times–more the father than Ozai.)
If you asked my what my favorite episode was, I would say "all of them." But if you threatened, I would probably say "Avatar Aang." Aang had changed so much from the goofy little 12 year old he was in the beginning. It was also a great episode. I loved the ending, though I sniffled back a few tears at the loss of Sokka's meteorite sword.
One of the symbols I found was that continents were shown in this. I mean, the Earth Kingdom was a lot like Asia. Sticking to the old ways, made of small villages, and very cultural. It seems to me that this is a lot like Asia and Asian customs.
Fire Nation ... I'm from the U.S.A. and I think the Fire Nation represented us. We start wars, thinking it is the right thing, (Sozin wanted to share the wealth of the Fire Nation with everybody else), but it ends up back-firing into a game of power and treachery. We take over the world, to benefit others, but act as parasites. I think this was what the Fire Nation symbolized. Power and courage (yes, they were courageous in my view.)
The Water Tribe were a lot like the Arctic. It was very tucked away, but housed a kingdom (I'm going for the Northern Water Tribe here) of jewels.
The Air Nomads did not seem to be very representative, but I guess they were slightly African (peaceful.)
As the Fire Nation (North America) began its conquest, it took over almost all of Asia (think of the technology being imputed right now, as well as troops in Afghanistan) until there was one great stronghold left. (I'm not sure what Ba Sing Se is, but its name means "impenetrable city" both from a military perspective, and from a technology perspective.)
Just some thoughts I jotted down. Thanks for reading!
Favorite Moments
Edit
I liked a lot of moments on this show. Some were more emotional than others, and some just made me laugh. I don't have an exact order, but I'll do my best.
In "The Southern Air Temple", I thought it was hilarious when Momo stole that moon-peach out of Sokka's hand. Sokka was just gaping in the funniest way possible. That was definitely one of the best moments.
Going back a little, to "The Boy in the Iceberg", I loved when Appa sneezed on Sokka. Totally laughing then.
See, I'm skipping all around the place! Another great and funny moment was Long Feng, in "The Earth King", when he stutters over his words. "It's just a... construction project... All the best tools are, er, imported?"
Deep moments... lots with Zuko... I didn't like these as much, but here you are:
In "The Beach", I really liked it when Zuko was like "I'm angry at myself!!!" And the fire was like: "FWOOSHFWOOSH!!" That was a good moment.
Since we're on sort of betrayals, I liked "The Boiling Rock", when Ty Lee and Mai betrayed Azula. Really kind of going against everything Ty Lee and sort of Mai valued. WOW.
Great show in all. I love Avatar :)! AvatarAang2000 • Talk