"Zuko, please, my love, listen to me. Everything I've done, I've done to protect you. Remember this, Zuko. No matter how things may seem to change, never forget who you are."
— Ursa to Zuko.[1]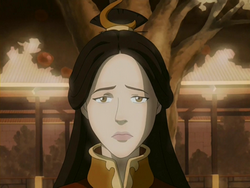 爾姝
Ursa
Biographical information
Physical description
Personal information
Chronological and political information
Position

Princess of the Fire Nation (formerly)
Wife of the Fire Lord (estranged)
Former Fire Nation traitor (amnestied by Fire Lord Zuko)
Image gallery (29)
Ursa
was the wife of
Ozai
, mother of
Zuko
and
Azula
, daughter of
Jinzuk and Rina
, and granddaughter of
Avatar
Roku
and
Ta Min
. She was a kind and gentle mother to her two children, though Azula believed she favored Zuko over her.
She grew up in the Fire Nation town of Hira'a until she, as a descendant of Roku, was forced by Fire Lord Azulon to marry Ozai in order to fulfill a prophecy that would bring great power to Azulon's lineage. When she learned years later that the Fire Lord had ordered her husband to murder Zuko and that he was going to go through with it, she ensured her son's life was spared, but was subsequently banished from the Fire Nation for treason.
Leaving her loved ones
Edit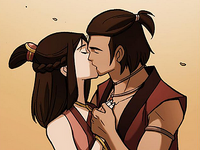 Ursa was born to Jinzuk and Rina in the small Fire Nation town of Hira'a. From an early age, she became close friends with a boy named Ikem. Though she would tease him when they were younger, they became a couple as they grew up.
Ursa auditioned for the role of Dragon Empress in the local production of Love Amongst the Dragons. She went to tell Ikem that she had received the role and found him rehearsing his lines on an empty stage during the day. Upon Ikem's request, they rehearsed a scene of the play in which they would have to kiss on stage, but Ursa expressed her dissatisfaction with "masked kissing", as the props stood in the way. Once she had taken off her mask, Ikem startled her with an unnerving stare; Ursa questioned him about it and he promptly proposed. Ursa, after some slight confusion, happily accepted, and they sealed their engagement with a kiss.
Later at night, she gleefully made her way home to tell her mother of Ikem's proposal, but she found her mother crying over Avatar Roku's headpiece. When she inquired as to what was going on and where her father was, her mother told her that he was in the greenhouse with a visitor. However, before Ursa left the room, her mother emphasized that she loved her.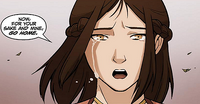 Upon entering the greenhouse, Ursa discovered that the guests her mother had been talking about were Fire Lord Azulon and his son, Prince Ozai. The Fire Lord complimented her beauty before mentioning a prophecy made by the Fire Sages that ensured a powerful lineage of rulers to come forth from a marital union between a descendant of Avatar Roku and his own bloodline. Ozai subsequently proposed to Ursa, and she, without a choice in the matter, agreed. As Ursa was leaving town with her betrothed, Ikem blocked the carriage's path. She pleaded with Ozai that he order his soldiers to stop, calling the prince "[her] love". He complied, and she stepped out from the carriage and told Ikem to go home. Despite his begging, Ursa told him that her decision could not be undone, as Ozai's proposal had brought honor to her family. She made clear to Ikem that marrying Ozai was what she truly wanted, and, with tears in her eye, told him once more to go home, knowing that it was the only way to ensure his safety. She subsequently left a devastated Ikem by the side of the road.
Life as Fire Princess
Edit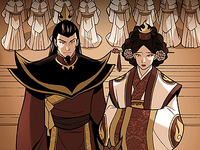 During his wedding celebration, Ozai informed Ursa that she should tell her parents that they had always been good to her, revealing that she could no longer have ties with her former life from then on. Thus, she was forced to bid her parents farewell, and started her new life as a Princess of the Fire Nation.
Following her marriage, Ursa gave birth to Prince Zuko, and two years later, to Princess Azula. On a family trip to Ember Island, Zuko nearly drowned in his attempt to assist a turtle crab. After Ozai rescued him, Ursa comforted Zuko by holding him while he recovered from his experience.[2]
However, even after the birth of her two children, she was unwilling to forget the loved ones she had left behind and wrote to them frequently. She employed a palace servant, Elua, to send secret letters to her loved ones in Hira'a, causing Ursa to view her as part of her family, and was eternally grateful for Elua's services. However, unbeknownst to Ursa, none of her letters made it to their destination as Elua had betrayed her trust and filed the notes away on the orders of Prince Ozai. One of the letters was a message of regret and love that read, "My dearest Ikem, it's taken me a long time to admit it, but you were right. I belong with you, and nothing is worth this pain. My one consolation is our son Zuko. When I look into his eyes, it's as if I'm looking into yours. My thoughts are with you always. Love, Ursa."[3]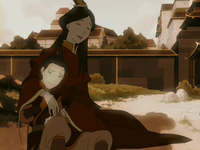 Shortly after the death of Lu Ten, Ozai asked his father, Fire Lord Azulon, to pass Iroh's birthright of the throne to him, since he considered Iroh to be unworthy for letting the death of his son get in the way of conquering Ba Sing Se. The request only infuriated Azulon, who declared that Ozai would be fittingly punished for venturing to betray his own brother in his time of sadness. It was not told what exactly this punishment was or if it was even carried out, though Azula, who had hidden behind curtains in the throne room to listen, told Zuko that it was to have him killed so that Ozai would know how it felt to lose his own firstborn son. By the next morning, Ursa had disappeared, Azulon was proclaimed dead, and Ozai was announced as his willed successor. Before her departure, Ursa woke Zuko to remind him of her true, strong motherly love and to tell him to always remember who he was, no matter how things seemed to change, just before pulling her hood over her head, and walking away into the shadows.[1] She left the palace on a boat.[4]
After the banishment
Edit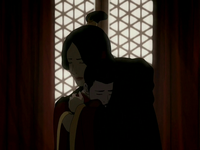 On the Day of Black Sun, Ozai finally shed some light on Ursa's mysterious departure to Zuko, and revealed that Azulon did indeed order him to kill Zuko. Ursa learned of this, and wanting nothing but to protect Zuko, she proposed a plan to Ozai, fully aware of the consequences, which she accepted. The specific details of the plan were not revealed, but it resulted in the death of Azulon, Ozai's ascension to the Fire Nation throne in Iroh's place, and Ursa's banishment from the Fire Nation for doing "vicious, treasonous things".[5]
Zuko saw this story as hope that his mother was still alive. Before Azula's final fight against Zuko during Sozin's Comet, Ursa returned as a hallucination in her daughter's mirror. In a short, but very sad conversation, she claimed to love her, but this only served to further Azula's descent into insanity.[6] After being crowned Fire Lord, Zuko sent out multiple search parties searching for his mother, even hiring June and her shirshu and confronting Ozai in prison, all to no success. Zuko asked Azula if she could coax the information out of their father, and she agreed.[7]
Personality
Edit
One of Ursa's defining features was her strong motherly love and protectiveness of her only son, Zuko, and her life was dedicated to safeguarding him.
Her relationship with her only daughter, Azula, however, was strained by the fact that the young princess was emotionally abusive toward everyone else in the family, especially her older brother, Zuko. She was forced to discipline Azula on a regular basis, but it was apparent to her that her daughter's cruelty was beyond a normal level.[1] Azula believed that Ursa thought of her as a monster,[8] which scarred the princess for the rest of her life and may have influenced some of her later behavior.[6]
Because of their different personalities, Ozai and Ursa slowly grew apart. Their different personalities shaped the lives of their children, each of them favored by a different parent.
Despite much of the strife and sadness in her life, Ursa showed that so long as someone she loved was free and happy, she was content to suffer through her trials.
Relatives
Edit
Main article: Fire Nation Royal Family
Appearances
Edit
Avatar: The Last Airbender

Book Two: Earth (土)

Book Three: Fire (火)

The Promise trilogy

The Search trilogy
She appeared in one of Zuko's nightmares, calling to her son for help.[9]
While imprisoned together in the Crystal Catacombs of Old Ba Sing Se, Zuko disclosed information about his mother to Katara which eventually won him her trust.[10]
It was also revealed that Azula harbored some resentment toward her mother for favoring Zuko.[8] This resentment eventually aided in her mental collapse, as she could not reconcile her belief that Ursa hated her with the subconscious knowledge that her mother did love her.[6]
Avatar Roku was Ursa's grandfather, making two of Zuko and Azula's great-grandfathers Fire Lord Sozin and Avatar Roku. Similarly, Ta Min, her grandmother, looked similar in appearance to her. Her relation to Avatar Roku also means that she and Aang are related spiritually.
Ursa never appeared in the present timeline of the television series. Her story was told in flashbacks.
During the 2008 San Diego Comic-con, it was announced that a reunion between Ursa and Zuko had been arranged, made into a storyboard by director Joaquim Dos Santos, but then dropped just before the finale was finished, as requested by show co-creator Michael Dante DiMartino for reasons unknown.[11]
In the 2010 roundtable discussion with M. Night Shyamalan, one change he said he may make in the sequels of his film adaptation is to reveal Ursa's fate.
In 170 ASC, Jinora, who had read the adventures of Team Avatar, asked her grandmother what happened to Ursa. Katara began to answer that it was an incredible tale, but before she could go any further, she was interrupted by Ikki.[12]
Ursa was cast to play the Dragon Empress in a production of Love Amongst the Dragons at Hira'a, but never got to perform due to her engagement and subsequent marriage to Ozai. She did, however, watch a production of the play by the Ember Island Players every year when she and her family went to Ember Island.[8]
Ursa also kept a collection of four theater masks hidden behind a painting of her and Ozai: the masks of the Dragon Emperor and Empress from the Love Amongst the Dragons, the Blue Spirit mask, and an unknown white mask.[3]
References
Edit
↑ 1.0 1.1 1.2 "Zuko Alone". Elizabeth Welch Ehasz (writer) & Lauren MacMullan (director). Avatar: The Last Airbender. Nickelodeon. May 12, 2006. No. 7, Book Two: Earth
↑ Gene Yang (w), Gurihiru (a). The Promise Part 2 (May 31, 2012), Dark Horse Comics
↑ 3.0 3.1 Gene Yang (w), Gurihiru (a). The Search Part 1 (March 20, 2013), Dark Horse Comics
↑ Donna Dickens (May 1, 2013). The Search Part 2 preview. BuzzFeed. Retrieved on May 1, 2013.
↑ "The Day of Black Sun, Part 2: The Eclipse". Aaron Ehasz (writer) & Joaquim Dos Santos (director). Avatar: The Last Airbender. Nickelodeon. November 30, 2007. No. 11, Book Three: Fire
↑ 6.0 6.1 6.2 "Sozin's Comet, Part 3: Into the Inferno". Michael Dante DiMartino, Bryan Konietzko (writers) & Joaquim Dos Santos (director). Avatar: The Last Airbender. Nickelodeon. July 19, 2008. No. 20, Book Three: Fire
↑ Gene Yang (w), Gurihiru (a). The Promise Part 3 (Sep 26, 2012), Dark Horse Comics
↑ 8.0 8.1 8.2 "The Beach". Katie Mattila (writer) & Joaquim Dos Santos (director). Avatar: The Last Airbender. Nickelodeon. October 19, 2007. No. 5, Book Three: Fire
↑ "The Earth King". John O'Bryan (writer) & Ethan Spaulding (director). Avatar: The Last Airbender. Nickelodeon. November 17, 2006. No. 18, Book Two: Earth
↑ "The Crossroads of Destiny". Aaron Ehasz (writer) & Michael Dante DiMartino (director). Avatar: The Last Airbender. Nickelodeon. December 1, 2006. No. 20, Book Two: Earth
↑ Acastus (2008-07-26). SDCC 2008 Con Report. AvatarSpirit.Net. Retrieved on August 22, 2011.
↑ "Welcome to Republic City". Michael Dante DiMartino, Bryan Konietzko (writers) & Joaquim Dos Santos, Ki Hyun Ryu (directors). The Legend of Korra. Nickelodeon. April 14, 2012. No. 1, Book One: Air