"Zuko, please, my love, listen to me. Everything I've done, I've done to protect you. Remember this, Zuko. No matter how things may seem to change, never forget who you are."
— Ursa to Zuko in "Zuko Alone".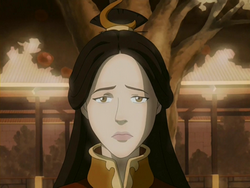 熊子
Ursa
Biographical information
Physical description
Personal information
Chronological and political information
Position

Princess of the Fire Nation (formerly)
Fire Nation traitor (banished)
Image gallery (29)
Princess Ursa
was the wife of
Ozai
, mother of
Fire Lord
Zuko
and Princess
Azula
, and granddaughter of
Avatar
Roku
and
Ta Min
. She was a kind and gentle mother to her children, though Azula believed she favored Zuko.
Upon learning that Azulon had ordered Ozai to murder Zuko, she made a plan to ensure her son's life was spared. This resulted in the death of her father-in-law as well as her husband assuming the title of Fire Lord. Ursa was banished from the Fire Nation for treason.
History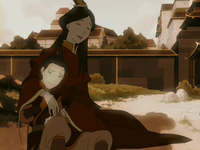 Ursa was born into a noble family and one of her parents was a child of Avatar Roku.[1] At some point, she was arranged to marry the then Prince Ozai, and the couple had two children: Prince Zuko and Princess Azula.
On a family trip to Ember Island, Zuko nearly drowned in his attempt to assist a turtle crab. After Ozai rescued him, Ursa comforted Zuko by holding him while he recovered from his experience.[2]
One of Ursa's defining features was her protectiveness of her son: she may have been one of the only members of the Fire Nation Royal Family, along with Iroh and possibly his son Lu Ten, who loved him. Her life was dedicated to protecting him. Her relationship with her daughter Azula was strained by the fact that the young princess was emotionally abusive toward everyone else in the family, especially Zuko. She was forced to discipline Azula on a regular basis, but it was apparent to her that her daughter's cruelty was beyond a normal level.[3] Azula believed that Ursa thought of her as a monster,[4] which scarred the princess for the rest of her life and may have influenced some of her later behavior.[5]
Shortly after the death of Lu Ten, Ozai asked his father, Fire Lord Azulon, to pass Iroh's birthright of the throne to him, since he considered Iroh to be unworthy for letting the death of his son get in the way of conquering Ba Sing Se. The request only infuriated Azulon, who declared that Ozai would be fittingly punished for venturing to betray his own brother in his time of sadness. It was not told what exactly this punishment was or if it was even carried out, though Azula, who had hidden behind curtains in the throne room to listen, told Zuko that it was to have him killed so that Ozai knew how it felt to lose his own firstborn son. By the next morning, Ursa had disappeared, Azulon was proclaimed dead, and Ozai was announced as his willed successor. Before her departure, Ursa woke Zuko to remind him of her love and to tell him to always remember who he was, no matter how things seemed to change, just before pulling her hood over her head, and walking away into the shadows.[3]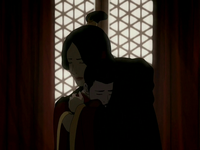 On the Day of Black Sun, Ozai finally shed some light on Ursa's mysterious departure to Zuko, and revealed that Azulon did indeed order him to kill Zuko. Ursa learned of this, and wanting nothing but to protect Zuko, she proposed a plan to Ozai, fully aware of the consequences, which she accepted. The specific details of the plan were not revealed, but it resulted in the death of Azulon, Ozai's ascension to the Fire Nation throne in Iroh's place, and Ursa's banishment from the Fire Nation for doing "vicious, treasonous things".[6]
Zuko saw this story as hope that his mother was still alive. Before Azula's final fight against Zuko during Sozin's Comet, Ursa returned as a hallucination in her daughter's mirror. In a short but very sad conversation, she claimed to love her, but this only served to further Azula's descent into madness.[5] After being crowned Fire Lord and with his father helplessly imprisoned, Zuko confronted Ozai about the whereabouts of his mother.[7]
Seventy years later, young Jinora, who had read the adventures of Team Avatar, told her grandmother that she had been dying to ask her what happened to "Zuko's mother". Katara began to answer that it was an incredible tale, but before she could go any further she was interrupted by Ikki.[8]
Relatives
Main article: Fire Nation Royal Family
Appearances
Avatar: The Last Airbender
Book Two: Earth (土)
Book Three: Fire (火)
The Promise Trilogy
Trivia
References