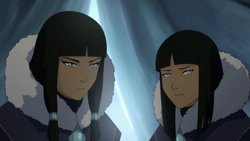 Desna and Eska
Biographical information
Physical description
| | |
| --- | --- |
| Gender | Male (Desna) and female (Eska) |
Personal information
Chronological and political information
| | |
| --- | --- |
| Affiliation | Northern Water Tribe |
| | |
| --- | --- |
| First appearance | Book Two: Spirits |
Desna and Eska
[1]
are the twin son and daughter of
Unalaq
and the cousins of
Avatar
Korra
.
[2]
They will be present in the
Southern Water Tribe
for a festival which Korra will also attend.
Eska is the current Princess of the Northern Water Tribe.
Relatives
Edit
Desna and Eska have been described by the writers as "androgynous, creepy twins".[2]
They are the third pair of twins shown in either series, the first being Poi and Ping, and the second being Lo and Li. However, they are the first twins of different genders.
Preceded by
Unknown, eventually Yue
Tribal Princess (Eska)
Unknown - present
Succeeded by
Incumbent
References
Edit