"We 'protect' these fine establishments around here for a... small fee."
— Two Toed Ping about the work of the Triple Threat Triad.
"Two Toed" Ping
Biographical information
Physical description
Personal information
Chronological and political information
"Two Toed" Ping
[1]
is a
firebending
mobster and member of the
Triple Threat Triad
. He, along with a
waterbender
and an
earthbender
, ran a 'protection' racket in the downtown area of
Republic City
.
[2]
Two Toed Ping and two of his triad friends rode up to one of their protected clients, Mr. Chung, one day. When the store owner explained that he was unable to pay the requested money he offered one of his phonographs instead. Two Toed Ping destroyed the object with a fire kick, a move on which his waterbending friend humorously commented, saying that Two Toed Ping "wasn't a music lover". Right when the three gangsters threatened to burn down the phonograph shop, Avatar Korra arrived at the scene and challenged the gangsters. Oblivious to her identity, Korra's statement was met with laughter by Ping and the other two members. The waterbender then told Korra that she was in Triple Threat Triad territory, and that they were about to put her in the hospital. The young Avatar quickly retaliated, telling them that they were the ones that would need a hospital. Enraged by her attitude, the waterbending mobster attacked.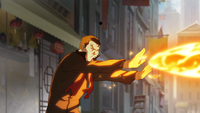 However, in the following moments Two Toed Ping witnessed at first how the waterbender and then how the earthbender easily being defeated by the Avatar. For a second, Ping was shocked by her power, but then his anger against Korra for hurting his fellow Triple Threats and disrespecting his triad gained the upper hand. He attacked her with a fire stream, but she met the blast head on, threw his fire aside and grabbed his wrists. Unable to free himself and knowing what would happen next, Ping cried in fear before Korra threw him through a nearby shop's window.
The triumphant Avatar then mocked the unconscious Two Toed Ping by asking whether he and his friends finally got an idea about who she was. However, by using the favor the moment, the earthbender and waterbender eventually made it to their Satomobile, unnoticed by Korra. They signaled for Ping to get into the Satomobile so they could escape the scene. As the vehicle was driving by the shop, the earthbender launched Ping into the Satomobile by bending the earth beneath the firebender's feet. The three gangsters then attempted to flee from the Avatar, but were thwarted by Korra again. Her earthbending caused the waterbending member to lose control over the vehicle and the three gangsters crashed into another shop. Soon after, the Metalbending Police Force arrived and arrested Two Toed Ping and his friends, as well as Avatar Korra.[2]
Appearances
Edit
The Legend of Korra Edit
Book One: Air (气)
Edit
References
Edit