Turkey duck
Comments

3
8,294pages on
this wiki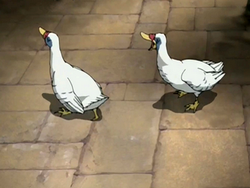 Turkey duck
General information
Chronological information
The
turkey duck
is a small, white quacking
bird
found in the
Earth Kingdom
. It roams around the streets of
Makapu Village
[1]
and can also be found in
Ba Sing Se
. The turkey duck is generally very friendly, but will not hesitate to peck if provoked.
[2]
The turkey duck has two talons, two wings, a yellow bill, and a stubby fan-shaped tail. Besides the gray feathers that encircle both its eyes, the only color on the duck is a strip of red wattle around its bill. The turkey duck has a loud, distinctive warble.
Behavior
Edit
The turkey duck seems to have a very gentle nature, preferring to roam around its habitats. They seem to be scavengers, as they usually can be found hunting and eating.
Connection
Edit
As the name implies, this animal is a cross between a duck and a turkey. Duck is the umbrella term for the common water fowl, which includes geese and swans. A turkey is a large bird in the genus Meleagris.
The many different breeds and species of duck make it nearly impossible to make a direct correlation with the duck seen in Makapu Village, although the red skin over its bill, which is very similar to that of the turkey from which the bird takes it name, also resembles the skin over the bill of the Muscovy Duck.
The turkey duck shown in the episode "The Fortuneteller" has talons, however on the Nick.com website, the turkey duck is shown to have webbed feet.
References
Edit
See also
Edit
External links
Edit