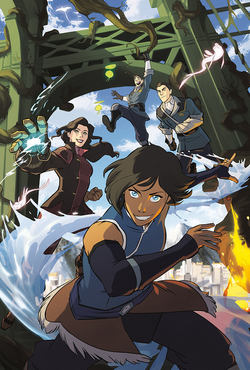 Turf Wars is an upcoming graphic novel trilogy set in the Avatar universe, following the events of Book Four of the television series The Legend of Korra. The first graphic novel trilogy based on the second series will be written by co-creator Michael Dante DiMartino, with line art by Irene Koh and coloring by Jane Bak and Vivian Ng. The series' other co-creator, Bryan Konietzko, will act as a consultant for the novels. The first issue of the series is scheduled for release in comic book stores on July 26, 2017, and in mass market retailers on August 8, 2017.[1] The second part of the series is scheduled for release in comic book stores on January 17, 2018, and in mass market retailers on January 30, 2018.[2]
The Turf Wars trilogy includes:
Plot
Following their trip to the Spirit World, Korra and Asami Sato discover that Republic City has fallen into a state of utter chaos. In the aftermath of the devastation caused by the battle with Kuvira's forces and the opening of a spirit portal in the middle of the city, a developer has moved to turn the portal into an amusement park, potentially severing an already tumultuous connection with the spirits. In addition, the triads have realigned and are in open conflict at the city's borders where hundreds of evacuees have relocated. In order to get through it all, Korra and Asami vow to look out for each other but must first discover how to work better as a team.[3]
Production notes
Trivia
Mako will have the spiky hairstyle he sported throughout the first three books of The Legend of Korra, which was last seen in "Venom of the Red Lotus".[4]
References
See also
Ad blocker interference detected!
Wikia is a free-to-use site that makes money from advertising. We have a modified experience for viewers using ad blockers

Wikia is not accessible if you've made further modifications. Remove the custom ad blocker rule(s) and the page will load as expected.