Triple Threat Triad waterbender
Comments

7
8,295pages on
this wiki
Well, that's not his name ... but ...

The term "Triple Threat Triad waterbender" has not been confirmed by official sources.
"Since you're obviously fresh off the boat, let me explain a couple things. You're in Triple Threat Triad territory, and we're about to put you in the hospital."
— The Triple Threat Triad waterbender to Korra.[1]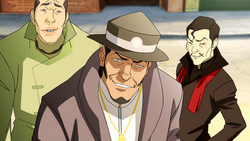 Triple Threat Triad waterbender
Biographical information
Physical description
Personal information
Chronological and political information
This
waterbending member of the Triple Threat Triad
, along with
Two Toed Ping
and an
earthbender
, ran a protection racket in the downtown area of
Republic City
.
This waterbending Triple Threat Triad mobster, along with Two Toed Ping and an earthbender, rode up to Mr. Chung's phonograph shop on the day that Avatar Korra had arrived in Republic City. Upon their arrival at the shop, this member of the group demanded the money that Mr. Chung supposedly owed him, to which the shopkeeper replied by stating that his business had been slow lately, and he did not have the money at the time. When Mr. Chung offered one of his phonographs as payment instead, Two Toed Ping destroyed it with a quick kick, to which the waterbending mobster stated that his friend was not a music lover.
Just as the waterbender was about to threaten Mr. Chung once more, Avatar Korra intervened, causing the Triple Threat Triad members to burst out laughing. The waterbender then told Korra that she was in Triple Threat Triad territory, and that they were about to put her in the hospital. Korra responded by saying that it was them who were about to need a hospital, to which the waterbending mobster replied by asking Korra, "Who do you think you are?" Immediately after, the waterbender launched a stream of water from the inside of his jacket, only to have it redirected back at him and frozen around his head by Korra. As the man was stumbling around, Korra kicked him in the head, causing him to smash his frozen head into the front of his Satomobile, shattering the ice and temporarily knocking him out.
A few moments later, after Korra had thrown Two Toed Ping through a nearby shop's window, the waterbending mobster, along with the earthbender, signaled for Two Toed Ping to get into the Satomobile so they could escape the Avatar. As they attempted to drive away, however, Korra earthbent part of the road, and caused the Satomobile to crash into another shop. The waterbending mobster then fell out of the Satomobile as the door swung open. A few moments later, the Metalbending Police Force arrived on the scene and arrested the three mobsters.[1]
Appearances
Edit
The Legend of Korra Edit
Book One: Air (气)
Edit
References
Edit