Tribal Princess
Comments

15
8,261pages on
this wiki

This article is about the title. For the princess met by Team Avatar, see Yue.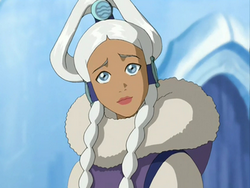 Tribal Princess is the title given to the daughter of the Northern Water Tribe's Tribal chief. The title is currently held by Chief Unalaq's daughter, Eska.[1] Sometime prior to Chief Unalaq's leadership, the daughter of Chief Arnook, Yue, held the title of Tribal Princess. The Princess resides in the Northern Water Tribe Palace.[2]
The Tribal Princess has questionable power. Although she acts as the chief's adviser and thus has a part in making some decisions for her people, it is beyond social standards for the princess to make decisions regarding personal issues, such as marriage. A procession of guards do not follow the Tribal Princess around or carry her on palanquins, unlike the Fire Nation Princess, however she does seem to be catered to by servants, as Yue was transported across the city in a boat by a waterbender.[2]
Like the Tribal Chief himself, the Tribal Princess does not seem to have the same power that the royalty of the Fire Nation and Earth Kingdom have. She is, however, a great influence to her tribe as Yue described her role as "a duty to her people".[2]
Known Tribal Princesses
Edit
Yue was the daughter of the Northern Tribal Chief, while Katara and Sokka were the children of Hakoda, the Southern Tribal Chief. Even though they held this title, with Sokka even calling himself the prince of the Southern Water Tribe in an attempt to impress Yue, a claim Katara found laughable, they were still considered mere peasants compared to the family of the chief of the Northern tribe.
References
Edit
See also
Edit