"You know, I'm sick and tired of you kids sneaking in without paying. I'm taking you to security!"
— Toza admonishing Korra.[1]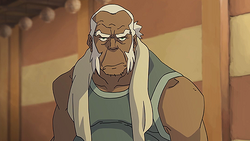 Toza
Biographical information
Physical description
Personal information
Chronological and political information
Profession

Pro-bender (formerly)
Pro-bending gym manager
Image gallery (1)
Toza
is a
bender
and the manager of the
pro-bending gym
in
Republic City
.
A former pro-bender, Toza left the sport sometime before Mako and Bolin started competing and began managing a pro-bending gym. One day, he discovered Mako fighting on the streets and invited the two siblings to live in a room in the attic of the arena and work odd jobs to pay rent, which allowed them to focus on pro-bending.[2]
When Avatar Korra sneaked into the Pro-bending Arena to watch a game, she wandered into a training area where Toza confronted her, demanding to know what she was doing in his gym. Accusing her of having sneaked in without paying, he threatened to turn her over to security and have her thrown out of the arena. Bolin, however, came to Korra's rescue and said that she was with him; Toza dismissed the case, stating that he had work to do.[1]
Toza later swept the floor in his gym while Bolin and Mako were practicing and reading up on Korra's participation in Councilman Tarrlok's task force.[3]
Personality
Edit
At first, Toza appeared to be a grumpy old man, as evidenced when he threatened to take Korra to security at a pro-bending match, but he actually possesses a significant amount of compassion. This is demonstrated by the fact that he allowed both Mako and Bolin to stay in the attic of the Pro-bending Arena in exchange for doing odd jobs.
Appearances
Edit
The Legend of Korra Edit
Book One: Air (气)
Edit
References
Edit