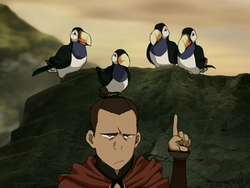 Toucan puffin
General information
Chronological information
The
toucan puffin
is a small, piscivorous, insectivorous
bird
native to the outer islands of the eastern
Fire Nation
.
While mostly black-feathered, the toucan puffin has a white belly and a blue breast with white spots around the eyes. Its most distinctive feature, however, is its large, colorful beak banded in red with a black tip.
Behavior
Edit
The toucan puffin is known to be extremely friendly. While it has the ability to fly, it rarely ever uses it, preferring to spend most of the day sleeping or hunting for food on the ground. It can commonly be seen on rocks in coastal areas, usually near the caverns where its primary food source, the cavehopper, often resides.[1]
Connection
Edit
The toucan puffin is based on two different types of birds: the toucan (the beak) and the puffin (the body). The puffin is a sea bird in the auk family. It has black and white plumage with brightly colored beaks during breeding season. Its wings are adapted for swimming, and it feeds primarily by diving for fish and zooplankton. The toucan is an arboreal tropical bird with enormous colorful beaks. It eats mostly fruit but will occasionally eats insects and small lizards.
When Sokka mentioned that Team Avatar was in enemy territory, he called a group of toucan puffins "enemy birds".[2]
References
Edit
See also
Edit