"That's why we call it justice. Because it's 'just us'. Hahaha!"
— Mayor Tong mocking Team Avatar's efforts to free Aang.[1]
Tong
Biographical information
Physical description
Personal information
Chronological and political information
| | |
| --- | --- |
| Profession | Chin Village leader |
| | |
| --- | --- |
| Affiliation | Earth Kingdom |
Image gallery (5)
Tong
was the mayor of the
Earth Kingdom
town of
Chin Village
. He loved to glorify his town's former leader,
Chin
the Great, almost as much as he loved to denounce the
Avatar
. He used his own brand of justice ("just-us"), which placed any defendants at a severe disadvantage as he alone acted as judge, jury, and prosecution.
During an Avatar Day festival, Aang revealed himself as the Avatar, only to be arrested. While in his jail cell, Mayor Tong explained to him that "Avatar Day" was formed after Avatar Kyoshi killed the village's leader, Chin the Great.
To prove Aang's innocence, Sokka and Katara searched the village and returned to Kyoshi Island to find evidence that proved otherwise, but this proved useless because, according to village law, the opposing sides merely recounted what they believed happened. Using only the two stories, the jury decided who was innocent and who was guilty; Mayor Tong served as both prosecution and jury which meant that convincing him that Aang was innocent would be next to impossible.
During Aang's trial, after hearing Tong's story and Aang's vague version, the Avatar was found guilty. Refusing to give up, Sokka and Katara had Aang dress up in Kyoshi's old uniform. Kyoshi manifested herself through his body, as Avatar Roku had done once before. She announced to the village that she had indeed killed Chin, referring to him as "Conqueror", but in defense of her home. Once Kyoshi's spirit disappeared, the village brought out a wheel for Aang to spin to determine his punishment. It landed on "boiled in oil", but before the sentence could be carried out, the Rough Rhinos arrived to take over the village.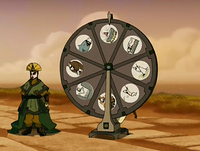 Fearing for his safety, Tong quickly changed the punishment to community service, and pleaded with Aang to defeat the warriors and save the village. After the Avatar and his friends succeeded in defeating the invading group, Tong, as an act of gratitude, decided that in the future, Avatars would be honored on "Avatar Day".[1] Since Aang had not been boiled in oil on this day, the celebration would involve eating effigies of the Avatar made from uncooked dough.[2]

Personality
Edit
Tong was a delusional, arrogant, and ignorant man. Tong was also unfair, having his own style of "just-us", in which he was the judge. Not only was this cowardly mayor the judge, but he was also the jury as well, giving all defendants unfortunate and unfair advantages.
Appearances
Edit
Avatar: The Last Airbender Edit
Book Two: Earth (土)
Edit
Tong shared many similarities with Chi Fu from Disney's Mulan and both characters were voiced by James Hong.
References
Edit
See also
Edit