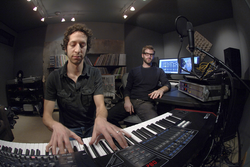 The Track Team is a duo made up of Jeremy Zuckerman and Benjamin Wynn. Together, they composed the music of Avatar: The Last Airbender and The Legend of Korra.[1]
Founded in 2004, the Track Team is a "purveyor of artistically and technologically innovative audio in the realms of television, film, commercials and video games".[1]
At the time the Track Team was beginning its commercial career, Benjamin Wynn was a roommate of Avatar co-creator Bryan Konietzko, so they became a logical choice to be in charge of the soundtrack for the series. The creators approached the Track Team with the request to write the music of Avatar, using a diverse group of instruments. Complying to this wish, the group of musicians used for the score consists of western orchestra blended with Chinese percussion, a mandolin, occasionally a Chinese flute, many other Chinese instruments, and sometimes a choir.
There were very few times when a cue was completely rejected by the creators; Zuckerman stated in an interview that he and Wynn enjoyed a lot of creative freedom.[2] The uncommon understanding is due to the fact that Bryan Konietzko is a composer himself.
Together, the duo have produced the music for the critically acclaimed series Avatar: The Last Airbender. Their work on the show has earned them the 2008 Peabody Award. Their most recent work has been the The Legend of Korra soundtrack.
References
Edit
External links
Edit