The Rift
Talk

0
10,737pages on
this wiki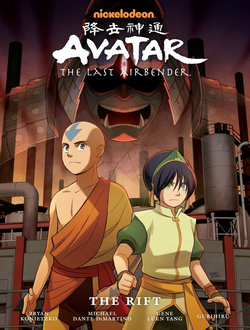 The Rift is an ongoing trilogy of comic books set in the Avatar universe, continuing the storyline established in The Search, which was itself a continuation of The Promise. As with its two predecessors, The Rift is written by award-winning comic author Gene Yang, illustrated by Gurihiru, and published by Dark Horse Comics. The first book in the series was released on March 5, 2014, with the second released on July 2. The third part is set to be released on November 18.[1] The hardcover edition will be released on February 24, 2015.[2]
The Rift trilogy includes:
Plot
The Rift shifts the focus back to Aang as he begins the process of creating Republic City, in contrast to The Search, which was more focused on the story of the Fire Nation Royal Family. Toph's relationship with her parents, Lao and Poppy, will also be explored to some degree,[3] with Yang wanting to give Toph, who was absent from The Search trilogy, a larger role.[4]
References
See also