The Promise Part 2
Comments

1k
8,322pages on
this wiki
The Promise Part 2
Creative
Publication
| | |
| --- | --- |
| Date of publication | May 30, 2012[1] |
The Promise Part 2
is the second installment in the
trilogy
of graphic novels set in the
World of Avatar
as a continuation of the
Avatar: The Last Airbender
storyline. Written by comic author
Gene Yang
, the graphic novel was released by Dark Horse Comics in collaboration with Nickelodeon on May 30, 2012.
[1]
[2]
The graphic novel is a continuation of the plot from
The Promise Part 1
.
Overview
Aang and Katara are working tirelessly for peace when an impasse between Fire Lord Zuko and Earth King Kuei over Fire Nation colonies within the borders of the Earth Kingdom threatens to plunge the world back into war. Meanwhile, Sokka helps Toph prepare her hapless first class of metalbending students to defend their school against a rival class of firebenders.[3]
Synopsis
Aang, Katara, Sokka, and Toph are riding on Appa's back in the Earth Kingdom. Sokka begins to get uncomfortable as he sees Aang and Katara cuddling and begs Toph not to leave him with them. Subsequently, Toph decides to bring him to appraise her metalbending school.
After they land, Toph explains to Sokka what inspired her to start teaching metalbending. As Sokka meets her students, they inform Toph they have been kicked out of their school by a firebender named Kunyo, who is starting another class in the art of firebending. He claims that as the new Fire Lord declared, they are taking what is rightfully theirs. Kunyo also thinks there is no such thing as 'metalbending, until Toph bends a metal spear around his head. As the two of them prepare to fight each other, Sokka interferes, coming up with a less destructive solution. He suggests for the two classes to face off in a competition in three days. The sole condition was whichever team forced a member of the other team to sit would net victory. As Sokka and Toph exit, Toph worries that her students cannot bend metal yet, and after seeing Kunyo's students train, she is sure that her own will be defeated decisively.
Avatar Aang and Katara finally find themselves in the Earth Kingdom. On the way to the Royal Palace, Aang meets a group that refers to itself as the Official Avatar Aang Fan Club. They ask Aang if he would be willing to spend the night in their clubhouse, which has been designed to look like the Western Air Temple. Aang gladly accepts, but Katara is unsure of her position with the group, and feels jealous.
In the Fire Nation, Zuko is asking his imprisoned father for advice, regarding the colonies as the ongoing dilemma regarding their fate weighs heavily on the young Fire Lord. Ozai began telling Zuko a story, involving them, having a vacation on Ember Island. Zuko, then only three years old, witnessed a turtle crab being attacked by a hawk. He rescued the crab as fast as he could. After rescuing the crab, Zuko realized he was condemning the hawk to starve. Zuko stood on the beach, hesitating whose side to take, until a wave washed him in the sea, forcing Ozai to dive in the sea and save him. However, Zuko did not understand how this story could help him with the Fire Nation colonies, and he left his father's cell.
The following morning, Zuko brings in tea to his father's cell and again confronts him concerning the significance of the tale, to which Ozai sternly responds that either decision he would have made regarding the fates of the hawk or the turtle crab would have been the correct one, because the Fire Lord's decision, by divine imperative, would always be the right one.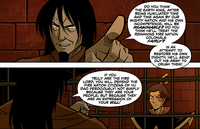 A bitter argument then ensues between father and son, with Zuko angrily denouncing Ozai's lack of belief in right and wrong and promising that he, Aang and The Earth King would come to an agreement as to the fate of the colonies. Ozai responds that he's heard rumors regarding the Harmony Restoration Effort and chides his son for continuing to pursue a negotiated settlement to the crisis. Ozai believes the Earth King will stiffen his resolve this time out and use force to remove the Fire Nation colonials from Yu Dao to save face following years of incompetent rule and past Fire Nation humiliations. He says if Zuko were a true Fire Lord, he would defend the Fire Nation colonials with equal vigor because his subjects are an extension of his divine will. However, when Zuko firmly places faith in Aang's efforts to resolve the crisis because he is on the side of right, Ozai angrily declares that the Avatar is a relic of the past attempting to impose his will on a situation that can only be decided by force and implies his son trusts Aang's judgment over his own. When Zuko fails to respond to the obvious insinuation, an enraged Ozai then orders his son to remove himself from his sight. As Zuko angrily departs the prison, his departure is witnessed by Suki who had secretly followed Zuko there, concerned over his frame of mind.
Back in the Earth Kingdom, Toph's students are training hard, but to no avail; they still cannot metalbend. In the other room, Sokka and Toph discuss how she recruited them. She explained to Sokka that her bracelet 'found' them. When she was in public, the bracelet would shiver ever so slightly, especially around emotional people. Toph hypothesized that the people who made her bracelet shiver could be metalbenders, so she recruited them but, it was still a theory, because none of them has bended metal yet. Sokka offers Toph his service as a 'motivational bender', saying he would motivate her students. Putting a headband on, he attempts to inspire them, but everyone, except him, seems skeptical. Sokka makes them take a strong stance, close their eyes and feel the Earth. He then starts throwing coins at them, hoping that the students would metalbend, but only achieves knocking them down. After seeing his failure, Toph starts making fun of his methods and headband.
Aang becomes distracted by the fan club, enjoying spending time with the girls. Growing more jealous, Katara reminds Aang of the main reason they are in the Earth Kingdom. The two leave, and Aang tells Katara even though it was a silly fan club, that the girls reminded him of being being back with the Air Nomads. Some time later, Aang and Katara greet the Earth King. Earth King Kuei thanks them for taking care of the Yu Dao protest a few days ago. Kuei thinks that Zuko desires to keep the colonies, contrary to their past agreement. Aang and Katara suggest setting up a meeting between him and Zuko.
Toph's students continue their training, but still cannot metalbend. Toph is so disappointed and worried that she doesn't even yell at them. Sokka suggests Toph a new idea; they have to get her students really emotional, to get them to metalbend. Both of them try to figure out a way to get the students emotional. For Ho Tun and Penga, its doom and shoes. It turns out that The Dark One, as revealed by Toph, has a name that really embarrasses him, which is the cause of his spiteful behavior. Toph agrees to tell Sokka the name, only on one condition; Sokka must not reveal it to anyone. He gives Toph the idea to construct something out of metal. Toph shows him the armory below the school, containing kid-sized Fire Nation armors. Sokka instructs Toph on what to build.
Aang and Katara meet up with the Earth King Kuei, saying that they wish to talk to him about the situation in Yu Dao. They inform him that Zuko has withdrawn his support, and inform the Earth King that it isn't about the Fire Lord being greedy and wanting to keep his land. Katara especially persists Fire Lord Zuko has some legitimate concerns about what would happen to his people. Either way, Kuei is not pleased by the news.
Inside the Fire Nation colony of Yu Dao, Kori Morishita, the colonial earthbender, trains with her firebending and earthbending cousins, preparing themselves to defend the city from the growing threat of battle following the massive anti-Fire Nation protests outside the city gates days earlier. Kori's boyfriend, Sneers, appears following the end of her training session, and she learns from him that he was leading the protests together with Smellerbee. An argument ensues to which Sneers gives Kori an ultimatum as to where her loyalties lie, either with the Fire Nation or the Earth Kingdom. Kori angrily responds that she is both an earthbender and a citizen of the Fire Nation, and in return tells Sneers to choose between her or Smellerbee, before storming off.
Meanwhile, Sokka and Toph's students are enjoying the night outside, sitting down near a campfire. Sokka tells a scary story about a 'winged boar spirit' that haunts the mountain, when suddenly Toph comes out disguised as the 'winged boar spirit', which she made due to Sokka's request. The pupils scream, but The Dark One easily discovers Toph inside of metal winged boar. In order to get him emotional like the other pupils, Toph then says his name: Moo-Chee-Goo-Chee-La-Poo-Chee The Third. After all of them are emotional, Sokka attempts to inspire them to beat the firebending rival class. But the students are too panicked to listen.
While Aang and Katara are eating, the Earth King enters, proclaiming he has come up with a decision; He is going to enforce the Harmony Restoration Movement by ordering his troops to march on the colonies. Aang and Katara try to dissuade him, but fail. Earth King Kuei goes as far as to say that if Aang does not join his cause, he stands against him.
Sokka meets Toph in front of the metalbending school. Sokka tries to tell Toph about another idea for motivating Toph's students, but Toph interrupts him, telling him how she achieved metalbending. She tells him that when she first performed metalbending, it was in a tiny, metal cell when Xin Fu and Yu were taking her back to her parents. The thought that she was going to be made into something that she is not caused her to experience pain and pressure, and from now on she will not try to make her students be something they are not: metalbenders. Unbeknownst to Toph and Sokka, Ho Tun, Penga, and The Dark One listen in on the conversation and decide to stay, and do their best to become metalbenders.
Aang and Katara decide to travel to Yu Dao to evacuate the colonists before the Earth Kingdom's army arrives. Yee-Li, who is spying on the couple, sends a messenger hawk to the Yu Dao Chapter of the Avatar Aang Fan Club stating that their help will be needed.
The next morning, the rival firebending class comes to the school. Their teacher is ready for the match and taunts Toph. Knowing that her students cannot metalbend, she says he already won. Ho Tun suddenly enters and bends a few coins of metal, hitting Toph. The other two students are also present and start metalbending at the firebender students. They release a barrage of coins at their opponents, causing them to win the match and their school. Afterwards, the students explain to Toph and Sokka how Toph's words inspired them to learn metalbending.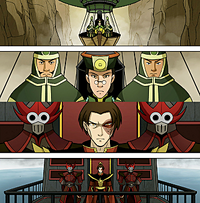 Back at the Fire Nation Royal Palace, Mai confronts Zuko, and they have an argument. Mai, upset that Zuko is keeping secrets from her, tells Zuko that she believes he cares more about his secrets than about her, and Mai tells Zuko that she is leaving him, and then exits despite Zuko's pleas that he still loves her. As she leaves, Suki enters the throne room, asking him if she or the Kyoshi Warriors could help in some way, and that they are worried about him. She then states that she, specifically, is worried about him. General Mak enters the throne room, reporting that the spies from the Earth Kingdom have sent a message saying that the Earth King and his army are ready for an invasion on the Yu Dao.
In the Earth Kingdom, Kuei has gathered his soldiers, ready for war. Near the Earth Kingdom, Fire Lord Zuko has gathered his fleet, ready to fight for the sake of the colonies.
Notes
Translations
Main article: Writing in the World of Avatar
Goofs
On page twenty, there is one panel in which the top-knot in Katara's hair is missing.
On page thirty-three, the tattoos on Aang's arms are missing. Additionally, on the lower right panel, the rest of his right arm seems to be missing.
On pages fifty-eight (lower left panel) and seventy-one (upper left panel), the tattoos on Aang's arms go over his biceps when they should be going under.
On page seventy-two, Mai's eyes are colored yellow, but in the animated series they were a purplish gray. A similar goof occurs on page seventy-four where Suki's eyes are colored green, but in the animated series her eyes were purple.
On page sixty-one, there is one panel where the tattoos on Aang's arms are missing.
Trivia
In the final two scenes, the Earth King is shown to be traveling by hot air balloon, while the Fire Lord travels by water. This is something that could be found unusual, as the Fire Nation were the first ones to travel by hot air balloon. On top of that, the way they are traveling represents the elements of the two nations that are not participating in the conflict as well as the elements that are opposite to the element of each leaders' nations.
References
See also