Many action figures were put on the market for promotional purposes both before and after the release of The Last Airbender in theaters, all of which make up The Last Airbender toyline. The following toys may still be found in some stores, but they are rather expensive. Nonetheless, originally priced toys can be found on places such as eBay, Amazon, ToyWiz and other merchandise-selling stores.
Toys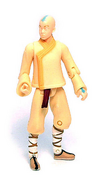 The following is a list of all The Last Airbender toys created. They are all three and three quarter inches tall, with the exception of those in the special toys category. The new series of toys released added Katara and Iroh action figures to the list of toys.[1]
Special
References
See also
Ad blocker interference detected!
Wikia is a free-to-use site that makes money from advertising. We have a modified experience for viewers using ad blockers

Wikia is not accessible if you've made further modifications. Remove the custom ad blocker rule(s) and the page will load as expected.