The Dark One
Talk

0
9,324pages on
this wiki
"Why can't people see I'm more than just a pretty face?! I have the soul of a poet!"
— The Dark One describing himself.[1]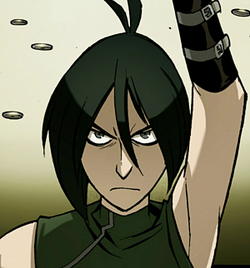 The Dark One
Biographical information
| | |
| --- | --- |
| Alternative name(s) | Moo-Chee-Goo-Chee-La-Poo-Chee the Third |
Physical description
Personal information
| | |
| --- | --- |
| Weapon of choice | Earth, metal |
Chronological and political information
| | |
| --- | --- |
| Position | Metalbending student |
Image gallery (10)
Moo-Chee-Goo-Chee-La-Poo-Chee the Third
, more commonly known as
The Dark One
, was one of the first students of the
Beifong Metalbending Academy
. He had a severe distaste for everything, even going as far as announcing his hatred for everyone and anything. The pinnacle of his hatred was his own real name, and thus he made sure that it was never spoken.
[1]
[3]
History
Having deemed the name his parents gave him to be ridiculous, The Dark One soon developed an adversity toward everything in the world. One time, when he was out on the streets of Yu Dao uttering hateful remarks at the address of every passerby, he inadvertently moved Toph's space bracelet ever so slightly. The earthbending master thus recruited him for her academy, thinking he had potential to become a metalbender. However, progress was slow, as he was unable to move even a single coin by the time that Sokka visited the academy.[1]
When the academy was taken over by firebender students of the Master Kunyo's Firebending Dojo, The Dark One commented that although he hated practicing forms like Toph had ordered,[3] he hated being kicked out of their own school even more. Having managed to buy the students three extra days to practice, Toph and Sokka tried many different methods to get The Dark One and the two other students to bend metal. During one of these attempts, Sokka figured that since the students had originally moved Toph's bracelet unintentionally while in extremely emotional states, all they needed to do was recreate that state. To achieve this, Toph uttered The Dark One's real name, Moo-Chee-Goo-Chee-La-Poo-Chee the Third. However, instead of being able to earthbend, The Dark One broke down, stating that the mention of his real name had "lodged a splinter in [his] soul".
The evening prior to the battle, he and the other students were prepared to leave the academy when they overheard Toph telling Sokka that she had been expecting them to be something they were not. Inspired by the fact that someone expected him to be something more than, as he said himself, "a tall, dark, mysterious hunk," he and the other students figured out the key to metalbending and were able to bend metal coins, thus defeating the rival firebending school.[1]
He stated that he had a "soul of a poet", and thus started speaking in using vivid and poetic terms, much to the annoyance of Toph, Penga, and Ho Tun, who all wished he would go back to hating people. When Toph was in trouble during the battle for the Harmony Restoration Movement, The Dark One, Ho Tun, and Penga helped out and metalbent the Fire Nation soldiers' helmets.[4]
Personality
The Dark One was quiet and rather spiteful. He claimed to hate everything, especially his real name and his youth, and was resentful of people seeing him as just a pretty face, claiming he had the soul of a poet as well; he proved this point by reciting poems even in the midst of battle.
Abilities
The Dark One was an earthbender, but from Toph's perspective, he needed practice in order to begin learning metalbending.[3] Along with his fellow students, The Dark One was later able to teach himself a basic level of metalbending being able to redirect metal coins in the direction of Kunyo's students.[1]
Appearances
Graphic novel trilogies
Trivia
References
See also