The Complete Book 1 Collection (Collector's Edition)
Talk

0
Share
Ad blocker interference detected!
Wikia is a free-to-use site that makes money from advertising. We have a modified experience for viewers using ad blockers

Wikia is not accessible if you've made further modifications. Remove the custom ad blocker rule(s) and the page will load as expected.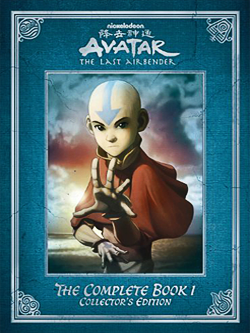 The Complete Book 1 Collection (Collector's Edition) is a seven-disc limited collector's edition which includes the entire Book One: Water compilation. It includes several bonus features: an exclusive behind-the scenes documentary, and a special preview edition of the now released Avatar: The Last Airbender—The Art of the Animated Series.
Discs
Book 1: Water; Disc 1
Book 1: Water; Disc 2
Book 1: Water; Disc 3
Book 1: Water; Disc 4
Book 1: Water; Disc 5
Book 1: Water; Disc 6 (extras)
Behind the Scenes with the Avatar Crew & Cast
Avatar Pilot Episode (with audio commentary)
The Making of Avatar - Inside the Korean Sound Studios
The Making of Avatar - Inside the Korean Animation Studios
Collector's Edition Special Disc 7
32 Minute Special Interview with the Avatar Creators
Avatar: The Last Airbender—The Art of the Animated Series
Special forty-seven page preview edition:
Introduction
The Air Nomads (pages seven to sixteen)
The Water Tribe (pages seventeen to twenty-six)
The Earth Kingdom (pages twenty-seven to thirty-seven)
The Fire Nation (pages thirty-seven to forty-seven)
See also