Tenzin's relationships
Comments

75
8,331pages on
this wiki
This page is comprised of Tenzin's relationships with other characters in the Avatar World. Tenzin is a quiet and calm man with a great sense of responsibility toward the people of Republic City.
Relatives
Edit
Tenzin was the only one of Avatar Aang's children who inherited his father's airbending. As the only living airbending master, Aang taught him, and Tenzin mastered the skill, earning his arrows. The two developed a good relationship; the Avatar even built a new air temple for his son and his family.[1] Tenzin highly respects his father as his mentor, and rarely addresses him as "father" unlike his mother. Instead, Tenzin calls him "Avatar Aang" whenever the latter is brought up in a conversation. However, it is notable that when he does refer to Aang as such, the topic of conversation usually has to do with the responsibility of being the Avatar, whereas his referring to Aang as "father" can be observed when the conversation turns to Aang in a familiar setting. 
Tenzin respects his father and still misses him. When he was heading to Air Temple Island on his boat, he looked up at Aang's statue with sorrow before solemnly bowing his head.[2] When Tarrlok suggested that he was emulating Aang's past actions in the council, Tenzin quickly and defensively chastised him for being arrogant enough to think himself to be as good as "Avatar Aang".[3]
Being a member of the United Republic Council, Tenzin feels a great responsibility for the welfare of Republic City and its inhabitants. His original desire was to protect the metropolis. This may have stemmed from the fact that his father helped to found the entire United Republic. If this is so, it shows how much Tenzin wishes to please his father, both then and now.
Children
Edit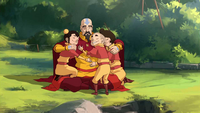 As evidenced by Ikki and Jinora's reaction to Korra accusing Tenzin of being a "terrible teacher", Tenzin has a loving relationship with his two daughters and son. His daughters immediately comforted him when he appeared crestfallen, and he was not at all surprised by their gestures. Despite facing testy parenting issues, namely Jinora's growing interest in boys, Ikki's uncontrollable verbosity, and Meelo's constant mischief, Tenzin still loves his children dearly.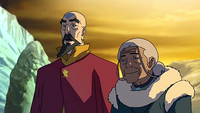 When Tenzin and his family traveled to the Southern Water Tribe compound, Katara was eagerly awaiting the arrival of her youngest son and her grandchildren. Once he arrived, Tenzin briefly bowed with respect to his mother. When Tenzin revealed that his family would not be moving to the compound as planned and would only be staying for one night, Katara appeared quite disappointed.[2]

Kya and Bumi
Edit

Katara mentioned that Tenzin, while growing up, had always had a very different personality than his older siblings, Kya and Bumi. While his siblings were rambunctious, he retained a more serious and calm demeanor.[2] When Bumi arrived at Air Temple Island after Amon's defeat, Tenzin sighed and muttered, "Now I have to entertain my brother," evidence that he struggles to cope with Bumi's hyperactive and bouncy nature.
Love interests
Edit
Lin Beifong
Edit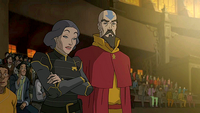 Lin and Tenzin seem to have a distant, yet professional, relationship. The two were romantically involved in their younger years, but began to drift apart after a while, one of the reasons being Lin's lack of interest toward having children unlike Tenzin. Tenzin broke it off after Pema confessed her love to him. Lin tried unsuccessfully to get Pema thrown into jail afterwards.[6] Presently, despite there still being some tension between the two, they seem to regard each other with respect, as Tenzin managed to convince Lin to release Korra after she was detained by the Metalbending Police Force.[2] Even with the tension and distance between them, they also worked closely together while monitoring the Pro-bending Championship[6] and during the subsequent investigations into Cabbage Corp and Future Industries.[7] Sometime later, Tenzin asked Lin to protect his family in his absence while he met with the council. Lin accepted, acknowledging him as an old friend. He later showed concern for Lin after she left to take down the Equalist airships and agreed with his son when Meelo commented, "That lady is my hero," referring to Lin.[4]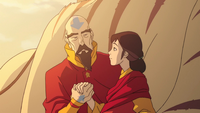 Pema and Tenzin got to know each other at Air Temple Island, where she was part of the Air Acolytes that had moved there to learn the ways of the Air Nomads.[8] At that time, Tenzin was in a relationship with Lin Beifong,[6] but Pema fell in love with him nonetheless. Albeit shy and scared of rejection at first, she eventually mustered up the courage to admit her true feelings to him.[9] Those feelings were reciprocated by him, as he broke off his relationship with Lin and eventually married Pema. Together, the two started a family which consists of four children, two daughters and two sons.
Tenzin is very protective of Pema, especially when she was pregnant, and wants to assist her in any way he can. Tenzin holds his wife's opinion in high regards[2] and they live happily together on Air Temple Island with their children.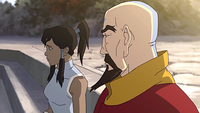 Tenzin allowed Korra to stay with him in the Air Temple after disagreeing with Lin's decision of sending Korra back to the Southern Water Tribe. Having Korra stay with his family changed his peaceful life, and his obligations increased as well. Aside from protecting Republic City as a council member, he also has to teach Korra airbending and the spiritual aspects of being the Avatar.
Tenzin also plays the part of a father figure for Korra. He became very protective over her when she moved to Republic City. For example, he almost sent out search parties to look for Korra when she did not return home while she was looking for Bolin. Furthermore, Tenzin prohibited her from watching pro-bending as she had come to the city to learn airbending. Although he eventually let her participate, Tenzin watched the final tournament, just to make sure Korra was safe.[6] Tenzin also noticed Korra's fear of Amon and asked her about her real reason for refusing to join Tarrlok's task force, telling her that it is okay to be afraid sometimes. At her denial, he reassured her that she could tell him anything whenever she wanted. After the Avatar's encounter with Amon, Tenzin found her at Aang Memorial Island, where Korra finally admitted her fears, crying in his arms while he comforted her.[3] He was also very concerned when Korra was captured by Tarrlok and even threatened to attack him if he did not reveal where Korra was.
Tenzin was very concerned for Korra when she lost her bending to Amon. However, when Korra regained her powers and entered the Avatar State, he was incredibly proud of her and relieved that she had her bending back. When she restored Lin's bending, he addressed her as "Avatar Korra".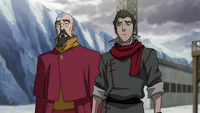 Originally, Tenzin only knew Mako as Korra's pro-bending teammate, and due to his personal views against pro-bending, Tenzin did not interact much with Mako. However, as the Equalists began taking a more active approach against Republic City, Mako's budding relationship with Korra made the airbending master converse more with the firebender. Tenzin later even allowed him and his brother Bolin to live at Air Temple Island after losing their home at the Pro-bending Arena. When the Equalists captured Tenzin and his family, and Amon was about to strip Tenzin of his airbending, Mako directed a lightning strike at the stage and diverted the attention away from the airbenders while Korra freed them. Afterwards, Tenzin sincerely thanked the young firebender. When Korra fell into depression over losing three of her bending abilities to Amon, Tenzin offered Mako some advice about how to approach Korra regarding his new feelings for the young Avatar.[5]

Tenzin considered Amon a great threat to Republic City and was concerned about how the city would react to his revolution. Unlike Tarrlok, however, Tenzin did not favor any direct action against Amon, thinking it would escalate into a civil war.[3]
Equalists
Edit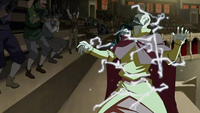 As a member of the United Republic Council, Tenzin took the Equalists' threat seriously, though he wished to see it handled to a point where balance was retained between benders and non-benders.[3] Tenzin first encountered the Equalists in the Pro-bending Arena during their ambush. He and Lin Beifong were attacked, both of them stunned by electrified gloves. Following the completion of their attack and subsequent escape, Tenzin declared that Republic City was at war with the Equalists.[6] Days later, Tenzin, Lin, Korra, and members of the Metalbending Police Force ambushed the Sato estate after receiving tips of a secret underground factory in operation. However, the Equalists planned everything out and ambushed the investigating party. Tenzin held his own for as long as he could, but like his associates, he was stunned by Hiroshi Sato and left unconscious before they were rescued.[7]
Hiroshi Sato
Edit
Before knowing Hiroshi Sato's real personality, Tenzin never suspected that he could be an Equalist sympathizer. When Korra told him and Lin Beifong about the phone conversation she had overheard Sato having, he concurred with Lin that he had the means and a motive to be allied with the Equalists. After getting a tip about Hiroshi's involvement with the revolutionary group, he accompanied Korra, Lin, and several metalbending officers during the raid of the secret factory beneath Sato's mansion, where they were ambushed by the industrialist and some Equalists.[7]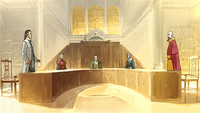 Tenzin and Tarrlok served together on the United Republic Council until the latter's secret past and abilities were exposed. They had a contentious relationship and a long-standing rivalry, almost always disagreeing in every council meeting. When Tarrlok went to Air Temple Island in an attempt to recruit Korra into his task force, Tenzin was very hostile toward him and only reluctantly allowed him to stay.[3] Tenzin and Tarrlok briefly agreed when they both decided to shut down the Pro-bending Arena. However, Tarrlok recanted after Lin Beifong intervened.[6]
Later, Tarrlok kidnapped Korra, using the art of bloodbending. After finding the Equalist headquarters, he realized that Tarrlok must have been the one who had kidnapped Korra. He then chased down Tarrlok, and found him at the City Hall. There, the Council page informed him, Lin, the Council, and the rest of Team Avatar that Tarrlok was a bloodbender. Tarrlok then used bloodbending to knock out Tenzin as well as the others, and fled the scene.[11]
References
Edit
↑ An aerial shot of Air Temple Island. Korra Nation on Tumblr (February 23, 2012). Retrieved on February 23, 2012.
↑ 2.0 2.1 2.2 2.3 2.4 2.5 2.6 "Welcome to Republic City". Michael Dante DiMartino, Bryan Konietzko (writers) & Joaquim Dos Santos, Ki Hyun Ryu (directors). The Legend of Korra. Nickelodeon. April 14, 2012. No. 1, Book One: Air
↑ 3.0 3.1 3.2 3.3 3.4 "The Voice in the Night". Michael Dante DiMartino, Bryan Konietzko (writers) & Joaquim Dos Santos, Ki Hyun Ryu (directors). The Legend of Korra. Nickelodeon. April 28, 2012. No. 4, Book One: Air
↑ 4.0 4.1 "Turning the Tides". Michael Dante DiMartino, Bryan Konietzko (writers) & Joaquim Dos Santos, Ki Hyun Ryu (directors). The Legend of Korra. Nickelodeon. June 16, 2012. No. 10, Book One: Air
↑ 5.0 5.1 5.2 "Endgame". Michael Dante DiMartino, Bryan Konietzko (writers) & Joaquim Dos Santos, Ki Hyun Ryu (directors). The Legend of Korra. Nickelodeon. June 23, 2012. No. 12, Book One: Air
↑ 6.0 6.1 6.2 6.3 6.4 6.5 6.6 6.7 "And the Winner Is...". Michael Dante DiMartino, Bryan Konietzko (writers) & Joaquim Dos Santos, Ki Hyun Ryu (directors). The Legend of Korra. Nickelodeon. May 12, 2012. No. 6, Book One: Air
↑ 7.0 7.1 7.2 "The Aftermath". Michael Dante DiMartino, Bryan Konietzko (writers) & Joaquim Dos Santos, Ki Hyun Ryu (directors). The Legend of Korra. Nickelodeon. May 19, 2012. No. 7, Book One: Air
↑ The Legend of Korra: Welcome to Republic City. Nickelodeon (April 6, 2012). Retrieved on April 6, 2012.
↑ "The Spirit of Competition". Michael Dante DiMartino, Bryan Konietzko (writers) & Joaquim Dos Santos, Ki Hyun Ryu (directors). The Legend of Korra. Nickelodeon. May 5, 2012. No. 5, Book One: Air
↑ "The Revelation". Michael Dante DiMartino, Bryan Konietzko (writers) & Joaquim Dos Santos, Ki Hyun Ryu (directors). The Legend of Korra. Nickelodeon. April 21, 2012. No. 3, Book One: Air
↑ "Out of the Past". Michael Dante DiMartino, Bryan Konietzko (writers) & Joaquim Dos Santos, Ki Hyun Ryu (directors). The Legend of Korra. Nickelodeon. June 9, 2012. No. 9, Book One: Air