Technology in the World of Avatar
Comments

88
8,336pages on
this wiki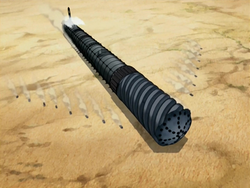 Technology in the World of Avatar
General information
| | |
| --- | --- |
| Type | Technology and inventions |
Technology
in the
World of Avatar
varies greatly from nation to nation. Undergoing an industrial revolution, the
Fire Nation
was far more advanced compared to the other three nations, though the
Earth Kingdom
, albeit still pre-industrial, was much closer to the Fire Nation's capabilities than the peaceful and technologically unambitious
Air Nomads
or the
Water Tribes
were, which as the names suggest, used only primitive technologies in combination with
airbending
and
waterbending
respectively to achieve their needs and ends.
In addition, technologies in general advanced differently based on bending. Some samples include the earthbending-powered trains, and lightning generation as a source of energy for power plants, extensively used in the United Republic of Nations.
During the time of Avatars Aang and Korra, a rapid advance in all fields of technology occurred. In just two hundred years, society underwent unprecedented change; significant improvements were made to communication, transportation, manufacturing, building infrastructure, and warfare technology. This process was a direct result of the Hundred Year War and the Anti-Bending Revolution, both of which demanded participating parties to create new technologies in order to discourage their opponents as well as lower battle costs and casualties.
Communication
Edit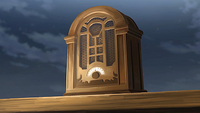 Prior to the Hundred Year War, the primary form of long-distance communication was by sending a messenger bird carrying notes to and from the point of interest. Many people had personal messenger birds that could send messages to faraway locations at a relatively fast pace. However, this form of communication was not foolproof, as the birds did not always reach their destination.
After the Hundred Year War, advances in technology led to the introduction of telegraphy, which revolutionized long-distance communication. People living miles away from the broadcaster could receive messages instantaneously and partake in a conversation. Radios began being used by news broadcasters, sports commentators, and Republic City's police forces. Since many people had a personal radio, this type of broadcasting made it easy for small groups of people to communicate a message to a larger number of people in a region.
Aside from telegraphy, other innovative inventions were made in communication, such as the microphone and megaphone. These new sound amplifiers were commonly used in public events and protests, where it was imperative that all members of the audience be able to hear the words of the announcers clearly. Another significant innovation was the phonograph, which made sound recording possible. Telephones have also been developed, which make long-distance communication possible.
Transportation
Edit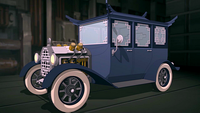 Before the advent of steam-powered and electric machines, travel in the World of Avatar was difficult and arduous. Earth King Yi Ming noted that it would take him two full days just to walk from one end of Ba Sing Se to the other. At the time, the primary form of long-distance travel in the Earth Kingdom was by riding on animals. The animals that were used for transportation changed with the location. Nobility traveled long distances by riding on animal-drawn carriages. Boats during this era were primitive as well, being limited to cutters, catamarans, barges, canoes, skiffs, and ferries. The Air Nomads traveled on their flying bison and flew around with their gliders.
The most notable issue with pre-industrial travel technology was that they often became unreliable. Since animals were so crucial to transportation, travel would easily be interrupted if the animals became tired, diseased, or injured. Animals would be harshly affected by rough terrain and inclement weather, especially if it was not familiar to the species. Sea travel was better trusted, although it did not come without its flaws either. Not all boats could travel everywhere, for example, cutters were specifically made to be able to bypass the icebergs surrounding the Southern Water Tribe, but would have no chance of getting past a swamp, for which skiffs were made. Other problems with pre-industrial travel technology included their slow speed and limits on passenger amount.
During the latter half of the Hundred Year War, steam-powered machines were introduced. This new invention had immediate effects on warfare, which soon spread into transportation. By 100 ASC, steam-powered trains had been introduced to the Fire Nation as a new form of public transportation. Unlike earlier forms of transportation, these trains could travel at high speeds and carry a lot of passengers in one ride. Trains also made travel much more convenient, as the ride was relaxing and smooth compared to traveling on the back of an animal. Despite being able to move only on land rails, they could still function on many types of terrain and weather.
Although trains radically changed travel, they did have a few setbacks. The foremost problem was that since they ran on rails, they could not go where rails had not been set. This means that not everybody had access to trains or did not ride them because they were of no use. The solution did not come until decades later, when the automobile was invented. Being mass-produced in Republic City by 170 ASC, the automobile was arguably the most important invention of the time.
Shortly after its invention, the automobile became the primary mode of transportation in Republic City, ousting mass transit. It quickly became crucial to the infrastructure of the city, as it permitted a faster way to move from place to place and traffic goods or supplies, and combat crime. Due to these changes, Republic City began to undergo an economic and construction boom. Trade became faster and easier, flowering the city's already massive economy. Since construction materials flowed into the city more quickly, buildings were able to be erected faster and more often, which led to a separate economic boom and rise in population. With the city embraced in the new invention, its manufacturers grew very wealthy. This allowed them to take bold steps in further developing the automobile. Soon, automobiles were being specialized for the needs of the consumers, for example, Future Industries, a major car manufacturing company, began making police vehicles specifically for the use of Republic City's Metalbending Police Force. Other specialized vehicles included racing cars, buses, and trucks. Future Industries also began to give their cars some style, as to make every consumer feel as though their vehicle is unique. Shortly thereafter, more diverse and complex cars began being manufactured, with the manufacturers taking into account what the consumers wanted.
A vehicular mode of transportation, automobiles ran on gasoline, becoming one of the first machines to do so. They were decorated metal boxes that came in multiple colors and ran on top of wheels. Automobiles had windows that let in light and seats that made room for passengers. The driver's seat, equipped with a steering wheel, was usually on the front left of the car. The engine of the car was typically on the outside, in front of the driver's seat.
Other less important, though still notable advancements in transportation were made. Late in the Hundred Year War, a highly secure prison known as the Boiling Rock was built in the Fire Nation. Being surrounded by an insurmountable lake, the only way to get in or out of the prison complex was by riding on an elevated gondola. It ran beneath a suspended wire held high above the ground. The gondola itself was a rectangular prism-shaped metal box. Looking back at Republic City, the metropolis appeared to have a complex elevated railway system and a secret underground tramway being used by the Equalists for their own illegal purposes. Both were used for quick transportation and the trafficking of materials or goods.
Manufacturing
Edit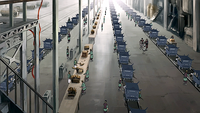 Manufacturing technology improved significantly during and after the Hundred Year War. The Fire Nation, which was the leading country in technological advancements during the Hundred Year War, was able to mass-produce large metal warships and airships by 100 ASC, a feat that was not previously accomplished by any other nation. The Northern Air Temple was also known to have had a complex system of manufacturing at the time; there were two rooms specifically built for this purpose - the workshop and the sanctuary. The workshop was where the mechanist would conduct experiments and tests with new inventions and prototypes. He kept many blueprints here, ranging from gliders to hot air balloons. The sanctuary was the place where the mechanist would secretly manufacture warfare technology for the Fire Nation. The manufacturing technology there was on-par with that of the Fire Nation, being able to mass-produce large and deadly metal objects.
In 170 ASC, manufacturing technology had advanced even further. By this time, Republic City had an entire sector in the south of the metropolis built solely for manufacturing companies. One of the most important businesses here was Future Industries, which was among the largest automobile manufacturers in the world. It was the first company known to have used the assembly line manufacturing technique, in which the parts-to-be-manufactured were placed on a conveyor belt that conveniently moves them through different stations in the factory. Each station had a different purpose and job. This technique allowed cars to be made faster and more often. Also, it lessened the need for human labor.
Air Nomads
Edit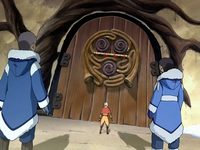 The Air Nomads were never industrialized, as they never felt the need to consciously expand their technological capabilities. Their insistence on making the least amount of environmental impact on the world as possible, and their relatively peaceful way of life meant that they were satisfied with conventional and classic technology. The Air Nomads did however have enough technical knowledge to produce their own gliders. By 170 ASC when technology was widespread, they were not above using technology like lamps, radios, and telephones on Air Temple Island.
Examples of technology
Edit
Air temple sanctuary door - This door is opened only through the use airbending, by sending a gust of air through two trumpet-like objects, which eventually turn three locks that unlock the door.[4] It seems that the structure itself can be entered without the need of airbending, as the mechanist was able to enter the sanctuary in the Northern Air Temple without having to open the door.[2]
Glider - Support tool that airbenders have frequently used for assistance in airbending.
Water Tribe
Edit
The Northern Water Tribe had achieved moderate advances in technology such as the many hydraulics-based structures present in the city. The Southern Water Tribe had limited access to technology due to the small population of the tribe and very limited resources.
Examples of technology
Edit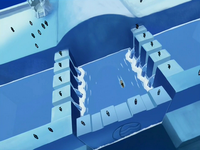 Canal - Canal lock system in the Northern Water Tribe passable only through the use of waterbending.

In addition to this, much of their architecture involved ice, a substance they could bend into formations. The Northern Water Tribe featured large walls and buildings, and it was seen in Hama's flashback of the Southern Tribe that it once had large walls and igloos as well. In its lack of benders, the southern tribe was reduced to animal-skin tents. In The Legend of Korra, it seems to have been restored, and the ice structures are again present.

Ice torpedo - A weapon designed for the waterbending-powered submarines, used during the Invasion of the Fire Nation.[3]
Tangle mines - Aquatic bomb invented by Hakoda, also called the "sink 'n stink".[5]
Waterbending-powered submarine - An underwater naval vessel used in the Invasion of the Fire Nation, envisioned by Sokka and built by the mechanist.[3]                                     
Earth Kingdom
Edit
The Earth Kingdom was in the eve of industrialization during the war era, with the limited manipulation of steam and metal machines toward the end of the war, most which were invented by the mechanist. The majority of their technologies have earthbending as their main sources of power.
Examples of technology
Edit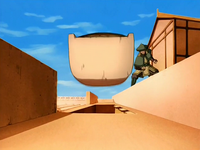 The mechanist
Edit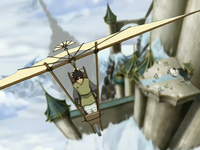 The mechanist is a prolific technological innovator from the Earth Kingdom. He has settled in the Northern Air Temple after the flooding of his village. The mechanist created schematics and sample weapons for the Fire Nation as payment for safe refuge in the temple. His invention of the hot air balloon allowed the Fire Nation to develop a powerful air force. His real name is never revealed.

Inventions
Edit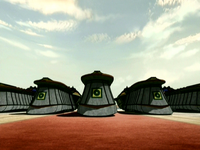 Fire Nation
Edit
The Fire Nation was the most technologically advanced nation during the Hundred Year War. A majority of the Fire Nation technologies are made out of metal and fueled by burning coal. Being the orchestrators of the Hundred Year War, most of these technologies are war-oriented.
Examples of technology
Edit
Ballista - Huge crossbow type weapon that uses torsional force to propel generally smaller and lighter projectiles, for example darts or arrows, much farther and faster than a catapult or similar device.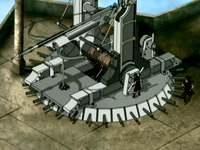 United Republic of Nations
Edit
Republic City plays host to a multitude of technological advancements. These range from vehicles, such as automobiles or police airships, to mechanisms such as microphones or radios.[15]
Examples of technology
Edit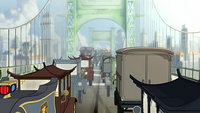 Automobiles - Automobiles are used widespread in Republic City. Different types of vehicles exist, such as cars, trucks, and motorcycles.
Automated printing press - A device that enables papers like leaflets and newspapers to be mass-produced quickly. One is seen when the Metalbending Police Force uncovers one during a search of Cabbage Corp for Equalist propaganda.[16]
Cameras - A camera is a device that captures and stores images. Mostly used by Republic City reporters and journalists alike.
Clock - A clock is used to measure time.
Electrified gloves - Small, hand-mounted electroshock devices used to immobilize people on contact.
Highway system - A system of elevated roadways that allow for traffic to move through the city on many different paths.[15]
Flashlights - A flashlight is a device used to illuminate dark spots, usually looking for something. Flashlights are used by the Metalbending Police Force to do security sweeps.
Intercom system - An electronic sound system that is manually turned on and off at will. The user simply speaks into a microphone and the message is sent to wherever speakers are placed. Systems such as this are used on United Forces battleships.
Microphones - Microphones are mechanisms used to amplify sounds. They are known to be used by pro-bending announcers and public speakers. They can even be installed in police vehicles to address a large mob.[17]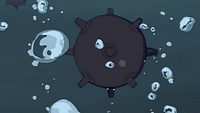 Naval mine - A floating explosive device that explodes when a ship makes contact with it. Several of these mines were used to disable General Iroh's fleet of battleships. It is different from a tangle mine as it only explodes.
Phonographs - A small appliance that spins a record in order to play music on the record. It is popular enough that whole stores in Republic City are dedicated to selling them.[15]
Police airship - Large airships are used by the police force of Republic City to monitor various crime activities from above.
Police scanner - A device that allows someone to listen in on Metalbending Police Force radio conversations. One is installed in the black Satomobile sports car that Asami Sato utilized during an anti-Equalist patrol.[17]
Power grid - The method of powering a large city with electricity. It distributes power to certain parts of a metropolis. Councilman Tarrlok once shut down power to the Dragon Flats borough because of a supposed Equalist rally.[17]
Power plant - The main source of energy for power plants in Republic City. Firebenders use lightning generation to produce energy.[18]
Radios - Radios are devices used to transmit radio broadcasts to the citizens of Republic City. Events such as pro-bending matches or speeches are often broadcasted through the use of radios.
Stoplights - A small electrical fixture at intersections and other various road sections in Republic City that controls the flow of traffic to make it safer.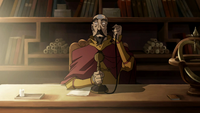 Telephones - Telephones serve as a system of communication in Republic City whose most basic function is to allow two people separated by large distances to talk to each other.[16]
Trams and mine-cart systems - Used primarily by the Equalists to travel through the tunnels beneath Republic City, the trams and mine-carts are vital in transporting goods and people between various Equalist hideouts.[19]
United Forces battleships - Large ships used by the United Forces during naval warfare. Each battleship bears the characteristic insignia of each of the three nations. Battleships have Earth Kingdom insignias located on their bows and hulls, Fire Nation insignias on their guns, and Water Tribe insignias also on the hulls. The hulls are also decorated with two large, golden dragons on the bow of the ship.[20]
See also
Edit
References
Edit
↑ 1.0 1.1 "The Drill". Michael Dante DiMartino, Bryan Konietzko (writers) & Giancarlo Volpe (director). Avatar: The Last Airbender. Nickelodeon. September 15, 2006. No. 13, Book Two: Earth
↑ 2.0 2.1 2.2 2.3 2.4 2.5 2.6 2.7 "The Northern Air Temple". Elizabeth Welch Ehasz (writer) & Dave Filoni (director). Avatar: The Last Airbender. Nickelodeon. November 4, 2005. No. 17, Book One: Water
↑ 3.0 3.1 3.2 3.3 3.4 3.5 3.6 3.7 "The Day of Black Sun, Part 1: The Invasion". Michael Dante DiMartino (writer) & Giancarlo Volpe (director). Avatar: The Last Airbender. Nickelodeon. November 30, 2007. No. 10, Book Three: Fire
↑ "The Southern Air Temple". Michael Dante DiMartino (writer) & Lauren MacMullan (director). Avatar: The Last Airbender. Nickelodeon. February 25, 2005. No. 3, Book One: Water
↑ "The Guru". Michael Dante DiMartino, Bryan Konietzko (writers) & Giancarlo Volpe (director). Avatar: The Last Airbender. Nickelodeon. December 1, 2006. No. 19, Book Two: Earth
↑ "The Earth King". John O'Bryan (writer) & Ethan Spaulding (director). Avatar: The Last Airbender. Nickelodeon. November 17, 2006. No. 18, Book Two: Earth
↑ "The King of Omashu". John O'Bryan (writer) & Anthony Lioi (director). Avatar: The Last Airbender. Nickelodeon. March 18, 2005. No. 5, Book One: Water
↑ "The Desert". Tim Hedrick (writer) & Lauren MacMullan (director). Avatar: The Last Airbender. Nickelodeon. July 14, 2006. No. 11, Book Two: Earth
↑ 9.0 9.1 9.2 "The Day of Black Sun, Part 2: The Eclipse". Aaron Ehasz (writer) & Joaquim Dos Santos (director). Avatar: The Last Airbender. Nickelodeon. November 30, 2007. No. 11, Book Three: Fire
↑ Seen throughout Avatar: The Last Airbender.
↑ "The Boiling Rock, Part 1". May Chan (writer) & Joaquim Dos Santos (director). Avatar: The Last Airbender. Nickelodeon. July 16, 2008. No. 14, Book Three: Fire
↑ "The Boiling Rock, Part 2". Joshua Hamilton (writer) & Ethan Spaulding (director). Avatar: The Last Airbender. Nickelodeon. July 16, 2008. No. 15, Book Three: Fire
↑ "The Painted Lady". Joshua Hamilton (writer) & Ethan Spaulding (director). Avatar: The Last Airbender. Nickelodeon. October 5, 2007. No. 3, Book Three: Fire
↑ "The Chase". Joshua Hamilton (writer) & Giancarlo Volpe (director). Avatar: The Last Airbender. Nickelodeon. May 26, 2006. No. 8, Book Two: Earth
↑ 15.0 15.1 15.2 "Welcome to Republic City". Michael Dante DiMartino, Bryan Konietzko (writers) & Joaquim Dos Santos, Ki Hyun Ryu (directors). The Legend of Korra. Nickelodeon. April 14, 2012. No. 1, Book One: Air
↑ 16.0 16.1 "The Aftermath". Michael Dante DiMartino, Bryan Konietzko (writers) & Joaquim Dos Santos, Ki Hyun Ryu (directors). The Legend of Korra. Nickelodeon. May 19, 2012. No. 7, Book One: Air
↑ 17.0 17.1 17.2 "When Extremes Meet". Michael Dante DiMartino, Bryan Konietzko (writers) & Joaquim Dos Santos, Ki Hyun Ryu (directors). The Legend of Korra. Nickelodeon. June 2, 2012. No. 8, Book One: Air
↑ "The Revelation". Michael Dante DiMartino, Bryan Konietzko (writers) & Joaquim Dos Santos, Ki Hyun Ryu (directors). The Legend of Korra. Nickelodeon. April 21, 2012. No. 3, Book One: Air
↑ "Out of the Past". Michael Dante DiMartino, Bryan Konietzko (writers) & Joaquim Dos Santos, Ki Hyun Ryu (directors). The Legend of Korra. Nickelodeon. June 9, 2012. No. 9, Book One: Air
↑ "Skeletons in the Closet". Michael Dante DiMartino, Bryan Konietzko (writers) & Joaquim Dos Santos, Ki Hyun Ryu (directors). The Legend of Korra. Nickelodeon. June 23, 2012. No. 11, Book One: Air