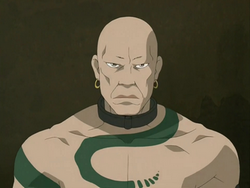 Tattoos are somewhat common in the World of Avatar, the most notable of them being those of the master airbenders. This type of body modification is usually for ritual or identification purposes, rather than being strictly decorative.
People with tattoos
Edit
Airbending masters
Edit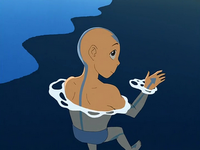 Upon reaching master status, airbenders are tattooed with five light blue arrows: one extending from the base of the spine to the forehead, one for each arm pointing to the hands, and similarly for the legs and feet. The design is an emulation of the flying bison's natural markings, as they were the first airbenders. Unlike most master airbenders who gain their status later in life, Avatar Aang received his tattoos when he was only twelve after his invention of the air scooter, making him the youngest known airbending master.[1]
The Air Nomad tattoos of an Avatar will glow when the Avatar enters the Avatar State.[2]
As seen with Aang, if the Avatar's body has received a severe injury on a tattooed area, leaving a scar deeper than the tattoo, then that particular spot will not glow in the state.[3]
It is unclear whether or not any other tattoos an Avatar bears would glow while they are in the Avatar State, given that no Avatar has been known to possess any other sort of tattoo. However, it seems likely that Air Nomad tattoos glow in the state because they run along the body's chi paths.
Yuyan Archers
Edit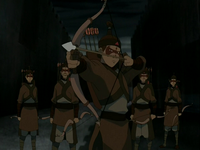 The Yuyan Archers bear dark red tattoos that cover their eyes and narrow over the bridge of their nose. The placement of their tattoos symbolizes the importance of sight in their deadly skill. Similar to those of master airbenders, the tattoos of the Yuyan Archers identify them as part of an elite group as they are very obvious markers.[1]
References
Edit
↑ 1.0 1.1 From older Avatar: The Last Airbender official site, originally on Nick.com (link). No longer updated.
↑ Throughout Avatar: The Last Airbender.
↑ "Sozin's Comet, Part 4: Avatar Aang". Michael Dante DiMartino, Bryan Konietzko (writers) & Joaquim Dos Santos (director). Avatar: The Last Airbender. Nickelodeon. July 19, 2008. No. 21, Book Three: Fire
↑ "Avatar Day". John O'Bryan (writer) & Lauren MacMullan (director). Avatar: The Last Airbender. Nickelodeon. April 28, 2006. No. 5, Book Two: Earth
↑ "The Boiling Rock, Part 1". May Chan (writer) & Joaquim Dos Santos (director). Avatar: The Last Airbender. Nickelodeon. July 16, 2008. No. 14, Book Three: Fire
↑ "The Blind Bandit". Michael Dante DiMartino (writer) & Ethan Spaulding (director). Avatar: The Last Airbender. Nickelodeon. May 5, 2006. No. 6, Book Two: Earth
↑ "The Runaway". Joshua Hamilton (writer) & Giancarlo Volpe (director). Avatar: The Last Airbender. Nickelodeon. November 2, 2007. No. 7, Book Three: Fire
↑ "Bato of the Water Tribe". Ian Wilcox (writer) & Giancarlo Volpe (director). Avatar: The Last Airbender. Nickelodeon. October 7, 2005. No. 15, Book One: Water
↑ "The Waterbending Scroll". John O'Bryan (writer) & Anthony Lioi (director). Avatar: The Last Airbender. Nickelodeon. April 29, 2005. No. 9, Book One: Water
↑ "Jet". James Eagan (writer) & Dave Filoni (director). Avatar: The Last Airbender. Nickelodeon. May 6, 2005. No. 10, Book One: Water
See also
Edit