"You boys smell something in here? Wait, I know what that is; yeah, that's the scent of losers."
— Tahno to the rest of his team about the Fire Ferrets.[1]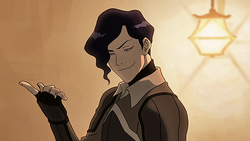 Tahno
Biographical information
Physical description
Personal information
| | |
| --- | --- |
| Weapon of choice | Water (formerly) |
Chronological and political information
Position

Captain of the White Falls Wolfbats (formerly)
Wolfbats' waterbender (formerly)
Image gallery (14)
Tahno
is a former
waterbender
and was captain of the
White Falls Wolfbats
before the
Equalist
attack
during the
Pro-bending Championship Tournament
. He showed disgust toward the
Fire Ferrets
[1]
and led his
pro-bending
team to a third round knockout victory in the finals, making them reigning tournament champions four years running, despite foul play during the match.
[2]
Meeting Avatar Korra
Edit
During her date with Bolin at Narook's Seaweed Noodlery, Korra noticed that Tahno and the rest of the Wolfbats, as well as their fangirls, were observing them. Bolin warned Korra not to make eye contact with him, describing him as a "nasty dude". However, she ignored his advice and glared straight at Tahno. Upon seeing this, he stood and gestured for the rest of his posse to follow. He engaged in a brief trash-talking exchange with the Avatar and tried to provoke her, even giving her "the first shot". Bolin warned her that if she hit him, the Fire Ferrets would be disqualified from the Pro-bending Tournament. Heeding his warning, Korra ended the exchange by calling Naga to intimidate him, which the polar bear dog did with a loud snarl. Tahno yelped and reeled backwards with fright as the animal roared at him. He attempted to regain whatever dignity he could still muster and signaled for his posse to follow him out.
The Pro-bending Championship
Edit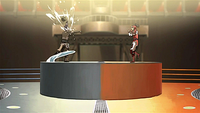 After the Fire Ferrets claimed victory in a thrilling semifinal, Tahno approached them with more insults. The Wolfbats beat the opposing Mo Ce Mongoose Lizards in a surprisingly fast first-round knockout, securing a spot in the tournament's finale. During this "brutal" match, Tahno took out the opposing team's waterbender by putting a hole in the glass of his helmet with a very powerful strike to the head. This player and one other were carried out on stretchers, groaning.[1]
Tahno and the Wolfbats' entrance in the championship match was overly extravagant and highlighted by fireworks and pyrotechnic displays. Tahno and his team very nearly cheated their way to a first round knockout, leaving Korra and Mako hanging from the edge of the arena. However, Korra swung Mako back up onto the ring, keeping the Fire Ferrets in the final. Mako proceeded to knock Tahno back a zone, angering him greatly. Round two was a draw and therefore decided by a one-on-one tie breaker between Tahno and Korra. Tahno goaded Korra into taking the first shot, calling her a "little girl", but was shocked as an unexpected strike to the head knocked him and his helmet out of the center ring. In rounds two and three, an angry Tahno used various illegal moves such as icing and combining earth and water to strike his opponents with powerful illegal head-shots, all of which were ignored by the officials.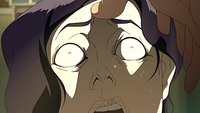 After all three Ferrets were in the drink, he and the Wolfbats celebrated their victory, but as they did so, they were surprised to witness the beginning of an Equalist attack. As Amon entered the ring, the Wolfbats decided to fight him and his chi blockers. They were swiftly defeated and Tahno begged for Amon to not take his bending away, going as far as to offer him the championship pot. His efforts were ultimately futile as Amon "cleansed" the Wolfbats' "impurity". Afterwards, they were thrown in the water, and managed to swim to the exit. During his speech, Amon referenced his cheating, calling him and his teammates "bullies who cheated their way to victory" and admonishing the crowd for celebrating it.[2]
A changed man
Edit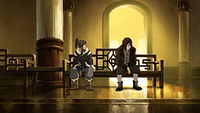 In the aftermath of the attack on the arena, Tahno visited the best healers in Republic City, but none of them could revert what Amon did to him. Tahno, now a broken mess and apparently distraught from having his bending taken away, ran into Korra at the police headquarters just before he was about to be questioned about the events during the tournament. While conversing with Korra, he made her promise that she would get Amon for him. Despite his situation, he still managed to crack a joke at her, albeit good-naturedly, by calling her the "Ah-vatar" before going with Lin Beifong and Tenzin for his interrogation.[3]
Personality
Edit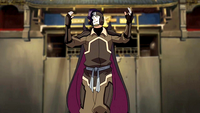 Tahno had a predominantly haughty and arrogant personality. He always enjoyed standing out over others, especially his pro-bending rivals, making sarcastic comments and boasting while in front of them. His arrogant and egotistical side was shown when Korra beat him in a tiebreaker round by using a headshot water strike; after being knocked back, he told his teammates that they were going to send their opponents "to a watery grave". However, after Amon took his bending away, the bully in him weakened and he became more polite than before his ordeal with the Equalist leader.[3]
Abilities
Edit
Before Amon stripped him of his bending with bloodbending, Tahno showed great waterbending capabilities, which he used to participate in pro-bending. His skills were first demonstrated when he swiftly defeated a rival pro-bending team. However, it is questionable how skilled Tahno really was, as he was seen repeatedly using illegal tactics, and was quickly defeated by Korra in a tie-breaker. Regardless, Tahno also proved to be exceptional with changing the state of water, using illegal icing moves in pro-bending matches.[2]
Appearances
Edit
The Legend of Korra Edit
Book One: Air (气)
Edit
Tahno's image was on the back of the newspaper Korra was reading during breakfast one morning on Air Temple Island.[4]
Tahno's design is based on top Japanese kickboxer Kizaemon Saiga, known for his flamboyant appearance and "ridiculous antics".[5]
The Fire Ferrets used his image as practice material while they trained for the finals of the Pro-bending Championship Tournament.[2]
There were posters of Tahno at Narook's Noodlery in the booth where he was sitting.[1]
Tahno is the sixth known person to lose his bending in the Avatar universe, and the fourth to do so in The Legend of Korra.
The voice actor Rami Malek pronounced "Avatar" as IPA:/ɑvətɑr/, as done by another middle eastern actor Shaun Toub in The Last Airbender movie, which also caused some characters like the Dragon Spirit to pronounce it as IPA:/ævətɑr/ like in the original series.
Tahno has very pale skin, despite darker skin being prevalent among members of the Water Tribes.
In the Greek dub of The Legend of Korra, Tahno is voiced by the same voice actor that provides the voice for Amon.
References
Edit
↑ 1.0 1.1 1.2 1.3 "The Spirit of Competition". Michael Dante DiMartino, Bryan Konietzko (writers) & Joaquim Dos Santos, Ki Hyun Ryu (directors). The Legend of Korra. Nickelodeon. May 5, 2012. No. 5, Book One: Air
↑ 2.0 2.1 2.2 2.3 "And the Winner Is...". Michael Dante DiMartino, Bryan Konietzko (writers) & Joaquim Dos Santos, Ki Hyun Ryu (directors). The Legend of Korra. Nickelodeon. May 12, 2012. No. 6, Book One: Air
↑ 3.0 3.1 "The Aftermath". Michael Dante DiMartino, Bryan Konietzko (writers) & Joaquim Dos Santos, Ki Hyun Ryu (directors). The Legend of Korra. Nickelodeon. May 19, 2012. No. 7, Book One: Air
↑ "A Leaf in the Wind". Michael Dante DiMartino, Bryan Konietzko (writers) & Joaquim Dos Santos, Ki Hyun Ryu (directors). The Legend of Korra. Nickelodeon. April 14, 2012. No. 2, Book One: Air
↑ Tahno concept art. Bryan Konietzko. Retrieved on May 7, 2012.