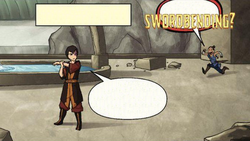 "Swordbending"
Creative
Publication
"
Swordbending
" is a comic that was released by
Nickelodeon Comics Club
magazine
[1]
and, later on, in
Avatar: The Last Airbender - The Lost Adventures
.
Overview
Edit
At the Western Air Temple, Sokka challenges Zuko to a "Swordbending Kai".
Synopsis
Edit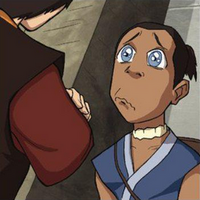 Zuko is preparing to practice firebending with Aang when Sokka dashes in, challenging him to a "swordbending" duel, as they are the only two swordsmen there. Zuko dismisses him and insists that "swordbending" is not real, telling Sokka to go practice with The Duke. When Sokka complains that The Duke is only eight years old, Zuko declares that this makes him a good match for an inexperienced swordsmen like Sokka. Insulted, Sokka feels he has no choice but to challenge the impertinent prince to a "Swordbending Kai". Zuko finds this ridiculous, but upon Sokka's begging, reluctantly acknowledges that his honor demands he accepts the challenge.
The two square off, with Aang serving as referee and the others watching from the sidelines. Katara and Toph each sport signs, Toph's drawn by The Duke, supporting Sokka and Zuko respectively. Knocking his opponent down in two moves, Zuko quickly defeats Sokka and is declared the winner by Aang. Sokka challenges him to rematch after rematch, which Zuko also wins with ease. Zuko cockily tells Sokka to give up, to which Sokka responds by mocking his failure to capture the Avatar despite searching for three years. Zuko declares the two events to be "totally different", while Sokka agrees and charges at him saying that beating him will only take three minutes. Zuko disarms Sokka with a swift stroke of his sword, and the latter finally seems to give up. An idea seems to dawn on the defeated swordsman, however, who unsheathes and throws his boomerang. Zuko dodges, calling Sokka's move unfair, only to realize too late that the weapon will circle back around. Hit in the head, Zuko falls to his knees, clutching his sore spot.
While Katara celebrates in the background, Aang acknowledges Zuko's point saying he still won the match. Sokka then admits to losing "the battle of swords", but claims to have won "the battle of words".
Continuity
Edit
Sokka defeating Zuko by a boomerang to the back of his head is similar to the ending of their duel in "The Avatar Returns".
References
Edit
See also
Edit