Super Brawl 2
Comments

3
8,313pages on
this wiki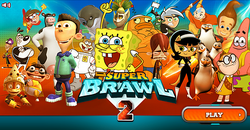 Super Brawl 2
General information
Production information
Super Brawl 2
is an online crossover game found on Nick.com in which characters from different
Nickelodeon
shows are featured as brawlers.
Playable modes
Edit
Path to the Brawl Master: Win ten tournaments and face off against the most difficult challenger of all -a computer-controlled version of your own character- to be crowned the ultimate Brawl Master.
Arcade mode: Customize your own brawl by picking the fighters and the stages yourself.
Tournament mode: Advance your way through the tournament, one challenger at a time.
Tag team mode: Pick a computer controlled partner and brawl together.
Survival mode: See how many players you can defeat with just one bar of health.
Playable brawlers
Edit
Bessie
Chum Chum
Classic SpongeBob
Danny Phantom
Dr. Blowhole
Dudley Puppy
Fanboy
Jimmy Neutron
King Julien
Kitty Katswell
Kyle
Monkey
Otis
Patrick
Plankton
Rico
Sandy
Sheen
Skipper
SpongeBob
Timmy
Playable stages
Edit
Amity Park
Baseball Field
Central Park Zoo
Coney Island Hideout
Fairy World
Fanlair
Farm Road
Flying Dutchman's Ship
Forgotten Temple
Frosty Mart
Goo Lagoon
Jungle
Krusty Krab
Penguin Lair
Petropolis
Pier 31
Sandy's Dome
School
The Chum Bucket
The Headquarters
Wasteland (Aang's level)
Zeenu
Each character has a capability of several moves and combos including:
Blocking
Kicks
Punches
Jumping attack
Super Move
Charged Super Move
The super move varies from character to character and when charged completely, a cinematic sequence will play along with a powerful attack. Aang's super move consists of using all four elements in the air while meditating and the charged move performed a massive airbending strike.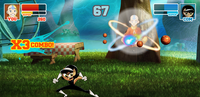 See also
Edit
External links
Edit