Southern Raiders frigate
Comments

2
8,319pages on
this wiki

Well, that's not its name ... but ...

The term "Southern Raiders frigate" has not been confirmed by official sources.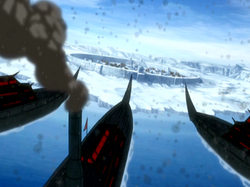 The Southern Raiders frigates were raiding ships used by the Southern Raiders unit of the Fire Nation Navy as a means of transportation to raid various locations. When Fire Lord Azulon gave the order to capture the remaining waterbenders in the South Pole, these ships served as the primary means of transportation.
At least three frigates, housing a large number of firebenders, were used as a means of transportation by the Southern Raiders during the final raid. This was a devastating assault to the Southern Water Tribe six years prior to Avatar Aang being discovered there.
Later, Zuko and Katara attacked one of the frigates patrolling near Whaletail Island in an attempt to track down the Raiders' captain who killed Katara's mother.[1]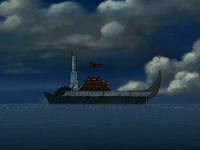 Southern Raider frigates were large naval vessels where advanced metallurgy was utilized. Like other Fire Navy ships, the frigates include compartments below decks to store various weapons and mechanisms for future use in battle, as well as cabins to house soldiers. However, the frigate is heavily specialized; as adaptation to the frozen sea of the South Pole, it possesses a stronger and larger engine with one smokestack to act as an icebreaker. Furthermore, the bridge section is much more massive, but lower than those of the standard Fire Nation warships. Red flags bearing black sea raven icons, the symbol of the Southern Raiders, were flown atop the masts.[1]
References
Edit
See also
Edit