Sokka's weapons
Comments

21
8,283pages on
this wiki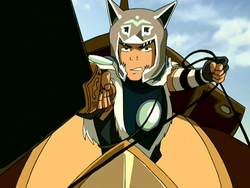 Sokka used many weapons, including a boomerang, club, sword, spear, dagger, machete, and kukri.
Battle club
Edit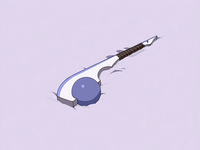 Sokka's club is a blunt instrument which he used to strike people. He seemingly obtained this weapon while in the Southern Water Tribe. Using his club, Sokka defended his village during a Fire Nation raid. The Rough Rhinos saw this club when they stole the belongings that the gang had left behind.[1] Sokka managed to retrieve it, as he used it several times later. Sokka eventually lost it again to the sandbenders.[2] His bone club served as a replacement.
This club was carved from a polar bear femur. The battle club has a notch for hooking opponent's weapons, a heavy solid ball on the end, and a leather strap wrapped for grip.[3]
Boomerang
Edit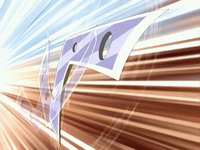 Sokka's boomerang was given to him by his father Hakoda before he left to fight in the Hundred Year War with the warriors of the Southern Water Tribe. It was one of Sokka's most prized possessions and his trademark item.[4] Sokka once lost his boomerang and stated that it was like "losing a part of [his] identity". He ended up recovering it, exclaiming, "Boomerang! You do always come back!" after Yeh-Lu, the warrior that had found his boomerang, was defeated.[1]
Sokka used his boomerang to defeat Combustion Man when no other member of the group could get within range of him. The group was hiding behind a pylon, when Sokka threw his boomerang, which hit Combustion Man on his third-eye tattoo. This blow stunned the assassin and blocked his flow of chi to his third eye. When Combustion Man tried to firebend again, he blew himself up due to his blocked chi energy.[5]
While knocking out two firebenders during Sozin's Comet, Sokka lost his boomerang and his sword as a necessary trade-off to save his and Toph's life.[6]
A year later, Sokka had obtained a similar, if not the same boomerang. He used it to incapacitate a demonstrator outside Yu Dao whom he deemed annoying.[7] He also used this same boomerang to demonstrate his authority to the newly-released Princess Azula just before they and Zuko departed to search for Ursa, only to have it zapped clean out of his hand by the Princess.[8]
Forty-two years prior to Avatar Korra's arrival in Republic City, Sokka mentioned his boomerang during Yakone's trial at City Hall, in which he referred to it as his "trusty boomerang", and told the story of how he used it to defeat Combustion Man.[9]
Main article: Sokka's sword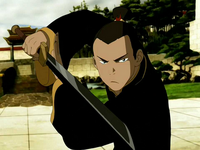 When training with Piandao, Sokka crafted his own sword using ore from a meteorite. The material used gave the sword a distinctive black color.[10] The sword is able to cut through strong metals with little effort.
Sokka's sword was a Jian (劍), a Chinese straight sword. It was part of his standard armament, along with his boomerang and club.
The bottom of the hilt is engraved with the symbol of the Order of the White Lotus.
Sokka lost his sword, along with his boomerang, while saving his and Toph's life during Sozin's Comet.[6]
Sokka did not use his machete as often as his sword or his boomerang. He often used it for menial tasks, such as shaving and picking his teeth, but he did use it for hacking at foliage,[11] and when he spotted a cactus and sliced part of it open to reveal a water-type drink inside. He also used it to prevent Mai's darts from hitting Katara[12] and to cut a metal cap off a pipe within the Fire Nation drill; this latter action prompted an engineer to come fix the pipe, allowing Katara to ambush him.[13] Additionally, he used his machete in a failed attempt to hunt a saber-tooth moose lion cub.[14] It was noticeably absent after the fall of Ba Sing Se.
Bone club
Edit
Sokka had a club that, like his spear, was made of a whale jaw. He acquired it as a replacement for his previous club,[15] which was lost to the sandbenders who stole Appa.[16] Sokka once used it to snuff out an ember fire.[10]

Sokka very rarely used his spear or pike. He used his "traditional whale's tooth saber"[17] to spear fish.[18] He used a spear to defend his tribe from the Fire Nation, but it was snapped in half by Zuko.[19]
Jaw blade
Edit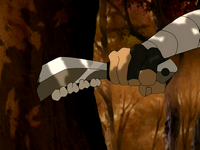 Sokka had a jawbone dagger that he normally carried in a small pouch on the back of his belt. It had a leather-wrapped hilt with four teeth along it. The dagger's main purpose appeared to be as a sawing tool. This weapon was made by sharpening the jawbone and teeth of a large arctic wolf.[3] It was able to amplify vibrations in the environment, allowing Sokka to accurately detect intruders.[20]
References
Edit
↑ 1.0 1.1 "Avatar Day". John O'Bryan (writer) & Lauren MacMullan (director). Avatar: The Last Airbender. Nickelodeon. April 28, 2006. No. 5, Book Two: Earth
↑ "Appa's Lost Days". Elizabeth Welch Ehasz (writer) & Giancarlo Volpe (director). Avatar: The Last Airbender. Nickelodeon. October 13, 2006. No. 16, Book Two: Earth
↑ Avatar. Nickelodeon. Retrieved on January 1, 2013. Archived from the original on December 29, 2007.
↑ "The Western Air Temple". Elizabeth Welch Ehasz, Tim Hedrick (writers) & Ethan Spaulding (director). Avatar: The Last Airbender. Nickelodeon. July 14, 2008. No. 12, Book Three: Fire
↑ 6.0 6.1 "Sozin's Comet, Part 4: Avatar Aang". Michael Dante DiMartino, Bryan Konietzko (writers) & Joaquim Dos Santos (director). Avatar: The Last Airbender. Nickelodeon. July 19, 2008. No. 21, Book Three: Fire
↑ Gene Yang (w), Gurihiru (a). The Promise Part 1 (Jan 25, 2012), Dark Horse Comics
↑ Gene Yang (w), Gurihiru (a). The Search Part 1 (March 20, 2013), Dark Horse Comics
↑ "Out of the Past". Michael Dante DiMartino, Bryan Konietzko (writers) & Joaquim Dos Santos, Ki Hyun Ryu (directors). The Legend of Korra. Nickelodeon. June 9, 2012. No. 9, Book One: Air
↑ 10.0 10.1 "Sokka's Master". Tim Hedrick (writer) & Giancarlo Volpe (director). Avatar: The Last Airbender. Nickelodeon. October 12, 2007. No. 4, Book Three: Fire
↑ "The Swamp". Tim Hedrick (writer) & Giancarlo Volpe (director). Avatar: The Last Airbender. Nickelodeon. April 14, 2006. No. 4, Book Two: Earth
↑ "The Chase". Joshua Hamilton (writer) & Giancarlo Volpe (director). Avatar: The Last Airbender. Nickelodeon. May 26, 2006. No. 8, Book Two: Earth
↑ "The Drill". Michael Dante DiMartino, Bryan Konietzko (writers) & Giancarlo Volpe (director). Avatar: The Last Airbender. Nickelodeon. September 15, 2006. No. 13, Book Two: Earth
↑ "Bitter Work". Aaron Ehasz (writer) & Ethan Spaulding (director). Avatar: The Last Airbender. Nickelodeon. June 2, 2006. No. 9, Book Two: Earth
↑ "The Crossroads of Destiny". Aaron Ehasz (writer) & Michael Dante DiMartino (director). Avatar: The Last Airbender. Nickelodeon. December 1, 2006. No. 20, Book Two: Earth
↑ "The Desert". Tim Hedrick (writer) & Lauren MacMullan (director). Avatar: The Last Airbender. Nickelodeon. July 14, 2006. No. 11, Book Two: Earth
↑ Avatar Extras for "The Boy in the Iceberg" on Nicktoons Network.
↑ "The Boy in the Iceberg". Michael Dante DiMartino, Bryan Konietzko (writers) & Dave Filoni (director). Avatar: The Last Airbender. Nickelodeon. February 21, 2005. No. 1, Book One: Water
↑ "The Avatar Returns". Michael Dante DiMartino, Bryan Konietzko (writers) & Dave Filoni (director). Avatar: The Last Airbender. Nickelodeon. February 21, 2005. No. 2, Book One: Water
↑ "Jet". James Eagan (writer) & Dave Filoni (director). Avatar: The Last Airbender. Nickelodeon. May 6, 2005. No. 10, Book One: Water
See also
Edit