Skeletons in the Closet
Comments

2k
8,332pages on
this wiki
"Amon has been one step ahead of us. But finally we have the advantage. We know the truth about him."
— Korra to Mako.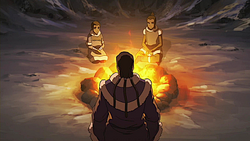 "Skeletons in the Closet"
Information
| | |
| --- | --- |
| Original air date | June 23, 2012 |
| | |
| --- | --- |
| Guest stars | Dante Basco (General Iroh), Daniel Dae Kim (Hiroshi), Stephen Root (hobo), Clancy Brown (Yakone - additional voice), Lance Henriksen (Lieutenant), Jacob Bertrand (Noatak - age 6, 8, and 10), Alexander Martella (Noatak - age 14), Nicholas Braico (Tarrlok - age 3, 5, and 7), Zach Callison (Tarrlok - age 11), Jeff Bennett (radio broadcaster - additional voice) |
Episode guide
Image gallery (45)
"
Skeletons in the Closet
" is the 11th episode of
Book One: Air
of
The Legend of Korra
and the 11th of the overall series. It debuted on June 23, 2012 on
Nickelodeon
, back-to-back with "
Endgame
".
Overview
Edit
General Iroh, grandson of the now-retired Fire Lord Zuko,[1] joins in the war against the Equalists. Meanwhile, Team Avatar is lying low in an alley where benders and non-benders seem to coexist harmoniously, and Mako and Korra go undercover as the war intensifies.
Synopsis
Edit
The Equalists have taken control of Republic City. Hiroshi Sato speaks to a crowd of Equalist supporters, proclaiming that the city's "tyrannical" government has been overthrown and that Amon sent the Avatar on the run. He also promises that the Equalists will defeat the incoming United Forces before creating a bending-free world where everyone is equal. As the crowd cheers, two chi blockers walk off the scene and behind a cluster of bushes. One of them earthbends a rock aside and they both jump into a hidden hole. The two remove their masks to reveal themselves to be Korra and Mako in disguise. The former feels insulted by Hiroshi's speech and expresses her desire to return and "knock some heads". Mako encourages her, however, to be patient and wait until General Iroh's forces arrive, something she reluctantly agrees to.
As Korra and Mako arrive at Gommu's hideout, where he and his fellow benders and non-benders live together in peace, the two of them, along with Asami and Bolin, dine. As they eat, the vagabond reveals that their dinner is taken from "the finest dumpsters the city has to offer", which prompts a disgusted Asami to secretly pass her dish to Pabu.
As night drags on, Mako finds Korra resting against Naga. The Avatar expresses her shock that only a few months ago she was taking her firebending test in the South Pole and now she is in the middle of a war. Mako comments that they did not know each other then and also praises Korra as "the most loyal, brave, and selfless person [he has] ever known". Korra then says, "I think you're pretty incredible, too, but you already knew that." They smile at each other, and Mako leans in closer to Korra, just as she says they should get some sleep. They then wish each other goodnight and go to sleep.
Meanwhile on Air Temple Island, Amon begins removing the bending of captives, including the White Lotus sentries and Tarrlok's task force.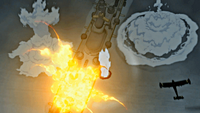 The next day, the group exits a tunnel leading to the foggy seas. As Mako notices the United Forces approaching, he grows suspicious as to why there are no Equalists airships or mecha tanks in sight. The group was then surprised to find that the bay was mined, and that multiple biplanes, piloted by Equalists, were heading toward the ships. Korra dives into the bay and tries to aid the United Forces, but their ships soon fall. As an aircraft heads toward him, Iroh uses a fire shield to protect himself from a bomb, which knocks him into the water and injures his arm. Korra rescues him and the gang returns to the hideout, where Korra heals his arm.
The group of five then discusses a plan to stop Amon. Iroh requests that a wire be sent to Bumi, Avatar Aang and Katara's first son and a commander of a division of the United Forces. He sends instructions to wait by Red Sand Island until the biplanes have been taken care of. After Gommu sends the dispatch, Bolin, Asami, and Iroh head toward the mountains to destroy the aircraft base; Korra and Mako, who had only been allowed to go after some arguing, on the other hand, go to Air Temple Island to find Amon and end him.
As the two arrive and change into their Equalist chi blocker uniforms, they see Amon's airship take off. They then begin heading toward the temple to wait for Amon's return. On the way, they are intersected by the Lieutenant; after making up an excuse, they are ordered to go to the Pro-bending Arena where Amon has planned a rally.
Korra, however, disobeys the Lieutenant and moves on to the temple using a secret entrance. As she and Mako enter the attic, they are surprised to find Tarrlok locked in a metal cell. The Avatar inquires if there were any other prisoners in the temple, but Tarrlok says no, telling her that he was special, as he is Amon's brother. Shocked, Korra and Mako listen to Tarrlok's story attentively. After Yakone had lost his bending to Avatar Aang, he escaped prison and underwent facial surgery, altering his appearance. Later on, he moved to the Northern Water Tribe, where he fell in love and married. Two years later, a child under the name of Noatak was born; three years after that, a second son named Tarrlok was born.
According to Tarrlok, everything had been fine until the realization that both he and his brother possessed the ability to waterbend. As time went by, the constant waterbending training brought out a cruel side of Yakone. When Tarrlok was seven and Noatak was ten, Yakone took them out on a "hunting trip". There, Yakone revealed his true identity to his sons, and started secretly training them in the art of bloodbending. As the years went by, Yakone took his sons out on more "hunting trips" during the full moon to train them. Noatak learned the psychic technique more quickly, becoming a master at the mere age of fourteen, while Tarrlok "hated every minute" of the training and despised the technique. Soon, their father began taking them out more frequently, teaching them the technique without the presence of the full moon. Finally, the brothers were forced to bloodbend each other. Noatak obeyed, but Tarrlok refused. In anger, his father yelled at his younger son. Noatak, however, bloodbent his father, something that outraged Yakone. His eldest son told him that they were not his tools of revenge and declared that the Avatar's ability to permanently remove bending was much stronger and more powerful than bloodbending. Noatak then turned to Tarrlok, urging him to flee with him, but his younger brother refused, concerned about their mother.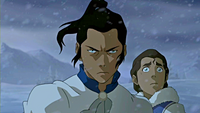 Dismissing his brother as weak, Noatak ran off into the blizzard, leaving Tarrlok and Yakone behind. After days of searching, the two failed to locate Noatak, presuming he perished in the storm. From that moment on, Yakone's wife was never the same, and his father, who gave up on his revenge, passed on a few years later.
When his story concludes, Korra regards it as one of the saddest she has ever heard. Tarrlok then apologizes for his past actions, which he attributes to his harsh childhood. He remarks that, even now, Yakone still leaves a scar on the world, saying, "The revolution may be built on a lie, but I think Amon truly believes that bending is the source of all evil in the world." Tarrlok explains that he had realized who Amon was upon feeling his familiar bloodbending grip when he removed his waterbending. Korra then comes to the conclusion that Amon's claim about the spirits granting him special powers is a lie, as it is in fact bloodbending.
Both Korra and Mako then realize that their original plan is doomed to failure because Amon would redirect any attack against him with his mind. However, the Avatar figures that they have an advantage in knowing the truth about Amon. Korra and Mako decide to reveal it at the rally in the hopes that it will cause everyone to abandon his cause and "undermine the revolution". Before leaving the attic, Korra turns to Tarrlok and offers to free him; however, he advises her not to, as that would endanger her plans if Amon found out. He urges her to defeat Amon and "put an end to this sad story".
Additional voices:

Jeff Bennett
Dee Bradley Baker
Clancy Brown
Production notes
Edit
Transcript
Edit
Main article: Transcript:Skeletons in the Closet
Translations
Edit
Main article: Writing in the World of Avatar
Series continuity
Edit
This is the second episode in which Gommu appears, the first being "Welcome to Republic City".
This is the first time Equalist biplanes are seen.
The scene in which the new Team Avatar split up bore similarity to the battle at Wulong Forest in "Sozin's Comet, Part 3: Into the Inferno" in which:

Suki, Sokka, and Toph ride on an eel hound - Asami, Bolin, and Iroh ride on Naga.
Katara and Zuko leave to fight Azula - Korra and Mako head toward Air Temple Island, looking for Amon.
Gommu and the rest of Republic City's citizens are similar to the Order of White Lotus.

Yakone's story is continued from the flashbacks in "Out of the Past".
Character revelations
Edit
Asami and Mako end their relationship with one another. However, Mako admits to Asami that he is sorry that their relationship got messed up and that he will always care for her. Mako appears to have regained Asami's trust as well.
Amon is Yakone's son and thus Tarrlok's brother.
Tarrlok reveals Amon to be a waterbender and a bloodbender.
Yakone had surgery to change his facial appearance.
Amon's real name and past are revealed.
Katara was responsible for making bloodbending illegal throughout the United Republic of Nations.
Amon uses bloodbending to take people's bending away.
When the Equalists attack Iroh's fleet, the smoke is stationary.
In "When Extremes Meet", Naga was not able to carry Team Avatar on her back, but when they were escaping the Equalists, she easily carried the group without any trouble.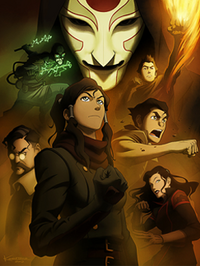 This episode is part of the second set of episodes shown back-to-back in The Legend of Korra, the first being "Welcome to Republic City" and "A Leaf in the Wind".
This episode, along with "Endgame", are some of the few that were released with corresponding press art.
"Skeletons in the closet" is a colloquial phrase used to describe a shameful secret. In this case, it references Amon being Tarrlok's brother and how Amon is really a bender named Noatak.
During the surprise attack by the Equalists, General Iroh says "It's a trick!" This is similar to Admiral Ackbar's well-known line "It's a trap!" in the Star Wars film Return of the Jedi.
References
Edit