"We were on our way to play hide and explode. You wanna come?"
— Shoji asking Aang to play.[1]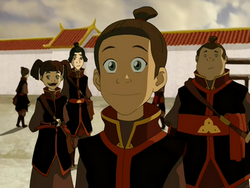 Shoji
Biographical information
Physical description
Personal information
Chronological and political information
Image gallery (3)
Shoji
was a student at the
Fire Nation school
whom
Aang
met during his time there. He was like any other boy his age, enjoying playing with friends after school.
Shoji was present when Aang first got in a confrontation with Hide. He was very surprised when Hide did not get in a fight with Aang, and proceeded to invite Aang to play a game of hide and explode with him and his friends to which the latter agreed.
During class, Shoji was stunned by Aang's behavior again, first when Aang dared to speak up against Ms. Kwan and later when Aang began dancing violently during music class. When Aang asked whether or not people danced in the homeland, Shoji silently replied that they did not really do that. This gave Aang the idea to host a secret dance party in the cave in which rest of Team Avatar was staying, to which Shoji was later invited. Shoji was, however, unsure about what to do after Aang introduced The Flamey-Os. Aang tried to explain that dancing was "a form of self-expression that no one [could] ever take away from you", but Shoji stepped up and told Aang that, while it might be different in the colonies, people of the main land just do not dance. When Aang demonstrated some classic Fire Nation dances, like the "phoenix flight" and the "camelephant strut", Shoji and another male student were utterly shocked and impressed by Aang's dancing. When Aang invited everyone to "freestyle", Shoji's movements restricted themselves to a rhythmic nodding of the head.
After the party was discovered by the Headmaster, Shoji was the first to put on a headband to help camouflage Aang. He winked at Aang as he left and was shocked when the tunnel Aang disappeared through was suddenly closed with earthbending.[1]
Appearances
Edit
Avatar: The Last Airbender Edit
Book Three: Fire (火)
Edit
In Japanese, Shoji means, "paper doll". This could be symbolic of Shoji's unwillingness to participate in the dancing, due to the Fire Nation controlling him like a puppet, or a doll.
Shoji was one of the few Fire Nation characters that had neither black hair nor amber eyes.
References
Edit