"It's a knockout! What a wingdinger of a hat trick, folks! Mako pulls off the upset of the season, winning the match for the Fire Ferrets!"
— Shiro calling Mako's knockout.[1]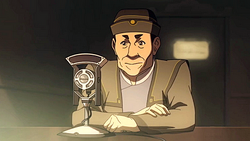 Shiro Shinobi
Biographical information
Physical description
Personal information
Chronological and political information
| | |
| --- | --- |
| Profession | |
Affiliation

Pro-bending
Republic City press (formerly)[2]
Shiro Shinobi
is a radio broadcaster who provides commentary on
pro-bending
matches over the
radio
in
Republic City
.
[2]
[1]
Although he is a non-
bender
, he is a popular commentator among players and fans alike.
[2]
Shiro is a lifelong pro-bending fan who began his career as a reporter by covering triad crimes. Tired of reporting on the darker side of life, he left this job to become the commentator of pro-bending matches.[2]
He served as commentator when Korra listened to her first pro-bending match between the Fire Ferrets and the Tigerdillos on the radio from Air Temple Island. Shiro again provided commentary during Korra's debut match, where he remarked that she was a newcomer and that he was not sure she knew what she was doing. Later, when Korra inadvertently revealed herself as the Avatar, an astounded Shiro announced it over the air, which allowed Tenzin to track her down.[1]
Several weeks later, he was excited to announce the return of the annual Pro-bending Tournament to the arena and to be the commentator for the face-off of the sixteen best bending trios he had ever seen.[3]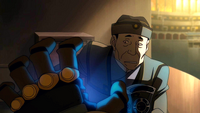 While watching the championship pro-bending match, he noticed that the White Falls Wolfbats were using illegal moves against the Fire Ferrets without being penalized by the referee. Immediately after, strange electrical flashes were seen throughout the arena, later found to be the Equalists defeating members of the audience and the Metalbending Police Force left and right. Shiro announced all the events as they occurred; as he was doing so, a member of the Equalists with an electrified glove entered the booth. Shiro narrated his feelings of terror at the moment, chronologically narrating the actions the Equalist was doing, finally stating that he was "wetting his pants" as he was rendered unconscious via electrical shock.[4]
Six months after the Anti-bending Revolution, Shiro Shinobi returned to the commentator's booth in the Pro-bending Arena. He covered a short match involving the Fire Ferrets, declaring their loss to be the fastest knockout in pro-bending history.
Appearances
Edit
The Legend of Korra Edit
Book One: Air (气)
Edit
References
Edit
↑ 1.0 1.1 1.2 "A Leaf in the Wind". Michael Dante DiMartino, Bryan Konietzko (writers) & Joaquim Dos Santos, Ki Hyun Ryu (directors). The Legend of Korra. Nickelodeon. April 14, 2012. No. 2, Book One: Air
↑ 2.0 2.1 2.2 2.3 2.4 2.5 2.6 Welcome to Republic City. Nickelodeon (May 11, 2012). Retrieved on May 11, 2012.
↑ "The Spirit of Competition". Michael Dante DiMartino, Bryan Konietzko (writers) & Joaquim Dos Santos, Ki Hyun Ryu (directors). The Legend of Korra. Nickelodeon. May 5, 2012. No. 5, Book One: Air
↑ "And the Winner Is...". Michael Dante DiMartino, Bryan Konietzko (writers) & Joaquim Dos Santos, Ki Hyun Ryu (directors). The Legend of Korra. Nickelodeon. May 12, 2012. No. 6, Book One: Air