"So listen, I got an offer for you."
— Shady Shin to Bolin.[1]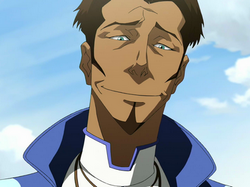 "Shady" Shin
Biographical information
Physical description
Personal information
| | |
| --- | --- |
| Fighting style(s) | Bending (formerly) |
Chronological and political information
Profession

Criminal recruiter
Mobster
Image gallery (5)
"Shady" Shin
is a
Triple Threat Triad
recruiter based in
Republic City
. Shin often recruits members for the gang in order to prepare for turf wars with other gangs.
[2]
He lost his
bending
during
Amon
's
"Revelation"
, becoming the second victim of
bloodbending
-based
bending removal
.
[1]
After Mako and Bolin's parents were murdered by a firebending mugger, they joined the Triple Threat Triad to run numbers for them as the brothers were not able to fend for themselves. During this time, they met Shady Shin. Shin and Bolin soon became acquaintances, since the recruiter trusted Bolin even years later. However, his relationship with Mako seemed to be tense, most likely because Shin tried to hire Bolin as triad member, something his older brother always tried to avoid. Eventually, Mako and Bolin left the Triple Threat Triad and Mako even told his brother to stay away from the triads.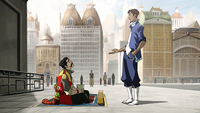 Years later, as Bolin was attempting to earn money for his team's pro-bending expenses by having Pabu perform tricks at Central City Station, rather by chance Shady Shin passed by in his red Satomobile and congratulated Bolin on his rise as a "big time pro-bending player". Embarrassed, Bolin thanked him for the compliment. However, Shin then tried to recruit him to do some "security work" for the Triple Threat Triad. The recruiter did this, unknown to the pro-bender, to prepare for a turf war. Despite Bolin's initial hesitation, due to Mako's warning to stay away from the Triple Threats, Shin managed easily to persuade him by offering him a substantial amount of yuans for the job and even flaunted his wealth by dropping a large wad of cash in front of Bolin. The two took off to the Triple Threat Triad headquarters, where they were eventually kidnapped by the Equalists.
At the Equalists' assembly the next evening, Shady Shin was brought to the stage along with Lightning Bolt Zolt, Bolin, and two other bending mobsters to serve as Amon's demonstration as to what he was going to do to the benders of the world. Witnessing how Amon took the bending of his boss, Shin was the only bound bender who did not seem panicked. Instead, his eyes were full of hatred for Amon.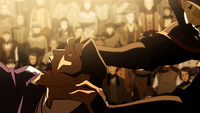 The Triple Threat Triad recruiter was the second bender to be given the chance to fight Amon to keep his bending powers. Shin knew that he was no match for someone who even defeated Lightning Bolt Zolt with ease, but he did not resist when he was released by an Equalist. Instead, he threw a hopeful look at his fellow benders and grinned strained. However, immediately when the others looked away from him, his facial expression changed completely into fear. When the Equalist kicked him forward to Amon, he cried "No!", but then faced the Equalist leader. Just as Zolt before him, he was unable to defeat Amon and his bending was removed under the cheers of the Equalist crowd.[1]
Personality
Edit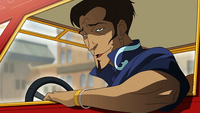 Shin is a very manipulative and self-confident person. He analyzes suitable conscripts in order to recognize what they want and what they fear. Using this knowledge, he can recruit them with ease. In doing so he always acts like the romanticized version of a criminal: strong, free, and cool. In this way, he can fake good will, or cause admiration, both helping him when he hires his targets.
However, his behavior is not completely an act. During the Equalists' assembly, he still grinned, strained against his captors, and acted strong to raise the morale of the other desperate benders, proving a strong will despite the hopeless situation. This action also reflects the fact that while he is too proud to show weakness, he also has a close relationship with his fellow triad members. This is also evidenced by his hateful look toward Amon when the Equalist leader took Zolt's bending.[1]
Appearances
Edit
The Legend of Korra Edit
Book One: Air (气)
Edit
Shady Shin has a red Satomobile sports model.[1]
Even though Shady Shin was a bender, his bending was never shown on screen, and was removed by Amon in an off screen battle.
References
Edit